Are you someone who likes to experience thrill?
Is horror something you feel excited about?
She is here to scare your pants off. Annabelle, the cursed doll from The Conjuring is back yet again. This time she will show you her story. She will tell you how she became what she is.
Want to know her story?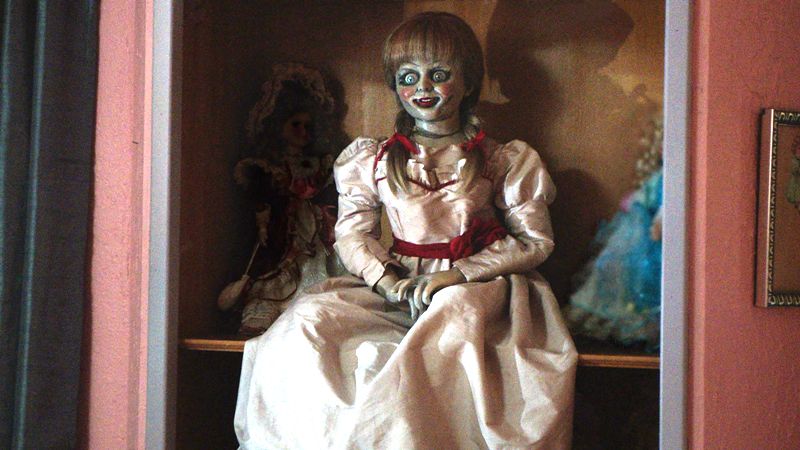 It is quite a thrilling adventure. Before the events of this movie, poor Annabelle was a little doll like any other, but Fate had its toll and she became one of the most talked about haunted item in history.
Inspired by a real life story, the story-line of Annabelle, though fictional, has its takings from the real story of the rag doll. This October, 2015 movie directed by John R. Leonetti, was released on home media via VCD, DVD and Blu-ray by Sony DADC, India's leading home entertainment content provider, a couple of weeks ago.
This movie, inspired by a real story and a prequel to 2013's highly successful supernatural thriller, The Conjuring, stars the following:
Annabelle Wallis (X-Men: First Class) as Mia Form
Ward Horton (The Wolf of Wall Street) as John Form
Oscar nominee Alfre Woodard (Cross Street, 12 Years a Slave) as Evelyn, a neighbor of the Forms who owns a bookstore
Kerry O'Malley (Those Who Kill) as Sharon Higgins
Brian Howe (Devil's Knot) as Pete Higgins
Tony Amendola (Once Upon A Time) as Father Perez
Eric Ladin (Broadwalk empire) as Detective Clarkin
The plot of this supernatural based movie revolves around a couple's life. The Forms are a happily married couple, leading a normal life. John Form gets his expectant wife the perfect gift, a doll which completes her set. This doll is the same one from The Conjuring. Mia is very excited but her excitement and happiness doesn't last long as their home is invaded by members of a satanic cult, one night and the couple is violently attacked. Though the couple survive this encounter, they are unaware that the cultists, have conjured an entity so malevolent that nothing they did will compare to the sinister conduit to the damned that is now Annabelle.
Enjoy this movie on Sony DADC with the following Bonus features:
On DVD
On Blue-ray
Production Featurettes (HD, 20 minutes): The Blu-ray of Annabelle offers fourshort 4-5 minute behind-the-scenes featurettes:
"The Curse of Annabelle"
"Bloody Tears of Possession"
"Dolls of the Demon"
"A Demonic Process"
Deleted Scenes (HD, 21 minutes): Eight lengthy scenes
Here is a list of the available products related to this thriller by Sony DADC:
Blu-ray – Rs. 1299 /- (Includes 5.1 Hindi Audio)
DVD – Rs. 599 /- (Includes 5.1 Hindi Audio)
Hindi  DVD & VCD – Rs. 125 /-
Annabelle & The Conjuring  DVD box-set – Rs. 799 /-
Annabelle & The Conjuring Blu-ray box-set – Rs. 1999 /-
The movie is very compelling, with its cool storyline (which is partly a frigging true story). It is worth watching. So get your own copy right now from Sony DADC and experience the thrill.