Until recently, bluetooth speakers have become a rage. Almost everyday we hear of a new brand coming up with a bluetooth speaker. This time Logitech's subsidiary, Ultimate Ears (UE) has come up with a bluetooth speaker- Mini Boom. It is available in wide variety of colors and produces unexpectedly big sound given its size. For a start it seems to be a powerful and stylish portable speaker.
Packaging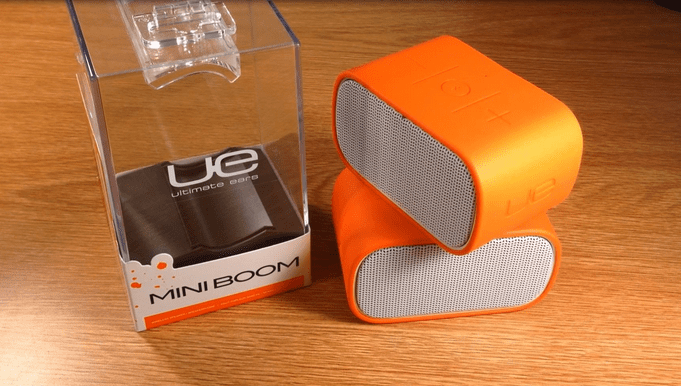 The packaging for the UE Mini Boom box is pretty simple. The speaker comes in a rectangular transparent plastic display box, raised on its side atop a small cardboard platform. The box feels pretty heavy given its tiny size though. Inside the box's platform is single USB to mini-USB charging cord and a manual. And this device also comes with an Android app and iOS app which one should download after pairing the device to the speaker.
Features

The UE Mini Boom has rounded edges and available in a wide variety of colors. The design though is a common one, we have seen a lot of speakers in the market that have similar looks. Carved into the speaker's wide top side are two volume button which flank a pairing button as well. Behind the device is a sliding power button, an LED charging indicator, a mini-USB charging port and a 3.5mm AUX in. The features of this device includes that it can be paired up to 8 Bluetooth enabled devices, and connect up to two source device simultaneously. It can wirelessly play to two Mini Booms which even produce better and louder sound. It can be played till the range of 50 feet and also this device is NFC enabled. Coming to its main purpose, it can produce a maximum sound level of 86dBC which is pretty powerful. It comes with rechargeable battery that can play up to 10 hours of battery life between Micro USB charges. The warranty period of the device is of 2 years though like other devices it is a limited hardware warranty only.
 Performance
For its size, the UE Mini Boom does a pretty good job when it comes to performance. The maximum volume is enough to fill in a medium sized room. The audios come out crisp and well defined. The device lasts fro about seven hours approximately straight, which is surprisingly good. The Mini Boom's has this skill for creating a rich display of drum beats. The sound delivery of this device is bass-heavy, which is a win win for its size. Wirelessly pairing the device provides some impressive results as well, like wide stereo image, impressively loud sounds etc. The UE Mini is also equipped with a microphone and can be used as a Bluetooth speaker when paired with your phone for attending calls. Its safe to say that this device gets away with the credit of being good looking with good performance, giving the market of speakers a good, simple and miniature Bluetooth speaker.
Conclusion

Here's another reason why you might want to order this item right away, the UE Mini Boom is quite affordable. It is priced within the bracket of $60-$100. Which is good as it is well-built and has decent sound for its size. Also this speaker is a portable one and given its small size and light weight, carrying it around is a no biggie. Therefore those of you looking for a good Bluetooth speaker which will be good looking, small, heavy-duty, loud and cheap, the UE Mini Boom is for you.