No one wants to talk about DVDs as such, but their impact on the world cannot be ignored. The DVD was an invention to look up to. It took 4 giants – Panasonic, Philips, Sony and Toshiba to develop these Silicon-Valley donuts and change the way we store data. Just in case you've been living under a rock for over a decade and don't know about DVDs – consider handbags. Handbags help you carry things (except that they aren't as costly as Gucci or Louis Vuitton!). DVDs carry Data. There's been a natural progression in the development of storage devices – DVDs, CDs, Portable Hard Disks, flash drives and the latest in the family – cloud Storage. But one player in there has been underperforming, despite of its phenomenal features – The BluRay Discs.
Take it this way, what do we need from a storage device? Large storage capacity, eortability and Easy maintenance. These are the factors which led to development of storage devices. Storage devices changed the way we developed electronics, because now you could store a large chunk of your data in these portable devices. But one has to admit, the BluRay was late to the party!
The first DVR Blue prototypes were unveiled at the CEATEC exhibition by Sony in 2000. The BluRay was actually developed by the Blu-Ray Disc Association. By 2001 a trademark for the disks was registered, and on 19 Feb 2002, the project was officially named 'BluRay Disc'. They're called so because of the blue lasers that read data from them, which helps with a substantially higher storage capacity.
2002 might sound early, but one needs to know in 2005, YouTube was available. And Netflix had been alive since 1997. The largest rivals to DVD market – online streaming channels had already arrived by the time BluRay was launched. The BluRay thrashed away the HD DVD market. Some of the largest players in media, distribution and retail segment like Warner Bros, Best Buy, Wal-Mart, Circuit City, Future Shop, Netflix, Blockbuster – all started opting out of HD DVDs by 2002. In that context, the BluRay was a success. But in the bigger scheme of things, the BluRay lost to the internet, and to digital streaming.
Also Read: Nobody Needs Cable TV
Well, there're numerous reasons why BluRay is turning obsolete day by day, moment after moment.
First and foremost, a BluRay costs more than an average Pendrive or DVD. Yes, it does give you an additional feature of comfortably playing anything in 1080p, but at similar cost, you can actually download the movie (legally) and store it on almost all of your devices using via the cloud.
Then there's portability. These portable discs are actually not that portable now. No one tailors jeans with pockets big enough to fit in BluRay disks. Simple.
It gives you the best picture quality in the market. Agreed. But at quite a lower price point, one can get next to best picture quality. Hence, even if you've an eye for quality, you'll need to pay quite bit extra for those extra pixels.
Related: The Future of Cloud Computing
DVDs have always been constructed in the 120mm dimension, and BluRay continues that trend. Conventional BluRay discs contain 25 GB on a single layer. So on dual layered discs you get 50 GB, on triple player 100 GB and on quadruple player 125 GB. But, if you actually want to store that much data, the hard disk is a better choice, irrespective of its storage capacities. The BluRay is still an optical and more prone to damage due to its delicate structure.
All that said and done, let's take a dip into reality. Video on Demand stands as the largest rival, and that too a winning one. Movies, Videos, TV shows – all of them are available on video streaming websites. And this has had a significant effect on the BluRay market:
In April 2011, BluRay market showed promising growth with a 28% market share. But that dropped to around 25% in April 2012. With the rise of better Internet Infrastructure and better connectivity, the scene was supposed to worsen.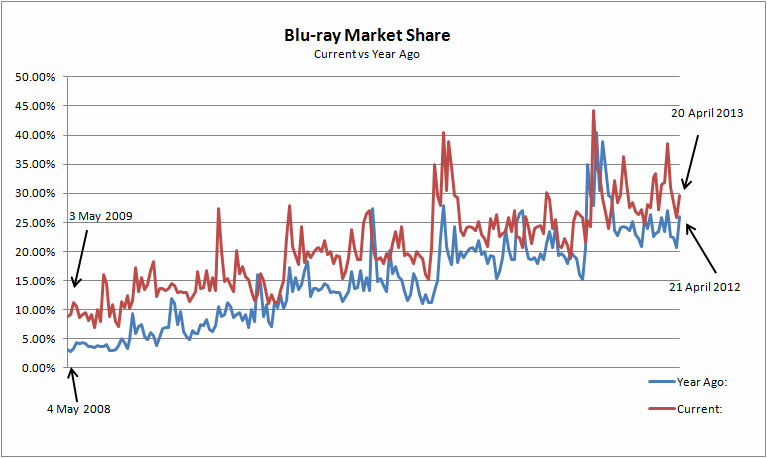 But somehow, BluRay stood stable. It remained at around 27% in 2013. Theo overall DVD market had increased by 0.5%. But, this is not the complete story.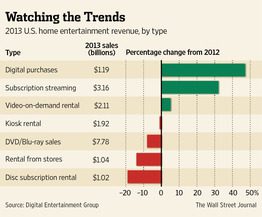 This is a Graphical Repesentation by the reputed, Wall Street Journal which shows, that despite of BluRay sales increasing, the revenue had dropped in comparison to 2012.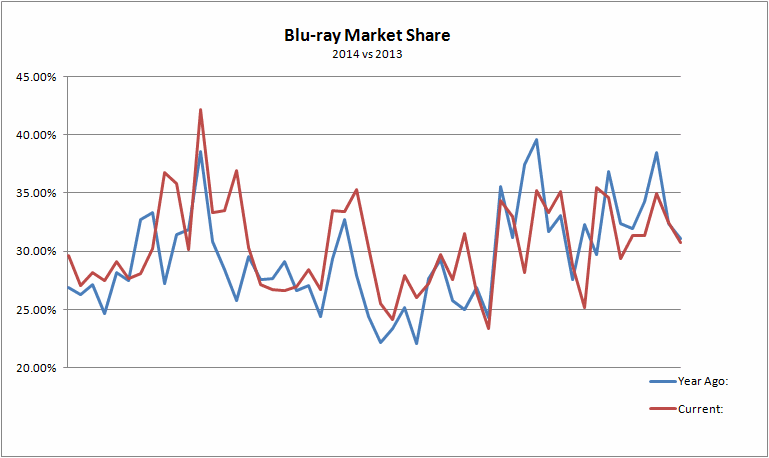 In all these market trends, one thing stands tall. In comparison to the previous year, either the revenues or the overall sales – is on its way down. This is indicative of how the BluRay market might be shrinking faster than we expect. BluRay players have seen a fall in their prices, which led to better sales. But the revenue eventually dropped. With Facebook and Google working to provide free internet worldwide, BluRay's condition will only worsen.
Yes, BluRay does provide a useful platform for the PlayStation and Xbox. But in the context of movies, the scenario is changing. Average global broadband speeds have increased, superior picture quality is available on the internet itself, and people can easily make transactions online – all this negatively impacting BluRay sales. The media houses do show optimism by launching BluRay versions to their movies, but primary sales still depends on the theatrical release of the movie itself. With the impending shift to cloud storage, the BluRay will soon be an ancient warrior.