It's a huge auditorium at the Mobile World Congress 2015, Barcelona. Beneath a high ceiling, in all darkness and camera flashes, the humongous screen shows some amazing animations. A high resolution display with phenomenal graphics and a female background voice adds to the aura in the auditorium. "Welcome to Samsung Galaxy Unpacked 2015." After a seven and a half minute presentation, Samsung's CEO JK Shin launched the Samsung Galaxy S6 and the Samsung Galaxy S6 Edge.
The Fall
People said 'they're never coming back to where they were'. People said 'their flagship has failed'. People said Samsung's reign is over. Samsung was labelled lethargic, unimaginative and a mere cheap Apple ripoff. We wrote them off ourselves, when we wondered if Samsung's dominance was over. In fact, we even went on to debate on who would pick up Samsung's Android crown.
All this started with Samsung Galaxy S5's failure. With the S5, the world's largest mobile manufacturer saw a 60% plunge in its annual profits. According to Wall Street Journal, 40% of Samsung's S5 units remained in the warehouses. While Apple and Xiaomi, the world's second and third largest mobile manufacturers respectively, were reporting higher sales; Samsung's sales were in free fall, with over 40% of its S5 inventory going unsold. That's a flagship we're talking about.
Samsung had increased production and reduced its portfolio in order to concentrate on S5, and create more market for it. This wasn't the best idea. Product Critics and Tech Experts stated Samsung's crown was under attack and if they don't react quickly they might step towards a huge downfall. To all those critics, Samsung came up with a 3 word answer- S6 & S6 Edge.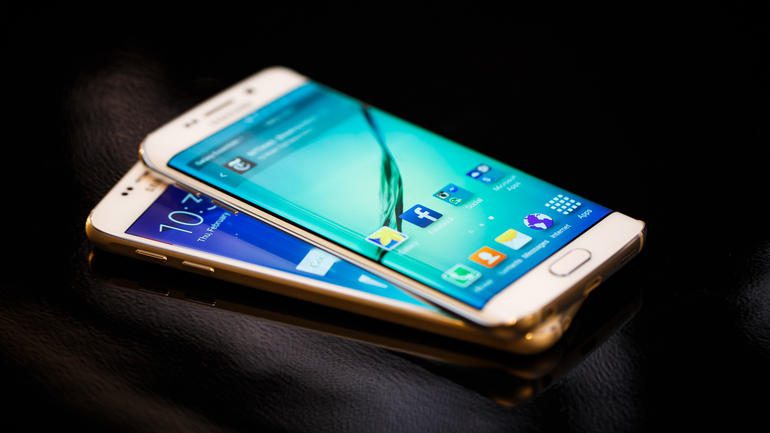 The Rise
And boy, did they make all those jaws drop. Samsung hadn't created something entirely new, they had merely innovated to a very high degree. After all those plastic and waterproof stunts, Samsung listened in on criticism and delivered.
So the S6 Edge arrived, made of glass and metal. Samsung has pushed the envelope (I'd say – torn it apart) to make S6 Edge its most beautiful and smartly designed phone. Despite the ergonomical change, it's comfortable for use on both hands, and isn't too large either. The 5.1 inch screen houses a Super AMOLED display with an impressive QHD (1440 x 2560 pixels) resolution, offering an amazing 577 pixels per inch. With a finger print scanner for security, a heartbeat censor for all the fitness enthusiasts, Android 5.0.2, TouchWIZ UI, a freedom to uninstall maximum of preinstalled apps, a 16 megapixel rear and 5 megapixel front camera, a 2600 MAh battery that can be charged to 100% in an hour- one has to say, the 132 gram S6 Edge has a lot to offer.
Analysts have anticipated annual sales of 55 million units for S6. At a price of $680 (approx), this would mean Samsung making an approx $37 billion in sales by the end of this year. Speculations may not be accurate enough, and many other things might play a deciding role, but these numbers show a high rate of optimism for Samsung all together. Although Samsung will be releasing its quarter one 2015 financial report on April 29, 2015, people have already speculated huge sales and profits.
At the same conference, there resided another hero. Probably from the past, but it was once a hero – HTC. The HTC One M7 had redefined innovation, and M8 had tried to sustain it, but M9 dumped much of repo its forefathers had generated. With a slippery surface, a 1080p screen (Not close to Nexus 6, G3 and S6 in the same price cap of $650), and the rear cam's unimpressive performance in low light, HTC One M9 has tried to improvise on the legacy of M8 and M7, but has failed to keep up with its competitors.
All the numbers – sales, predictions, earnings, may fluctuate. But the important takeaway is Samsung's response in the face of adversary. This was Samsung's battle to save the crown, to retain the throne and to come back with a vengeance. Are the S6 and S6 Edge worth the upgrade? You decide. All we can say is – well played Samsung, well played.