"If we don't cannibalise ourselves, somebody else will." That's quite a robust statement. But it captures a lot of ideas – future plans, an anxiety to be on the top, the fear of doom. Everything. Steve Jobs dropped this one earlier in his life. And Facebook's Mark Zuckerberg is known to think on similar lines. The social networking pioneer has his own fears, and is developing his own solutions to them.
The internet of today knows two giants – Google and Facebook. Both of them project similar images – something along the lines of 'We're here to connect people, to bring sophisticated solution to problems' and what not. One can't disagree that somewhere they've accomplished this far-reaching mission. But what next? What when you're nearing the epitome of your vision? You look ahead, of course. You discovers problems that aren't even problems yet, and you begin working on solutions.
Facebook's Acquisition Spree
With 54 acquisitions, ranging from a few millions to multiple billions, Facebook has been on quite a spree. Facebook holds a long history of acquiring technologies with potential, even when the potential isn't very crystal clear at that moment. With those acquisitions, it has brought more talent on board. This spree started with Parakey, an offline applications player, which was used to work on Facebook Mobile. Then came their first big take over, when Facebook acquired ConnectU for $31 million, in June 2008. Followed by $47.5 million acquisition of FriendFeed a year later.
Also Read: Where is Virtual Reality Headed?
With the kind of capital Facebook possesses and the scale it caters to, no-one was surprised to see the rooting off of its competition and bringing in people to enhance Facebook itself. Things took a different shape, when Instagram and WhatsApp came under Facebook's umbrella, and billions became the new standard acquisition currency. One thing common between all these acquisitions is that they all have been somehwat in Facebook's core target market of 'communication', either as competition or as an assisting technology provider.
But, looking at the last couple of years, things have altered…into a very confusing scenario:
Oculus VR Acquired for $2 Billion, Oculus is a Virtual Reality company working mostly on HMDs (Head Mounted Displays).
Ascenta A Company which is into making Unarmed Vehicles for high altitudes.
ProtoGeo Oy A fitness tracking app.
WaveGroup Sound Is a California based music production studio.
TheFind An E-commerce company, focusing on discovery shopping.
More Internet users = More Facebook Users
At first, no possible connection between these acquisitions and Facebook's core business is apparent. But dig a little deeper and an interesting scenario emerges. Looking at past history, Facebook's mission and vision statements….There's a chain being built up.
Facebook is an internet company. Facebook has a registered user base of 1.4 billion monthly users. According to the most recent data, there are only 3.14 Billion people with access to the internet. What's funny is that 65% of Nigerians and 61% Indonesians agree when asked if 'Facebook is the Internet.' So, what Facebook states as 'Connecting the Next Billion' might just be a brilliant business expansion strategy. What do you do to expand your business, when you're the largest player in your market? You extend the market.
'Connecting the next billion' looks like the perfect strategy to implement this market expansion. It's a pretty simplistic domino effect – the more people get connected to internet, the more of them will use Facebook, ultimately leading to more revenue for Facebook. So whether Zuckerberg's decision to bring more people online with free (or affordable) internet is a business strategy or philanthropy, is something we leave you to decide upon.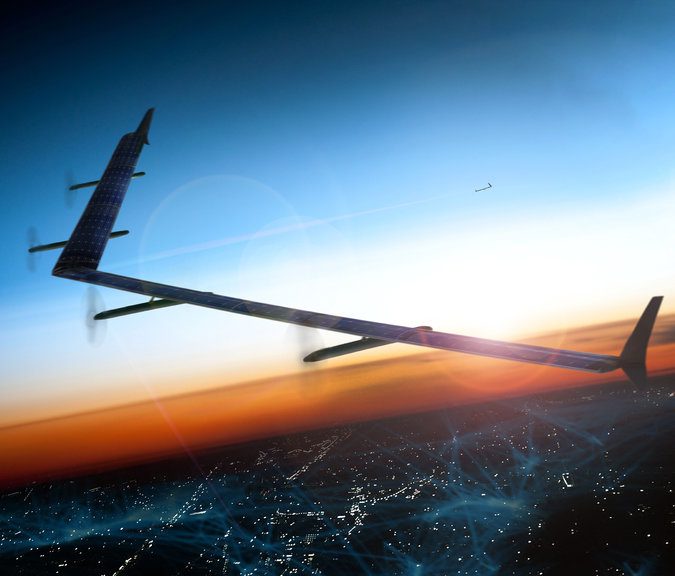 Mark Zuckerberg recently announced Facebook's decision to get into the internet drone business. It'll involve drones that will fly at a height of 60,000-90,000 feet above the ground with a wingspan equal to that of a Boeing 747, and provide people down there with internet using lasers. This is part of Facebook's internet.org initiative, which according to Zuckerberg, is a fundamental necessity today. With basic tools available on the internet, people will be open to more and better job opportunities and infinite knowledge. That might be agreeable, as stats say that 80% businessmen worldwide believe that an addition of online dimension will help them get more business, and 70% of these businessmen look for new talent to be hired once they expand in online area. Even then, I'm still unable to figure out how a kid in Zambia who doesn't have access to drinking water will benefit from a drone flying 80,000 ft above him providing free internet.
Well, drones and free internet still look like part of a business plan, probably a big one to expand on the central idea that it will bring in more users and Facebook will use their age old statement that it has so much information about its users that it can more effectively target ads to those who will be responsive to the content. If Facebook is still able to prove this, it will be able to sustain its revenue for years to come. But this belief still remains under scrutiny, according to many.
So it's probably more prudent to expand your genre of business too.
Image sharing, video calling, photo management and face recognition still look like Facebook's very own toys. But when it comes to lasers and drones, Head Mounted Display Units, Facebook Mobile (whose rumors surfaced in 2012), providing free internet worldwide, you'd probably wonder – what on earth do they have to do with a company who just wants to help people stay connected with their friends and family?
Facebook Wants to Control How You Communicate
Facebook is now thinking beyond it's core market. Sure, it aims to 'connect people. But with some broad thinking, you realise that connecting is synonymous with communication. Facebook is adding that extra dimension to its core business – getting people to communicate, and that doesn't include just individual communication over text protocols on the internet. Just as we've witness the addition of extra dimensions to how we communicate – we moved from text-based emails to voIP calls and video conferencing, we are now moving further ahead. Now, there's virtual reality.
Also Read: Oculus VR and Microsoft HoloLens – Two Paths to Alternate Realities
Simply put, using a head gear (supposedly Oculus), you might easily be able to have a nice chit chat with a friend in New York, when you're in Mumbai, on the virtual beaches of Hawaii, with T-Rex serving you a mocha chino (the drones giving the speed to internet connectivity). Now, Facebook's vision may not be that weird, but if things go as planned and speculated, who knows, you might be able to see the next FIFA World Cup Final, whilst sitting in the middle of the ground! Facebook wants to control every facet of your communication – how you deal with people, places, things, everything. Every single one of Facebook's current moves can be traced back to this core strategy.
With WhatsApp and Messenger, the company is in charge of your communication on mobile. With Facebook itself, it has a large part of the time you spend on the internet with friends and family. With Oculus, it'll have access to your experiences. Circle complete.