The term 3D printing might seem something from a sci-fi novel or something from the future to most people but to be completely honest, this industry has been in existence for a very long time now. In fact, the earliest records of 3D printing or additive manufacturing, as it was called earlier, date back to hundreds of years ago. But the recorded history shows significant upgrades in this sector starting from the 1980s. Straight out of an encyclopedia, 3D printing is defined as follows:
3D printing also known as additive manufacturing is any of various processes used to make a three-dimensional object.
While this might seem like a very easy way to manufacture products, it's anything but. Sure, 3D printing reduces the human interference and time required for manufacturing stuff you need, but the actual process is quite complicated yet marvellous at the same time. The models could be anything. From dumb old show-pieces to working machines, a 3D printer can virtually manufacture anything.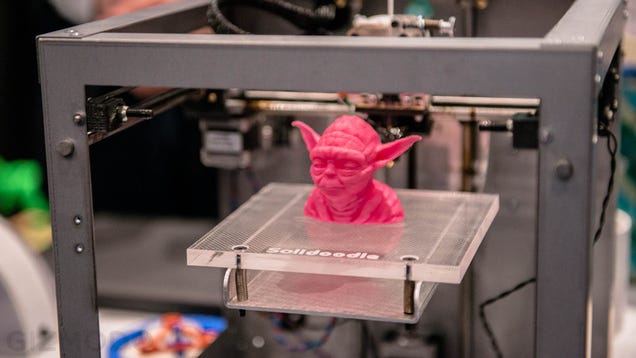 So how does it work?
A general 3D printer works in 3 main stages.
Modelling
Before you actually manufacture something, you need to have an idea of how it looks and feed it to the system. This step is called modelling. It can be carried out using CAD (computer aided designing), a 3D scanner or a plain digital camera and photogrammetry software.
It's simply a process of digitally imprinting the object required to the system and then sculpting it as needed.
Printing
This is where the fun begins. The 3D printer models the given raw materials according to the model fed to it. The model is stored as an STL file and then used as a reference to get the job done. While the whole process is a bit more complicated than normal paper-printing, the principle remains similar. You get quality in terms of dots per inch and this will decide the mechanical strength of the finished product.
Finishing
This is done to get a higher precision product. Printing an item slightly larger than required and then trimming it down to the desired size will result in better finishing and higher quality.
Other processes performed here include surface finishing making the articles look better and not contain any blemishes.
3D printers are used almost everywhere today in industries including aerospace, architecture, automotive, defense, and medical replacements, among many others.. While they are quite common in industries and such, there have also been a few models out there specialized for general consumers.
There are many types of 3D printers. Here's a list showing them:
The different types are in accordance with the application of the machine and will vary with respect to what kind of article you want manufactured by the printers.
Additive manufacturing has been a marvel to most people's imagination. The tech not only allows you to print simple articles like computer parts, turbines, home appliances and other such general stuff, it has also revolutionized the field of science and research. Almost every few months, something or the other is invented or innovated using 3D printing tech.
To name a few things, 3D printers have been used to create some of the latest satellites and machines used inside them. They were also employed in tasks like building spy and surveillance drones, in the field of medical technology to help reconstruct broken limbs or other organs. The technology has also been used to print vital organs like livers and hearts using pre-obtained DNA.
The Economics of 3D Printing
3D printing is today used in almost every sector and could just be the future of manufacturing tech.
As this is still an emerging technology, there are many job opportunities out there for people interested in this sector. There are many start-ups and established companies that are currently on rampage to make 3D printing more effective and bring it to the mainstream. One such company is 3D Printed Jobs.
This company is an intermediate between 3D printing companies and possible employees. They post job offers on behalf of other major additive manufacturing companies like KeepItVisual, Brothers, Embody and Pedrino and allow possible candidates to apply for these jobs.
If you are an employer, you could create a post on the website and add jobs as and when they arise. Candidates looking for employment, on the other hand can apply for the listed jobs on the website's portfolio.
It's fast, simple and very intuitive to use.
The company also provides courses as well as assists you with any doubts or problems you have regarding its special genre. The company describes itself as:
3D Printed Jobs is an international 3D printing careers and jobs website. Whether you are calling it 3D printing, rapid prototyping or additive manufacturing, 3D Printed Jobs is the platform where anyone wanting to post or apply for a job can do so, online, in a matter of minutes.
Here at 3D Printed Jobs we want to help those who want to be a part of the exciting and blossoming 3D printing industry. We believe the second industrial revolution is underway and it will heavily revolve around 3D printing. If you haven't already, then join us! We are here at your service!
Sure, 3D printing is still a long way to go, but if you think you have what it takes to make a career in this sector, you now know where you could fine help, assistance and even employment. You could perhaps be the one to take this centuries old but still young technology to the next level.