Your wallet and your phone are probably the only essentials you need on you whenever you're stepping out (a smartwatch too perhaps, if you're that sort). Over the past half decade though, the tech and payments industry have been working together to deliver a merger of sorts for us consumers. Mobile payments have been allowing us to pay without actual cash or cards – wallets could soon be a thing of the past.
Mobiles payments are performed primarily through 3 protocols: SMS or USSD, where transactions are completed by sending messages; Mobile internet, where the smartphone acts as a means to access the internet for carrying out transactions; and Contactless or Near Field Communication (NFC), where phones with an NFC chip can perform the same function as debit or credit cards using a short-range radio transmission.
Related: Digital Payments Are Influencing Consumerism In A Big Way
Trends in mobile payments
A rapid increase in adoption of mobile payments looks inevitable as the number of smartphone users rises immensely all over the world. Over 2.7 billion people currently own smartphone, and this value is expected to double to over 6.1 billion by 2020.  With 6.1 billion smartphones in the hands of the global populace, there's little doubt that digital payments will see a surge in adoption. The worldwide mobile payment volume was $450 billion in 2015 and is expected to surpass $1 trillion in 2019.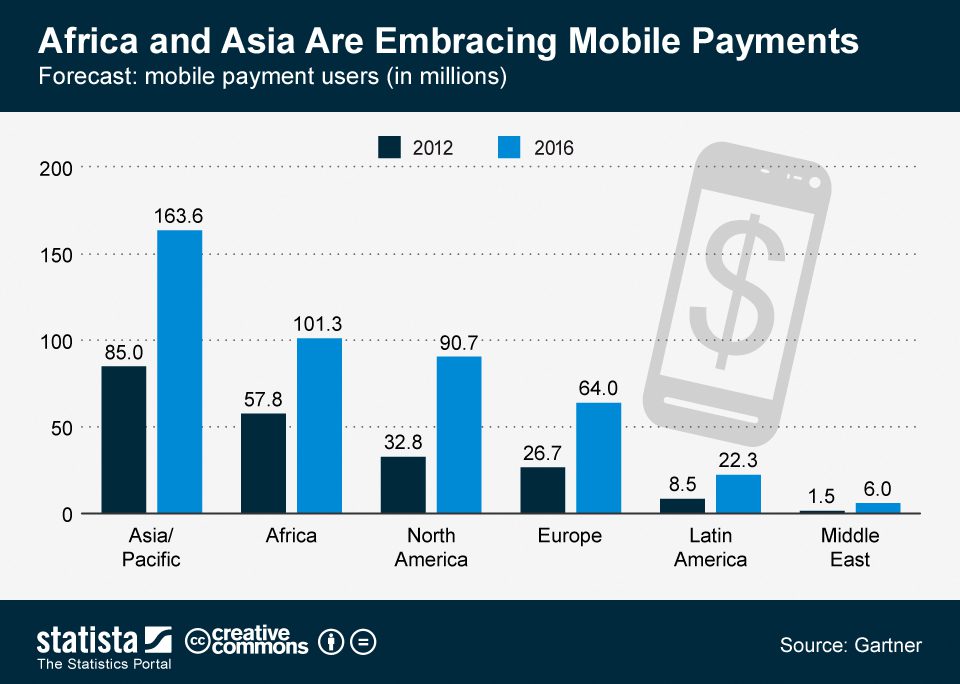 These statistics seem to indicate a slow death for cash wallets cards. However, the pace at which different countries are adopting mobile payments varies significantly. Developed economies like Australia, Japan and the US have already begun to witness this digital wallet revolution. There is increasing popularity of mobile transactions through NFC, and merchandise outlets are adapting to transform their payment systems. According to a study by Pew Research Center, mobile payments will be the preferred mode of transactions, eclipsing cash and credit cards by 2020 in the US.
As for the developing and less developed countries, it may easy for us to think that mobile payments are not a familiar approach for transactions in those regions. But this is not the case. In Kenya, the M-Pesa system is transforming its payments industry. M-Pesa conducts mobile payments and transfers using SMS – and had achieved an impressive adoption rate of 73% of the population in 2012. Another example is the Smart Money system in Philippines that boasts over 10 million subscribers. Even in India, transactions through mobile phone are projected to rise to over 30% by 2020. Although the figures are rising, the case is here quite different as compared to the developed countries: the rising adoption is due to the plain fact that financial infrastructures like banks and ATM's are limited in the lower economies, which means cash, despite being in high demand, is often scarce. Consequently, people in remote villages where financial institutions are unavailable can turn to their mobile phones for these transactions. It is possible that these economies directly leap into the digital payment systems through their phones even before experiencing the swipe-and-pay system that has been so recognisable in developed economies.
Technologies and companies enabling digital payment
We have the smartphones and we have the critical mass of potential users. The challenge then, is to offer consumers a simple, convenient and secure mode of financial transactions using their device. Multiple companies are working and investing on this: we have PayPal of course, followed by Google Wallet, Apple Pay, Square Wallet and many more. Even financial service providers like Visa, MasterCard and VeriSign are now joining the competition to rule the mobile payment market. Can they bring us to a cashless and card less future?
Although SMS/USSD and Mobile Internet based payments are common in the developing economies, a large part of the world would prefer moving to contactless technology enabled by NFC. This is due to its simplicity and better security. NFC enabled phones are brought around four cm near a NFC reader/writer and payment or transfer took place by exchanging radio signals. Another technology also on the rise is Bluetooth Low Energy (BLE): it can also operate offline and has a much larger range. BLE enabled phones need not be brought near the payment outlets for payments. Therefore, mobile payments using BLE could find their use in high traffic areas and public venues.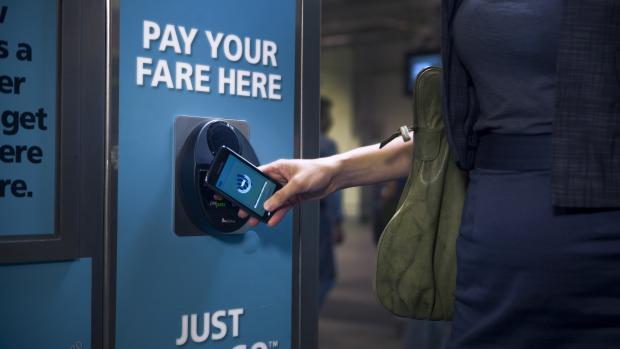 Are we ready?
The primary roadblock markets, especially developing economies, are likely to face in the move to contactless payments, is consumer mentality. We have the technology, we have corporations willing to make the jump, but all of this is possible provided the masses are willing to adopt the system. Developing economies like India still heavily rely on cash transactions. A large part of the population in these regions do not have access to a bank account, and therefore deal with cash only. Other reasons include corruption – which has people keeping a large amount of their wealth in cash. Mobile payment companies may brag about providing privacy and security for the transactions; but a large portion of the population will still feel uneasy and unsafe to execute all their financial transactions through their smartphones alone. The revolution could therefore take some more years. Are you ready to toss aside your wallet and hold on to just your smartphone?