All technophiles, exhibitioners, businessmen and true lovers of progress and methodology gathered to enjoy a sophisticated technical cacophony but to commemorate one of Asia's largest virulent ICT procurement platforms, the Computex 2016, Taipei, earlier in June this year.
While people from the west have pushed their knights on the front, the east summoned Bishops to reciprocate the earlier frequent moves with a synchronous chant. Tech firms from all over the globe have discussed plans, future endeavours and product benefits while viewers were seen to hover inside a zealous cloud of modernism.
As a press-release spectator from a developing country, it could be referred as a lifetime opportunity that had potentially uplifted many lives (might even shift the profit curve). Although, foreign companies performed well with their concurrent and latest ventures, in-house spin-offs overpowered them in terms of "things to offer" and "things to look for". In a nutshell, it was not only pleasant corresponding to a pair of eyes, rather emerged as an incubation hub of the next generation technology and economy.
Even after a week, the fever flow of dreams and resolutions of Computex '16 has not dried up and to salute the winner of the winners of this grand expo, this feature-blog was really necessary. The title of this article might provide some indication of what we're covering here. Transcends' industrial-grade SuperMLC "magic" MLC chip with SLC like powers, which we covered earlier here, was showcased on a global scale at the event.
Transcend, the international consumer electronics giant had set itself up primarily, as a "reliable memory" provider. It sounds more futuristic which truly unveils the nature of technology growth, mimicking a Hyperion Redwoods, in search of smart technology based evolution. Currently it sells Solid State Drives, Car Video Recorders, Body Cameras, Personal Cloud Storage, External Storage Devices, and USB flash drives, Memory Modules, Card Readers and lots more. Out of all these heavy engineering stuffs, the company still manages to keep the approach neat and appreciable in terms of usability and accessibility. Solely depending on its brilliancy and clean execution, Transcend not only WON the "Best Choice Award, 2016"in Computex '16 for two of its leading products but also won a million techie hearts. Out of those two, one was the industrial-grade SuperMLC SSD510K and the other one, the DriveProTM Body 20 body camera.
The SuperMLC Chip
Every team that participated in the show had an underlying motive to outshine each other's products. In that vivid race, it was visibly difficult to get hold of a rigid place and to sustain attention from the crowd for more than a couple seconds, when hundreds of other firms were battling to put forward their next bet. But when an entry wins, and the announcement echoes, the task is pretty much accomplished. Transcend was able to beat nearly 400 participants with their two saplings in terms of hardware design and high-grade quality. A prize for such good terms in two back to back products not only increases its trustworthy tag but also ensures a valid position in upcoming market.
Related: Why You Should Upgrade to an SSD Right Now
Highlighting the features of these two, the SSD510K SuperMLC device is a solid state drive which could be used as a replacement of old-school rotating hard drives in PCs. As the name suggests, we could simply relate it to the newly engineered innovation SuperMLC, an integrated MLC system with SLC's best sections perfectly blended in it. The hybrid features almost everything that one can expect from a SSD at nominal cost. With no moving components inside, it is lightweight, highly clocked and engineered to interface with target applications in the highest speed possible with a built-in DDR3 DRAM cache. Plus, it sports an all-SATA feature DEVSLP mode (low power consumption) coupled with inherent ECC functionality strictly maintaining RoHS norms (Restriction of Hazardous Substances Directive 2002/95/EC).
Additionally, the technology is fully functional under the S.M.A.R.T design document and an advanced garbage collection mechanism is incorporated to get rid of useless data. All these are decently mated to give birth to a shockproof item which is comparable to SLC NAND flash in terms of reliability and endurance. The device is available in 64GB and 128 GB variants.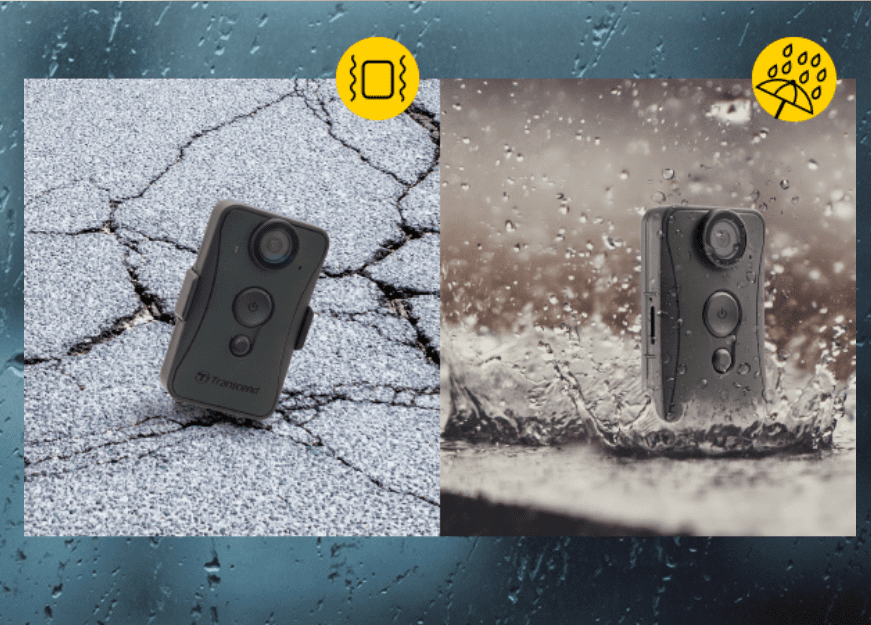 The DrivePro Body 20
The other one, the DrivePro Body 20 ushered the monument of success in terms of law enforcements and private security. Designed especially for the military, it is the flagship body camera product of Transcend that not only offers an unencumbered performance but also takes care of comfort and style. The customized camera was built to deliver 1080p Full HD video recording and could stream pictures and videos automatically with the help of an in-built Wi-Fi system chipped inside the camera case. Also a quick snapshot button placed as the third and last visibly functional object could instantly sync snapshots in android and iOS phones associated with its native DrivePro Body application.
Talking about its camera, the component boasts of a 160° field of view and f/2.8 aperture lens with water and shock proof outdoor-based capabilities. The device is powered by a 1530mAh Li-Polymer battery and can run for 3.5 hours per charge. A rugged jacket over the circuit provides ultra-sensitive protection and a 6 port docking station is available to provide external support. Connectivity wise, the advanced DrivePro Body 20 (TS32GDPB20P) also possesses a USB 2.0 port. Owing to the unique User ID and timestamp encryption, pictures and videos wirelessly transmitted over the phone are highly secured from tampering and eavesdropping. It has a storage capacity of 32 GB.
There's little debate over whether Transcend is worthy of winning the "Best Choice Award", when the competition involved 36 award-winning products including 7 golden award winners encompassing fields like IoT, Security, Smart Home system, Gaming etc. Furthermore, the company has decorated its stalls with their recent personal cloud storage devices, body cameras, car video recorders, Apple upgrade solutions and other series of trending products on Booth J0618. Physically the "Transcend" effect lasted from May 31 to June 4, Virtually? The internet will tell.