If anyone remembers watching Bond movies, the series was not only about espionage, women, and megalomanic villains. There's of course, cutting edge tech too. The Bond franchise has been a small window into a world where an immense amount of technological possibilities become plausible.
In Die Another Day we were witness to an Aston Martin Vanquish or rather 'Vanish' which could disappear on command, and which had guns which could start shooting on sensing danger. This was a 2002 movie. Much before this movie, at least 20 years in fact, an American television show called Knight Rider was broadcast. In Knight Rider, An artificially intelligent car with an indestructible armor was central to the plot of the show. The car fights crime along with its owner Michael Knight (played by the famous David Hasselhoff).
It's amazing how creative and innovative we've become as a species. We surpass ourselves with our own will to defy conventions. That is what Audi is trying with its new Traffic Light Information System. Hitting trials only in the United States for the time being, Audi's new offering will give the driver a heads up on the upcoming traffic lights.
Tesla and Google have already come out with their 'Auto-Pilot' cars where Tesla has already launched its technology while Google is going to in 2020. Audi however is just testing its new traffic lights sensitive technology success of which can be a game changer in terms of road safety and traffic management.
The Technology
Using a vehicle to infrastructure integration concept, Audi is integrating this into its Audi Connect Multi Media Interface (MMI) system. Every car which featuring this technology will be able to sense the incoming traffic signals and inform the driver of its color.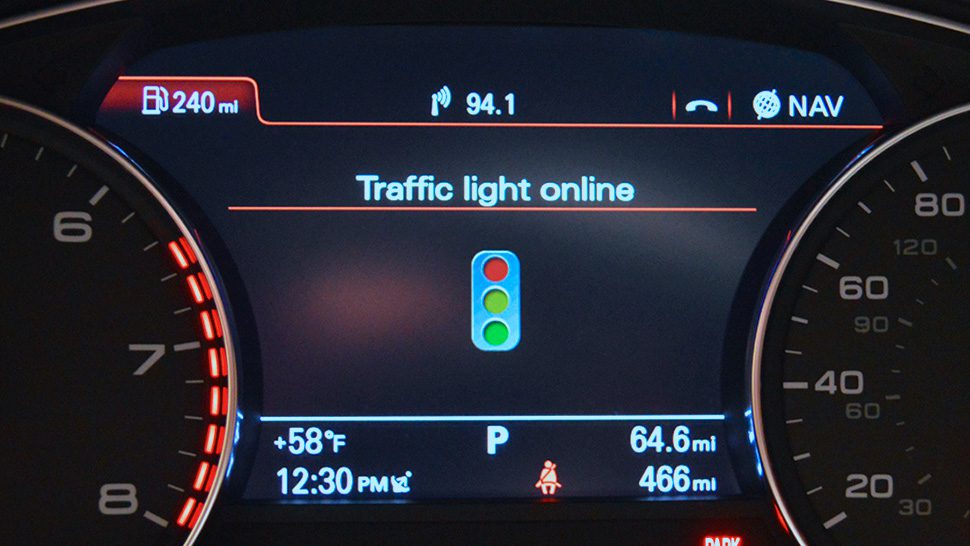 Every city will have its own traffic system or a grid which will be designed according to certain calculations. This Advanced Traffic Managements System (ATMS) will be linked to Audi's in built MMI via a wireless data connection. So, whenever a car is on the road, the ATMS will transpond the traffic light information to the car via the Traffic Technology Services company servers.
Potential Advantages
Related: Musk Wants Underground Tunnels To Ease Traffic Congestion
Road safety is the most obvious (and important) advantage being offered here. But there are plenty of other applications we can look at too: 
Reduced fuel consumption – you'll know when to avoid the red light and where to get through the green ones. 

Therefore, less pollution and emissions.

Reduced Traffic – 

This one could be the most visible change on the roads. With better synchronization between cars on the status of traffic lights, there's going to be smoother movement across the road – thereby reducing traffic.

The data collected from ATMS through these cars can be used to build an upgraded, advanced ATMS.
Unfortunately this service is only available for Audi Connect Prime. You will have to pay and make use of this Traffic Information System service. And lastly, this technology will be available only in a few Q4 and Q7 models built after June 1, 2016. However and whatever may be the case, this technology sounds like pioneering material, and quoting Chinese philosopher Laozi, 'A journey of a thousand miles begins with a single step.'