Online streaming is the preferred mode of listening to music for a large part of America & Europe. The concept hasn't gained a lot of traction in India though, primarily due to high data usage costs and the price sensitivity of the market. All that is changing however, with big players now vying for a portion of the streaming revenue pie. Saavn, Gaana and Airtel's Wynk Music are the major players competing with each other.
Related: The Best Music Mixing Apps for Android
Saavn launched back in 2007 in the United States. It was initially a B2B distributor of Bollywood content, but reinvented its products and launched as a streaming service in 2009. It was followed quickly by Airtel's Wynk and Gaana. Which one of them should you switch to if you're going the streaming route? We compare them for you.
Music: Quantity & Quality
All the three services offer high quality 320kbps bitrate streaming on their paid versions. On ther free offerings, quality can range from 128 kbps to 256 kbps. In terms of searching, Saavn is a league ahead. Search results can be categorised on multiple filters, while I found the search option lacking on Wynk. Saavn has a library of 35 million tracks and pretty much covers all the songs you're likely to search for. Wynk, with a significantly smaller 2.2 million library, still delivers, offering all popular and new Indian and international tracks.
Saavn also delivers separate collections categorised by languages, while Wynk offers marathon playlists. Many Bollywood songs appear first on Saavn, followed by Wynk and Gaana. Editing and making your playlist is almost same across all the three applications and all offer smooth playback.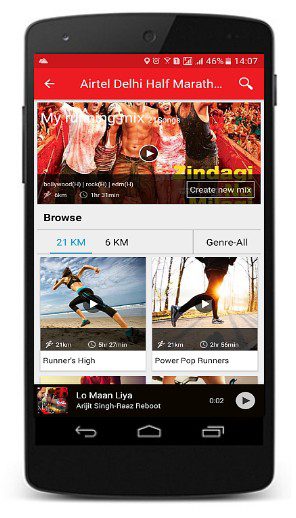 Interface & Experience
Saavn and Gaana rely on ads for revenue from their freemium models. Wynk, on the other hand, hasn't felt a need to advertise on its interface yet. Saavn has made an attempt at a subtle and easy to use interface , and largely succeeds. If you're looking for more vibrancy though, Gaana uses colored and dark themes. Saavn and Gaana even offer you great web view unlike Wynk.
Wynk's Music Journey is by far my favorite feature. Saavn, on the other hand, claims to offer Exclusive Content to its Pro users. whereas Gaana offers Radio Mirchi service offering gapless playback options in its music app.
Pricing and Availability
All the three platforms are available on Android and iOS, but for Windows Phone users, Saavn and Gaana are the predominant choice. Wynk made its way to Windows Phone only recently in October 2016.  Wynk and Saavn both have a trail period of 1 month whereas Gaana only offers you trial period of 14 days.
Saavn offers you 1-month subscription at INR 99 and INR 120 for iOS. Saavn Pro offers you streaming on up to 5 devices.
Wynk charges you INR 99/month for its Plus subscription, and offers the Freedom pack for INR 129/month. The Freedom Pack is exclusive to Airtel 3G users running Android devices, and allows them to download up to 500 songs without any data charges. There are additional discounts for Airtel customers on Wynk as well.
Gaana offers 3-month subscription in INR 297 followed by 6 months in INR 549 and 1 year in INR 999. The Plus version let you stream unlimited songs in high definition quality with no advertisement in the background.
Verdict
All the platforms offer unlimited streaming and no advertisements on their paid versions. Ultimately then, it's a question of the interface of your choice, and the experience on the free versions if you're unwilling to pay.
Saavn offers a subtle and clean interface, and allows up to 5 devices on its paid versions. There's also 'Exclusive Content' for the Pro users.
Wynk may be a favorite amongst Airtel users owing to the lack of data charges. The library is updated with popular and new tracks despite its smaller size. There's also no advertising on the free version.
Gaana users will tend to be those who prefer vibrant interfaces and like the older, classical genre. With it's 10 million strong library, there are plenty of tracks from the 70s and 80s on this platform.