You've heard of Virtual Reality, and you've heard of Augmented Reality. And we've had plenty of discussion on which of the two will dominate our future. Intel is now delivering a combination of both – Merged Reality. The little gaps in Virtual Reality have now been filled to give us more dynamic and natural real world experiences with Merged Reality. Brian Krzanich, CEO of Intel, dropped a post announcing the product, which the company is calling Project Alloy.
What can we do with Merged Reality?
Merged Reality is convenient. The focus is getting the user to interact with real-world objects on a virtual projection. Virtual Reality may be immersive, but it does cut you off from your actual environment and that can be slightly undesirable at some point. Augmented Reality on the other hand, is somewhere on the other extreme. Merged Reality helps bring the best of both together.
Need to brush up your tennis skills? Just pick up your actual racquet and start playing on a court of your choice. Practice your swings and enjoy complete freedom while moving around. You could also go for that expensive holiday to Venice you could never afford. As Intel's release trailer shows, you can party with people from across the globe even if you're sitting alone at home. Your virtual presence can give you as much fun as the actual presence since the device gives you an untethered experience with all the degrees of freedom.
In August 2016 at Intel's Developer's Conference, the company decided to unveil its most ambitious project yet: Project Alloy. With Alloy, Intel is promising to deliver a set of new experiences through merged reality and a number of other new features incorporated into the hardware. Project Alloy is Intel's answer to how Merged Reality will be implemented. With Alloy, Brian Krzanich explained how he aims to 'cut the VR cord' with Merged reality. There are a number of standout features on Alloy, which could possibly make the transition of Head Mounted Displays from a tech geek's device to a trendy consumer-friendly device.
Project Alloy
Firstly, all chords and connections have been done away with in the new headset. This gives the user more freedom and flexibility. Other objects in the room take the form of settings merged into the background so that they are easily avoidable during the MR experience. A free range of motion with 6 degrees of freedom, combined with collision detection and avoidance, helps us explore virtual space embedded in reality.
Secondly, there are no external sensors. Instead, there are Intel's Real Sense cameras attached to the headset, making the device independent, with no reliance on external sensors.
Thirdly, Project Alloy is open source. The head-mounted device is helping developers get access to Intel's internal computing technologies. APIs for the ecosystem are being made available. Partners can create branded products from the given Alloy design, encouraging more VR development.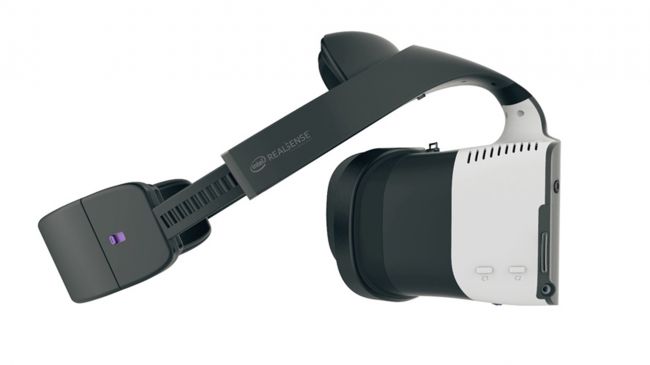 So far, Microsoft has promised its staunch support to Alloy. It shouldn't be too surprising if this space too sees more activity from other tech giants. Almost 4 years ago, the Oculus Rift came to the fore, and has been surrounded in hype ever since. It paved the way for Virtual Reality industry as it exists today. Alloy may deliver similar results.
However, so far what we have is only a prototype, and there is still a lot of room for improvement as far as hardware is concerned. Sensors need upgrades for positioning items in the virtual environment. The headset is also bulky and heavy, and is going to be uncomfortable if you're wearing it for longer periods. Alloy's commercial release is scheduled for the last quarter of 2017. Not much has been said about its price yet, though. Let's hope it doesn't go the Oculus route on that parameter!