In recent years, the dramatic spread of mobile devices and applications and the expansion of cellular networks have brought in singificant changes in how business is done. This isn't a regional phenomenon, but it is a global trend. Enterprises are adapting to this changing trend by developing powerful and comprehensive infrastructure.
Enterprise systems are support large-scale application software packages for business processes, information flows, reporting and data in an organization. The shifting of enterprise systems from computer devices to handheld mobile devices opens a plethora of opportunities for any organization. The widespread adoption of enterprise mobility is no surprise. Considered in terms of productivity, employees gain more hours in a year if mobility solutions are used at work.
Success factors for a Mobile Enterprise
Mobile devices are tools for businesses operations in the modern marketplace. This means more data can be incepted into the cloud and portable applications can be developed. Mobile computing complements critical processes in business using mobile devices irrespective of location. Two major groups benefitting from mobile technologies are 'mobile field workers' and 'mobile knowledge workers' since they spend most of the time outside the office.
The three major success factors for a mobile enterprise are added value which is the ability of staff to communicate irrespective of their location. Two other factors which ensure a success of a mobile enterprise are technology and transformation process. Technology ensures security issues, usability and performance of the application. Transformation process comprises the integration of employees and cooperation of different business units.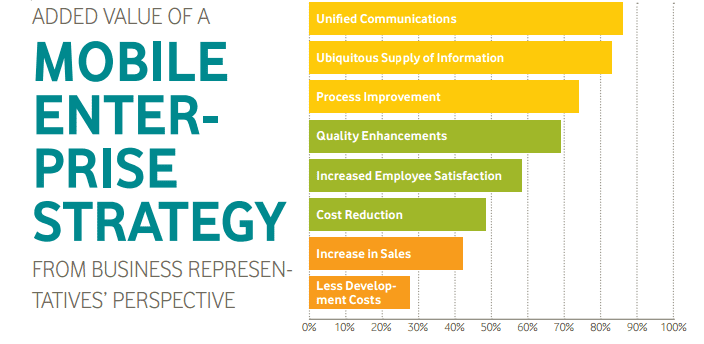 Changes in Organizational Performance due to Mobile Computing
There are so many changes brought into an organization because of mobile computing. Below infographic gives an idea of increasing use of mobile services by various managers.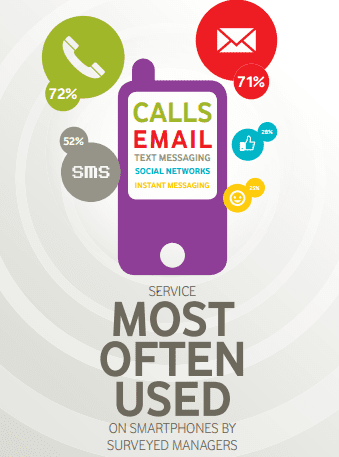 Organization tends to focus on single mobility factor but it is important for any organization that they address the various tradeoffs which will have an impact on organization performance. The enterprise may believe that maximizing user experience is important for a particular mobile solution and therefore decide to build a resident mobile application instead of mandating the use of a Server-hosted virtual desktop. The effect of "sliding" the user experience tab from "worse" to "better," moves the security risk tab from "less" to "more" (because sensitive data is stored on the mobile device) and moves the network dependency tab from "more" to "less" (because mobile data is stored on the device instead of on a remote server).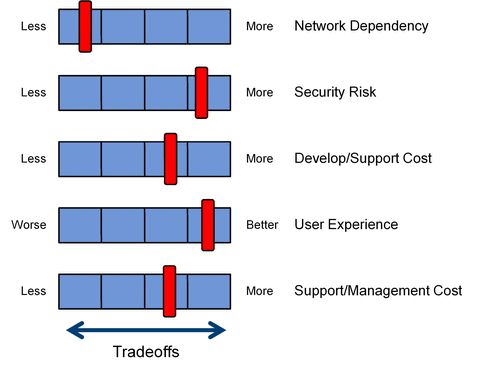 Effective utilization of mobility factors can lead to productivity gains as well as a better relationship with the suppliers. ERP reduces the lead time by improving interaction and information exchange with the suppliers. Financial markets reward ERP adopters with higher company market value and reduction of administrative costs.
Recommendations for Businesses
Businesses need to evolve with the changing mobile market and technology. They should have a holistic mobile enterprise strategy addressing technical solutions for their enterprise. These solutions should not only address the technical aspects but also the needs of the employees. It is advisable to start with employees who are always on the move due to need for mobile support.
Enterprise can think of exploiting potential usage of mobile devices in the sales and production department. By exploiting they should not only provide the employee with mobile devices but also ensure suitable training for them. Companies should pay special attention to providing secure corporate devices so as to eliminate issues of data breaching.  It is very important for any firm that designing of mobile enterprise strategy should align with the costs. Companies should sign contracts with a small number of suppliers helping them to secure bulk orders. This will ensure their cost-effectiveness and profit maximization.
Use of Mobile ERP increased surveillance and control over employees although telecommunications cost has increased. Mobile ERP has huge areas of scope which are yet to be discovered in all sizes and sectors which will eventually lead to better quality of life for employees.
References
Brockmann, S. S. (2013). Impact of Mobile Technologies. Germany: Vodafone Institute for Society and Communications.
Rafael Dalla Porta Pavin, A. Z. (2015). ORGANIZATIONAL CONSEQUENCES OF THE ADOPTION OF MOBILE ERP SYSTEMS: CASE STUDIES IN BRAZIL. JISTEM – Journal of Information Systems and Technology Management, ISSN 1807-1775.