Plenty of us operate two accounts or dual-SIM cards on the same smartphone simultaneously. And we know how difficult and tedious it is to switch between them on the go. For apps like WhatsApp, we're unable to create and use two different accounts in spite of having two numbers. The same task that is effortless on a computer, can become a horrible nightmare on the smartphone. That's the problem the apps we're going to look at try to solve. Their aim is to simplify our constant struggle of logging out and logging in for separate IDs. And all it takes from us is a couple taps. The two popular top choices are the Parallel Space app and Multiple Accounts (previously known as 2Accounts).
These apps are officially available only for Android users – although there are similarly named alternative apps available on iOS. Neither of these two is perfect, but they come pretty close. While your preference may vary based on the customizations they offer, they fare very well in terms of performance. Let's give you a rundown of what each app does best and what it doesn't.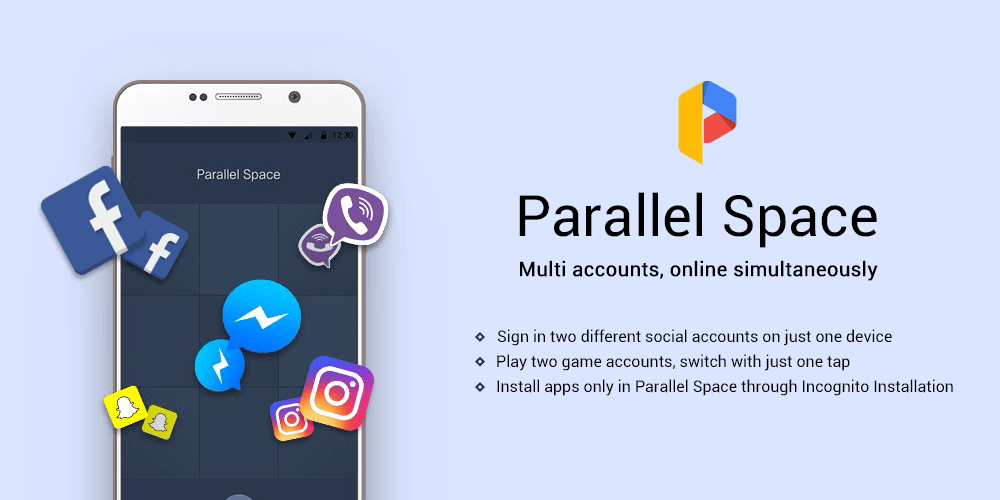 Cloning apps is a workaround that not all of us prefer. But both Multiple Accounts and the Parallel Space app allow us to run multiple versions of our favourite apps. Their services also extend to games, which is good news for those who have to share their account with relatives. No more loss of progress and resources, you can easily switch to another account. The two instances of any given app run in different environments and cannot clash with each other.
Multiple accounts also extend to social media where one might have a personal profile separate from their official one. There's no need to worry about mixing up private moments with public ones. Parallel Space and Multiple Accounts both allow a seamless transition from business to casual profiles.
Shortcuts and Access
Parallel Space automatically duplicates social media apps such as Facebook and Instagram. These secondary versions are signified with a '+' sign after their name. Parallel Space hosts a sandbox environment where you run multiple instances of the same apps. In simpler terms, it's just like using a browser as a different user. It's as simple as opening a new tab and signing into another account. To add a new app into the Parallel Space sandbox, just tap on the '+' icon which will instantly duplicate the chosen app from the ones installed. Social media apps can be easily duplicated, making it fairly to run a Parallel Space WhatsApp or Parallel Space Snapchat version on your phone. Games fare alright too – such as Clash of Clans.
On the other hand, Multiple Accounts doesn't automatically create duplicate app shortcuts on the home screen. Neither does it allow you to create them in the app drawer. The only way to access all parallel accounts is to go through the app itself. However, Multiple Accounts supports 99% of all games available in the Play Store and is optimised for messaging services. It also allows twin account access on a majority of the social media networks.
Security and Performance
There are no limits on how many apps you can add on Parallel Space, but they'll all add to battery consumption and CPU usage. All selected applications run in the background and stay open till Parallel Space itself is running. Task killer apps can stop Parallel Space and all running apps, so be careful with that.
Multiple Accounts (previously called 2Accounts) is largely similar when it comes to functionality. It has a simpler UI, but a major difference is that it focuses more on user privacy. Multiple Accounts guards your accounts' security by keeping the data information confidential. It facilitates the creation of a security lock for all your parallel accounts. This stops anyone else besides you from accessing your personal account.
Notifications and Updates
Parallel Space also doesn't allow you to stay online simultaneously on both accounts. It only saves you the struggle of logging out and logging in. You don't get parallel notifications in real time from both accounts. The duplicated apps get updated automatically when you update the original app directly.
Multiple Accounts tends to miss out on some notifications if it is closed and instant messaging like WhatsApp faces delayed messages at times.
Storage and Sharing
On the Parallel Space app, you can choose to share media and documents separately through either of the original or duplicated applications.
Multiple Accounts maintains separate storage for your parallel accounts on your device storage. This prevents data clashes and storage issues that might occur with other apps.
Parallel Space vs Multiple Accounts: Verdict
The Parallel Space app and Multiple Accounts app specialise in easy access and secure processing, respectively. If you want an easy and lightweight app without much security, Parallel Space is for you. If you prefer a simpler and safer alternate, Multiple Accounts is a better option. As with any such app, there are compatibility issues with certain apps that lead to crashes, so be wary. And enjoy parallel accounting! Avoid downloading a third party Parallel Space apk or Multiple Accounts apk, for obvious security reasons. Instead, stick to the Google Play Store – download the Parallel Space app for Android here, or opt for the Multiple Accounts app here.