A fun outing with friends where they drink and you don't. Should you be paying for their booze with money you might have other plans with? Or perhaps bill sharing while living in a shared flat is becoming quite a task for you and your pals. That's when bill split apps come to your rescue.
A significant number of people around the world are having to deal with this everyday situation of splitting bills while being just and fair. And not surprisingly, others have jumped on to tap this opportunity with specialised apps. The 3 most popular ones on the market right now are Splittable, Splitwise and Settleup. We take you through all of them.
Related: The Latest Fintech Disruptor – Simpl
Availability and price
All three bill split apps are available for free download on both Android and iOS. Splitwise also happens to have a web version. SettleUp, in addition to all of this, also works entirely offline.
User Experience of These Bill Split Apps
Setting up with Splittable involves you creating your own account, followed by sending invites to friends on any platforms to join you.
SettleUp works on similar lines, where you can simply join a group created by someone else or make your own.
In case of Splitwise, there is a pre-requisite that every member should have their own Splitwise account.
Key features
Bill Split Apps: Splittable
Splittable features an 'All squared meter'. The meter provides bill trackers and notifications to let you know when you are all settled with your pals.
There's expense tracking as well. You can keep track of all your household expenses and stay within budget.
Payment timelines exist, which aren't very readily available on Splitwise. The timelines give you the payment history on all transactions.
The bill manager offers customisation on splitting, and the ability to create and keep a track of all monthly payments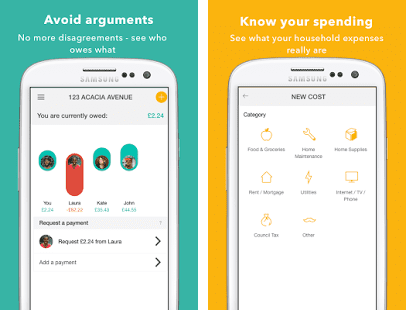 Bill Split Apps: Splitwise
Splitwise too offers to keep a running track of all your monthly expenses over time.
A handy feature is the email reminders – you get a reminder every time a payment is due.
Splitwise is happy to offer advice on general sharing problems each time you have a doubts regarding how and whether to split a bill or not.
Integrations! Splitwise is integrated with Paypal and other payment systems are headed here soon – allowing you to make payments from within the app itself.
Apart from creating groups, you can also keep a track of single expenses.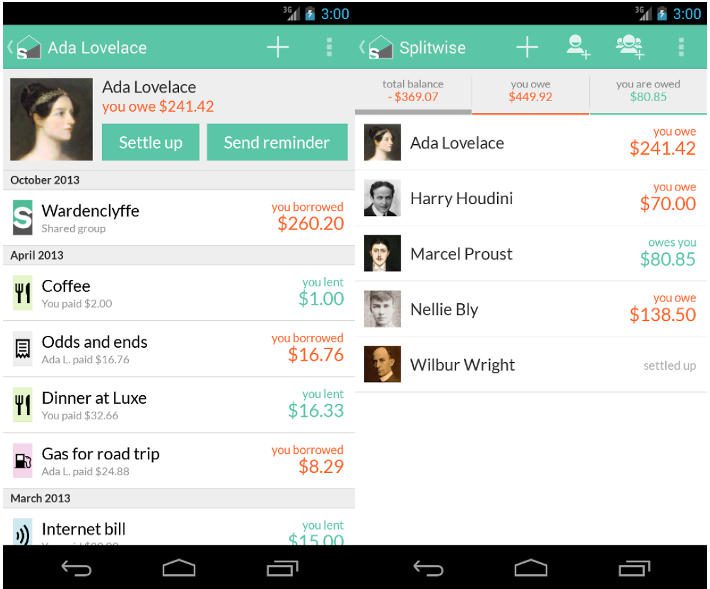 If you've decided to part ways with Splitwise and are wondering 'how to delete your Splitwise account,' it's a straightforward process. Head to your account settings, look for the 'Close Account' or 'Delete Account' option, and follow the prompts. Keep in mind that this action is irreversible, so ensure you've settled all your dues and exported any necessary data before bidding farewell to your Splitwise account
Bill Split Apps: SettleUp
SettleUp is the only one amongst the 3 that works completely offline.
Additionally, you can also create multiple accounts and switch easily between them.
PayPal integration is available here as well.
Yet another plus – SettleUp is available in 20 different languages
You can also export/import emails and transactions to your SD card or in CSV format.
There's the ability to directly attach the images of bill/receipt of payments as well.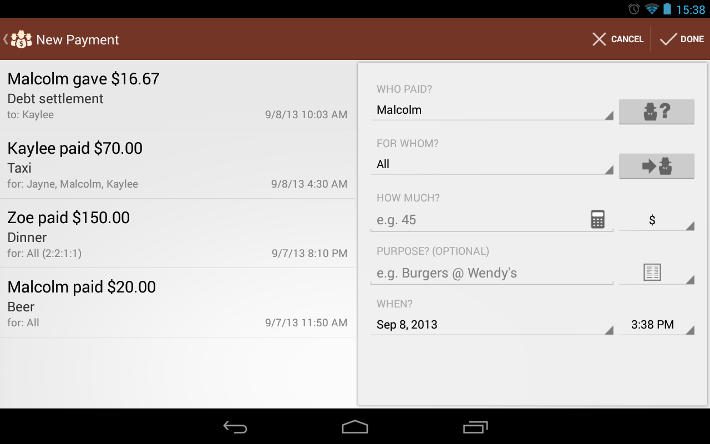 The basic objective behind all these apps is essentially covered. They work on a similar interface with minor differences in their operations. Users however, have encountered certain issues with each of them.
With Splittable; certain technical glitches occur while the app is summing up and dividing the costs. Splittable also does not offer you the option of deleting an entered cost or deleting a member from group when you want.
With Splitwise; updates have been known to get lost without internet access. The interface too, does fall behind Splittable's. Multiple other features are available on a 'Pro' version.
With SettleUp; there's no option to delete existing groups. And a missing feature we'd really like is the abillity to copy our expenses to clipboard memory.
Verdict
SettleUp seems to have the edge owing to its multiple features – availability in 20 languages, an offline version, multiple account logins, and the ability to attach pictures of bills and receipts. While all the apps perform their core functions admirably, and with a pleasing user interface, SettleUp seems to stay ahead.