The world was preparing to be taken by a tech storm in October of 2003, When Andy Rubin, along with Rich Miner, Nick Sears and Chris White founded Android Inc. Although Android Inc is known for the series of Linux based OS it rolls out consistently, the idea of developing an operating system for smartphones was not even in the cards when the company was first incorporated. According to Andy Rubin, Android Inc was founded with the motive to build an advanced OS for cameras, making them "smart devices that are aware of locations and preferences". A smart camera, if you will. It wasn't until much later, August 17th of 2005, when Google acquired Android Inc., that the team eventually decided to change its focus to building an OS for smartphones. The choice of creating the operating system based on Linux, made it so that Android, as an Operating System, could be offered to other smartphone and mobile manufacturers for free. The history of Android is rich, detailed, and exciting, packing in a number of releases, an ever-increasing list of features and capabilities, and a steady evolution of the world's most popular smartphone OS.
Early Days and Android 1.5 Cupcake
Almost two years after Google acquired Android Inc., on November 5th of 2007, launched a beta version of Android 1.0 for the public. This made way for the first-ever Android phone, T-mobile G1 in the US, and also called HTC dream in the other parts of the world in September of 2008. Android 1.0 created waves in the tech world with its ability to sync with the internet, integrate YouTube, an HTML browser (before Chrome was developed folks, yeah, that long ago!). What's more, it also featured a primitive Android Market, which had a number of unique applications available for download at the will of the user. While all of this sounds commonplace in today's world, it was almost unheard of back in the days, and thus began the steady rise of Android in the smartphone world.
Though an entire generation of christening the new versions of Android OS with dessert based codenames has come and gone now, all of that began in April of 2009, when Android 1.5 was given the public codename of Cupcake. Although it had a separate codename, Cupcake added only a few additional improvements to the stable 1.0 version. It gave users the ability to take and upload videos to YouTube, supported third-party keyboard applications and, my personal favourite, the ability to automatically switch the orientation between portrait and landscape based on what the phone was being used for. 
Android 1.6 Donut
Just five months after the release of Cupcake, Google pushed another Android version, version 1.6 in September of 2009. Though on the surface, the update had just some minor improvements, like the quick-search bar, interface optimisation and the introduction of a power widget to help manage the phone's battery better, Donut had a much bigger impact than these optimisations suggest. Under the hood, with Donut, Android finally supported CDMA based networks, enabling various carriers across the world to sell Android phones, marking a big step forward in the history of Andoid.
Android 2.0 Eclair
Another version of Android was rolled out by Google only a month after the release of Donut. Version 2.0, with the moniker Eclair, is the second major release in the series, adding several key features that can still be associated with Android phones to this date. Live wallpapers, TTS (Text to Speech) support, support for multiple accounts and Google Navigation are some of the few things that were introduced, which, despite Android's history of removing useful features, can still be seen in your latest Android smartphone. Flash and zoom supports were added to the camera application, Text and Multimedia Messaging were optimised, and typing responses were made quicker. 
Some minor bugs were fixed and performance issues were optimised in the version 2.0.1 and the subsequent 2.1 versions in December 2009 and January 2010 respectively, before their next major release.
Android 2.2 Froyo
You can see a pattern emerging here, and I am not talking about the codenames that each version was given. Though every significant update over Android's history got its own codename and branding, the version number gives away whether or not if the release was a "major" one or not. Though Froyo (FROzen YOgurt), launched in May of 2011, was given a separate codename, the update was a minor improvement to the previous entry. The major focus was on QoL (Quality of Life) improvements and few new features like the addition of personal hotspots and push notifications with C2DM service.
The first Nexus phone, the Nexus One, was released initially with 2.1, but later was given an option to update to 2.2, making it the first phone with Froyo installed. This Google-HTC partnership to create Nexus was the first of many steps that Google took to showcase the potential of "pure android".
Android 2.3 Gingerbread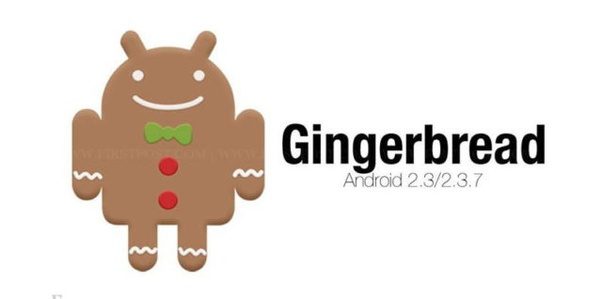 Gingerbread was rolled out in December of 2010, with the primary focus being on the new User Interface (UI) which leaned towards convenience and speed. This refresh, along with the support for Near Field Communication hardware characterized the latest edition of the Android series. Gingerbread laid the foundation to one of the most used features in the present world. With support for multiple cameras being introduced, the idea of a front camera and selfies in extension began with Gingerbread rolling out. Although not immediately implemented, this really paved the way for hardware manufacturers to incorporate the front camera. 
Gingerbread also optimised Google Talk (later Hangouts) allowing users to video chat.
Android 3.0 Honeycomb
2010 saw the release of Apple's iPad, a large handheld device which offered additional functionalities over its smaller sized smartphone contemporaries. As a response, Google, in an attempt to compete with Apple, released Android 3.0, named Honeycomb in February 2011. Honeycomb was available for installation only on tablets and larger than average smartphones. The intention behind this release was clear, to offer additional features to tablets and large devices which smaller smartphones weren't able to handle, as a direct response to Apple's release. The success of this move, however, has been widely debated, with many pundits (in hindsight) calling this little experiment in the history of Android, unnecessary. 
Android 4.0 Ice Cream Sandwich
Released in October of 2011, Ice Cream Sandwich is the lovechild of the smartphone oriented Gingerbread and the tablet-based Honeycomb. In addition to bringing all the functionalities that were previously table-exclusive, Ice Cream Sandwich:
Added the first version of using biometrics to unlock phones with the face unlock feature.
Began the use of the signature Roboto font as its typeface,
Received a UI revamp and,
Introduced Android Beam.
Swipe gestures, accessing apps from the lock screen are some of the many features that were brought along with Android 4.0.
Android 4.1-4.3 Jelly Bean
Android versions 4.1, 4.2 and 4.3 were released in quick succession from June 2012 to July 2013 under the same moniker "Jelly Bean". It was in the midst of this and the previous release that Android Market was rebranded to Google Play Store.
Jelly Bean marked the first time ever that the Android version of Google Chrome finally was introduced, and additional features were added to the notification panel.
Google Now integration to the search bar along with "Project Butter" were the key highlights of these successive versions of Android.
Project Butter was implemented to improve the touch responsiveness of Android, along with a focus in speeding up animations to help enable a smooth and seamless user experience.
Android 4.4 KitKat
Launched in September of 2013, Android 4.4 didn't offer too many additional features. An immersive mode was incorporated, and some minor tweaks were made to the UI, but that was all this new version offered with regards to features.
However, KitKat was one of the landmark updates of Android, as it really helped them get to the driver's seat when it came to market share.
The one key addition that was made to KitKat was the optimisations to make the phones running KitKat to be compatible with phones running just 512 MB RAM. This allowed various manufacturers to sell the latest versions on cheap smartphones, making Android the household name that it is now.
Android 5.0 Lollipop
Officially rolled out in November of 2014, Lollipop 5.0 changed the way Android looked with this complete overhaul. With changes to the UI, the addition of notifications on the lock screen, and the paper-like effects to the UI, Android 5.0 began adapting to the growing demand for minimalistic designs and widgets. Although it was possible to use dual sims on phones on Android phones before, Lollipop was the first version in the history of Android to officially support dual SIMs. HD voice calls along with some anti-theft features were incorporated in a later 5.1 release which also came under the umbrella of  Lollipop.
Android 6.0 Marshmallow
NFC compatibility, which was introduced as early as in version 2.3, was finally utilised to a much greater potential with the release of Marshmallow in October 2015.
Android Pay was first introduced with this release, marking the beginning of using your smartphones to pay bills and transfer money, a feature that arguably hasn't been tapped to its fullest potential even now.
Google's "Now on Tap" was also introduced, along with support for fingerprint-based biometric unlocking.
Faster charging and data transfer was made possible with support for USB type C.
Android 7.0 Nougat
Android N, or version 7.0, was rolled out in phases before being finally made available for everyone in August of 2016. With bigger displays on smartphones being the most pressing consumer demand, along with a necessity for a performance upgrade, Nougat, was the first version of Android to officially support multi-tasking and allow users to run more than one app at the same time.
Seamless switch between applications was supported, and picture in picture mode was introduced.
It also featured the ability to reply to messages from notifications, without having to open messaging apps and offered a split-screen feature to further improve multi-tasking experience.
Android 8.0 Oreo
Android Oreo optimised the picture in picture mode offered by Nougat and offered native support for this feature for all devices running this version of the OS.
Notification channels, notification snooze, password management and autofill data were improved upon with this new release.
The settings menu was also overhauled to give a new and better look. 
Oreo is only the second (after KitKat) release in the history of Android to be named after a previously trademarked name for an edible.
Android 9.0 Pie
As of late 2020, a majority of the Android devices run on Android Pie. Pie brought forward machine-learning, along with some other new features to optimise battery life, added the Shush mode, and implemented slices to provide the smooth, fast and optimised experience that the Android phones of the present are known for.
Dark mode support was initiated, with OLED displays starting to become a thing, with the aim to optimise the battery life.
The traditional navigation buttons are replaced with a single elongated "home" button (hmm, where had we seen that before?) and support for full-screen displays was also introduced.
Android 10.0 Q
Marking the end of an era in the history of Android, version 10.0 is the first version of the Linux based OS to not have a codename which is named after a dessert ever since 1.5 "cupcake" was released. Released in September of 2019, this is the latest version of Android that the phones currently support.
Along with the brand overhaul, Android 10.0 supports flexible and foldable displays, a system-wide dark mode for all apps, gesture-navigation controls, and increased autonomy over permissions requested by the applications.
It also has a smart reply feature, which lets users select quick responses to the messages received.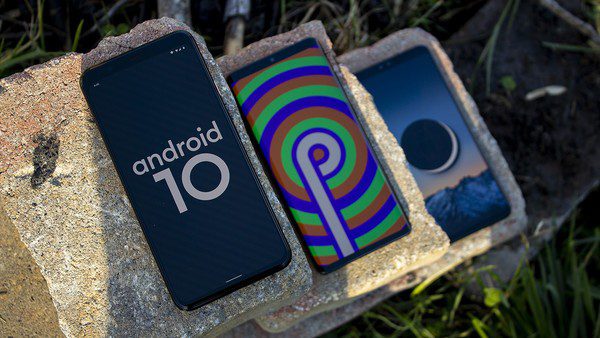 Android 11.0 and the future
Android 11 is rumoured to be released in September of 2020, but with the coronavirus pandemic, the release may be delayed (unconfirmed). With the history of Android as rich as it is, the brand will continue to remain a household name in every sense of the word, with its optimisations and improved performance with each update. With the growth of the "smart" generation, it is safe to say that Android is nowhere near to falling off any time in the near future. From cheap, budget phones to luxury phones like Google Pixel, Android has managed to seamlessly offer a great experience to all of its users, and it will continue to do so for at least a few more years before the next big thing is here.