Remember those sci-fi movies with skyscraper buildings dotting the skyline, bubbles in the sky stationing restaurants and cafes and on the roads below ravening vehicles whooshing by?
It might be the time to turn those movies into reality. When we go to buy cars, don't we all once think about the lifelong costs we will have to bear for the vehicle on its fuel and maintenance? It has crossed our minds and made us worried. But here is some crazy news! You may not have to spend too much on petrol or diesel to go miles. Electric vehicles or EVs have made it possible for us not to disturb our pockets too much if we wanna own them. If you are a nature lover and want to protect it – as we all should- you will be happy to know that electric cars are eco-friendly as their carbon footprint is relatively low compared to conventional fuel-run vehicles.
It is a no-brainer that these electric vehicles are intricate machines that require a thorough understanding of the fundamentals of how they operate. And it would help if you were privy to its functions, power consumption, and charging necessities before deciding on the most affordable electric car of your taste. Let's explore some.
So if you are interested in a more efficient and cost-friendly car, plug out your electric car charger and put on your seat belts. We are going for an informational ride!
Types of Electric Cars
With so many electric car brands floating their products in the market, we all might get a little overwhelmed while choosing the best electric car. Many of these would also make it into the list of cheapest electric cars in 2022. So let's first look at the fundamentals. Essentially, there are four types of electric vehicles: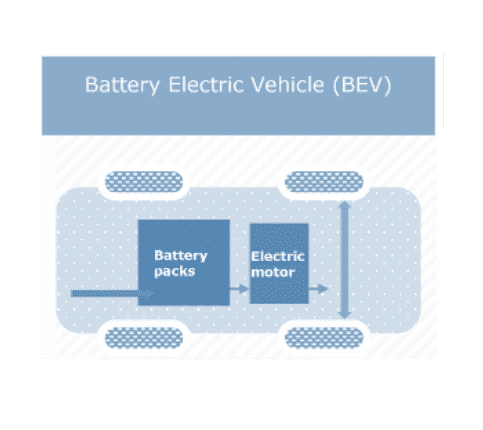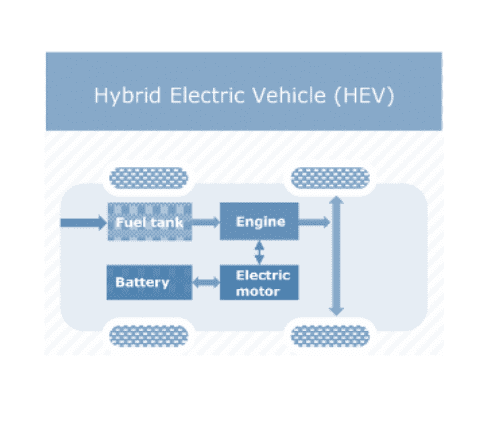 Source: e-Amrit | Types of EVs
Battery Electric Vehicle (BEV)
This electric vehicle is fully electrically charged and runs on an electric drivetrain and batteries. The electricity is stored in the battery, which requires charging as soon as it drains to keep it functioning.
Fuel Cell Electric Vehicle (FCEV)
Fuel cell electric vehicles are also called zero-emission vehicles because they directly convert chemical energy into electrical energy using fuel cell technology.
Hybrid Electric Vehicle (HEV)
Hybrid electric vehicles have both internal combustion engines and electric motors. The internal combustion engine is fueled by carbon fuels like gasoline, while batteries charge the electric motor.
Plug-in Hybrid Electric Vehicle (PHEV)
Plug-in hybrid electric vehicles have electric motors and internal combustion engines but offer a choice to use either. Hence, it is also called a series hybrid. You can use traditional fuel like gasoline or biodiesel to operate the car or plug in to charge the batteries.
Driving Range of Electric Cars
The driving range, or speed as we are used in calling in regular vehicles, is a major concern when buying any vehicle. Since electric cars are fuel efficient, one might suspect their driving range. Depending on the model and make of the car, it can differ from one to another. Thus, the driving range in an electric car is associated with the EPA. According to the stats, the lowest EPA is for Mazda MX-30 (100 miles), and the highest is for the Lucid Air Dream Edition Range (520 miles). However, instead of believing in the driving range specified by the manufacturer, look at online reviews to find the fastest electric car of your choice.
Battery Life of Electric Cars
The battery pack is the most basic functioning unit of any electric vehicle. It provides juice to turn your automobile into the fastest electric car. Batteries are made up of thousands of Li-ion cells working in tandem. It is estimated that an electric car battery can last for 10 to 20 years before a replacement is required. Replacing the battery can be quite expensive. For example, the replacement price of the Tata Nexon EV Battery Pack is around INR 5.50 lakh to INR 6.20 lakh. Thus, make a note to look into the battery life of the basket of your chosen most affordable electric cars to avoid high maintenance costs in the future.
How long to charge an electric car depends upon how fast the electricity brings chemical changes in the battery, which are later reversed to boost the machine. Charging an electric car can take from thirty minutes to twelve hours. The battery size, existing battery charge percentage, weather conditions, etc., are some factors that determine the time it takes to charge the battery.
How much does it cost to charge an electric car? It is determined by where you are charging at home or a public charging station. Generally, in India, the battery capacity of EVs is between 20 and 40 kWh. In Delhi, it may cost INR 100 to 200 to charge at charging stations and INR 180-500 at home. Check out the feasibility of charging options before investing in an electric car.
Also, don't forget to inquire about the warranty of the battery. Most brands give a warranty of five to eight years, depending upon the model.
Price of Electric Cars
Electric cars can be expensive due to the complexity of their design and build. Since most of them do not use the conventional system for fuel, finding the fastest electric car can go a little above your budget. But it is a relief that you can find the best electric car of your choice from an array of available options, from Mahindra to Mercedes. The cheapest electric cars in 2022 are Mahindra eVerito, Tata Tigor EV, and Tata Nexon EV.
The price of electric cars can range from INR 10.15 lakhs to INR 2.10 crore. The most affordable electric cars in India, apart from those mentioned above, are Renault Zoe, Renault K-ZE, 2022 MG ZS EV, 2022 Hyundai Kona Electric, and Mahindra XUV300 Electric. Cars like Jaguar I-Pace, BMX iX, and Porsche Taycan cost more than INR 1 crore.
Tax Benefits and Incentives
Upon purchase of an eco-friendly vehicle, you are eligible for incentives and tax benefits. Verify the percentage of benefits you can receive before buying the EV. The Indian government relieves some proportion of goods and services tax (GST), reducing the overall price of the electric car.
Maintenance Costs
Every working machinery under the sun requires maintenance. Electric cars are not spared from these extra costs either. Spending on maintenance costs is necessary as it improves the automobile's efficiency. As mentioned earlier, the maintenance cost of electric cars is comparatively low compared to traditional cars. However, if there is major damage to the machinery, it can be an expensive venture. Also, the replacement of electric car parts can be costly too. Since these cars are fairly new in the market, engineers or mechanics specializing in these electric cars are relatively low.
Additional costs
Getting an eco-friendly car also requires external charges like getting a charger for the battery, installing a charging station at home, maintenance of the charging station, and if you decide on using public charging systems, then charges are borne at these stations. Thus, ensure to confirm the additional charges before buying the electric car.
Software updates
Common software updates are required in an electric car after its purchase. Few companies might provide free updates to the software, while you may have to bear additional charges to update the software regularly. So, it is important to check with the manufacturer about the software update policy as well.
Support and After Sale Services of Electric Cars
A company strengthens its customer relationship by providing after-sale services. In the case of electric cars, the manufacturers may provide a few years of warranty and software updates and may even set up a charger system at your home or a location according to your convenience. The service centres have trained technicians who offer good quality electric vehicle services. Hence, your EV will be the best electric car only when you look out for after-sales services that save money and give you top-class assistance.
It would help if you also looked for the electric car's acceleration to make an intelligent decision. You can check out the acceleration of electric cars like the Porsche Taycan Turbo S, Mercedes EQS 53 4MATIC, or other sleek electric cars through this cheat sheet. Moreover, you also have an option to buy a used one if even the most affordable electric car is out of your budget. But make sure to check the damages if you have any, the remaining battery life, warranty period, motor state, charging type, state of the tires, and other important aspects before signing the deal. It goes without saying that the automobile should be insured. So don't forget to get car insurance. However, remember that the cost of insurance for an electric vehicle is much more than that of traditional vehicles.
Conclusion
The automotive industry has picked up the pace and is moving speedily towards advancement, from gas-fueled cars to electric cars to flying cars. We are in for a lot of inventions and surprises. An electric car is a cheaper investment than your normal car in the long run. As the battery works for at least a decade, you don't have to spend too much on conventional fuel like petrol or diesel. Plus, it is eco-friendly. But while choosing the best, fastest, or most affordable electric car, don't forget to thoroughly investigate its features and what the manufacturer offers before putting your seal on the contract.
Hope you find the electric car of your dreams. Oh, and don't forget your electric car charger!