They say big things come in small packages. Well, looking at the scenario of budget android phones in India, this adage can be modified further by stating that big things come in small packages and at cheap prices! And the Karbonn A1+ Duple stands testimony to the fact that for many people today, great technology can come easily. At the dirt cheap price of Rs 3600/- , this is a great phone for people who want to experience Android 4.2 Jellybean without burning a hole in their pockets.
Karbonn A1+ Duple: Looks & Build

Prima facie, the phone seems to be cheaply built with its hard plastic back cover and its minimal design. In fact, the phone does give a very plasticky feel to it. However, despite all the plastic parts, the phone is extremely sturdy, and the unit that I reviewed did not have any creaky parts or loose physical keys. Moreover, the back panel itself is slightly tough to remove, but at the same time very stable. So build quality is pretty good.
[quote_center] Seems to be cheaply built, with a hard plastic back cover [/quote_center]
[row]
[col type="1_2″ class=""]
The phone has a 3.5 inch screen, with a shocking 320×480 pixel resolution, which is appalling by today's standards for a smartphone. There are two cameras: A 3 Megapixel shooter at the back with an LED flash and a front facing VGA camera. The phone comes with three physical keys: Namely the Lock / Power ON button and the volume rocker. The front of the phone has three touch capacitive keys for Home, Back and Options. HOWEVER, these keys are NOT backlit.
Take the back cover off and you'll be greeted by the 1300 mAh standard Karbonn battery. According to the company website, it offers a standby time of up to 300 hours and talk time of up to 4 hours. I'll take their word for it, as while on Wi-Fi and basic usage involving web browsing and playing light games, the phone gave me about one and a half days worth of juice. The phone is a dual-sim variant, supporting two GSM SIM cards. It also has support for an external memory card, expandable up to 32 GB. Both the SIM Card slots and the memory card slot are located under the battery.
[/col]
[col type="1_2″ class=""]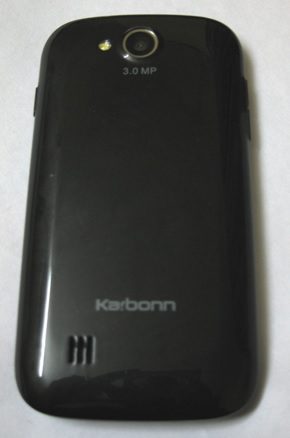 [/col]
[/row]
[clear]
Features
Under the hood, the phone houses 512 MB of internal storage, out of which only 125 MB is usable for apps and media. It has 256 MB of RAM, which is pretty demoralising. It runs on a 1.3 GHz dual core processor, which although looks good in print, does not really offer the snappy feeling that you tend to expect while running some apps.
The only saving grace of the software aspect is that it comes with Android 4.2 Jellybean. The phone runs the proprietary Karbonn UI, which does make transitions between the menu and the home screen buttery smooth.
[quote_left] Google Now stands out [/quote_left]
One of the best features that I liked about this phone was the Google Now feature. It was heartening to see a budget phone offer voice search and the latest variant of Google Now straight out of the box. (NOTE: I bought this phone on 10th December. The latest update to Google Now was added to the Play Store on 11th December.) The phone recognized most of the voice searches that I made, and showed up results pretty accurately.
The phone also has a handy magnification app, which magnifies the screen to twice its usual size when you tap thrice in continuous succession. It's a nifty tool that promises to make handling the phone easier for the aged and elderly who might want to experience an Android phone.
Besides these, the phone also has standard Google apps, a G-Sensor and Wi-Fi and Bluetooth hotspot capabilities. It lacks a Proximity Sensor and an Ambient Light sensor, but then again, at the price at which it is sold, these sensors can be given a miss.
Karbonn A1+ Duple: Camera
[row]
[col type="1_2″ class=""]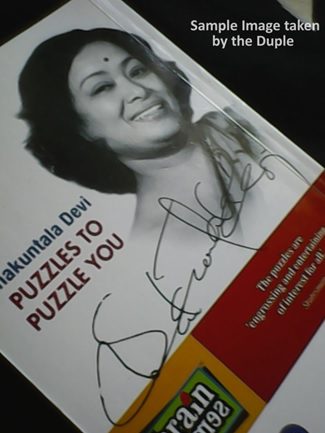 [/col]
[col type="1_2″ class=""]
The A1+ Duple has a 3 Megapixel shooter with a tiny LED flash. To be honest, 3 megapixels is far below today's standards, but when compared with the similar 3 megapixel camera of the Nokia Asha 501, this phone produces some quality images.
[quote_center] Produces some quality images [/quote_center]
The camera comes with different modes such as Panorama, Face Detection, Smile Shutter and Continuous Shot (up to 20 shots) – which is very commendable for a phone at this price bracket.  Moreover, the standard camera app has provisions to adjust the ISO, Exposure and Flicker Speeds.
The flash is very poor and does not perform well at all. In fact, Karbonn advertises the flash as primarily a flashlight rather than a camera accessory. Nevertheless, once again we observe the price point and excuse the flash for its mediocrity.
The front facing VGA camera is not at par with most of the front cameras out there, but it does get the job done properly. However, we wouldn't recommend taking a selfie with this, unless you're prepared for grainy and dark images of yourself!
[/col]
[/row]
[clear]
Performance
[quote_center] Running games like Temple Run 2, Angry Birds isn't a problem [/quote_center]
The phone makes snappy transitions between the homescreen and the menu. In fact, it almost does full justice to its stats and comes off as a device that promises smooth performance.
Running light games like Subway Surfers, Temple Run 2, Agent Dash and Angry Birds does not take much of a toll on the performance, and the phone renders the graphics very well. The same can also be said of very light apps like jetAudio Music Player Plus and Perfect Piano. In this department, the phone does a great job.
However, come to slightly heavier apps and stutters and lags become more prominent. Heavier games like Asphalt 6 – when run on the lowest graphics settings, performs with quite a bit of lag. That being said, one has to consider the RAM it's offering, and we will have to excuse the phone for being unable to run such games.
We recommend installing an app like Clean Master (Cleaner) to clear a bit of RAM when needed. One has to keep in mind that this phone is simply not built for high performance, but still it tries its level best to live up to expectations.
Web Browsing
[quote_right] Pinch to zoom throws up some lag [/quote_right]
Browsing on the Duple was a breeze. The phone opened up webpages pretty quickly and rendered the page animations pretty well. Websites of daily usage like Facebook, Mashable and Digg opened up smoothly. Heavier websites like Intel's Museum of Me took some time to load, and even more time to pan around.
Pinch-to-zoom works decently, but does offer a slight amount of lag sometimes. Panning a web page is smooth most of the times, but when done for websites having quite a bit of Flash content, it offers a few stutters. Nevertheless, for basic web browsing, the phone gets the job done brilliantly.
Karbonn A1+ Duple: Messaging & Calling
At the end of the day, a phone is used primarily for texting and calling. And in this department, the phone proves its mettle.
The messaging app is very minimalistic, and yet attractive. It supports voice typing – which works very effectively, as opposed to voice typing in other phones in the sub-10k range. You have the usual syncing of contacts from Google, so there's that as well.
Coming to the keyboard now, if you're used to Swype, you can install that. However, given the screen size, the keyboard is a tad bit better than other phones sporting a 3.5 inch screen, for instance the Xperia Tipo. In landscape mode, the keyboard is spacious enough to type on without making mistakes.
Call quality is decent with a minimal amount of noise and interference. While on a 2G network, I was able to have conversations that I could understand easily – when compared with a few other phones I used earlier where call quality was not that great. Overall, thumbs up on the call quality of the Duple!
Karbonn A1+ Duple: Final Verdict
The Karbonn A1+ Duple does not really offer much. With a very small amount of RAM and ROM on it, it automatically lowers the bar for the kind of applications and games it can handle.
However, it does offer the latest Google Now, and a recent (if not latest) Android version, which is more than what is expected of it. Moreover, it handles light applications seamlessly, offers a decent camera that produces some good pictures and a front camera for video calling. It offers respectable battery life, good call quality and pretty crisp web browsing capabilities.
[quote_center] The Duple is worth every buck [/quote_center]
All-in-all, if you're looking for a phone that can double up as your secondary phone, then this is it. Great value for money, and at about 3.6k, it is worth every buck. For people who need an Android phone for day-to-day usage, the Karbonn A1+ Duple is a perfect phone. We give it a rating of 4 stars.