There has been a general trend creeping into the global (including the Indian) Smartphone market – a trend that is very very unsettling to the keen tech-savvy eye. Over the last couple of years, it is pretty apparent how local mobile brands and other comparatively new smartphone companies have gradually eaten away on market shares of major OEMs – especially Samsung's. I will spare you the gory details (read, statistical analyses) because it doesn't take a genius to figure out that Samsung has indeed been failing to deliver desirable results to its target audience. Very rarely do you find a friend or an acquaintance walking into a mobile store nowadays to purchase a Samsung smartphone. Whether it's because of Samsung's own management or promotional glitches is not what we intend to focus on. Because, in spite of these deficiencies, a leading multinational company as Samsung cannot possibly lose out on market shares, IF they churn out premium quality phones, WHICH THEY DO. After all, Samsung has been beating premium smartphone makers like HTC consistently. So why then are they facing this sort of predicament?
Domestic Competition
Well, you must of course admit that the local brands that are coming up – Indian ones like Karbonn, Lava and Xolo (who collaborate with Google on Android One), and Chinese ones like Gionee and Oppo, are offering cheaper smart phones which are more or less durable and as slick as those coming off of branded companies.
Also Read: What are Chinese Smartphones Doing In India?
Even Apple has been striding the Indian smartphone market with aggressive price schemes and offers like "Try and Buy", which have indeed influenced the affluent section of the society. And the final nail was then driven when Micromax began breathing down its neck and is now engaged in a neck to neck competition with Samsung. In India though, Micromax is the new ruler, as far as number of units shipped are concerned.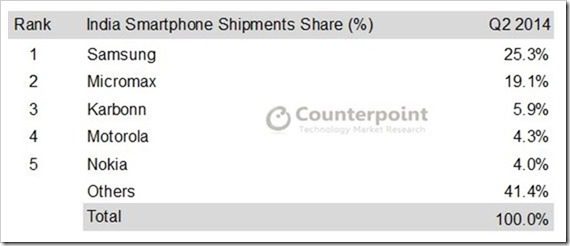 There is no denying that Samsung has had its share of runaway hits; Galaxy S and Galaxy S2 still remain one of the most sold phones, ever. But their later products came in a flurry, with no proper marketing strategies, and with no discernible distinctions when it comes to features. Another interesting feature of this quick succession of releases was the reduction of a phone's shelf life. Hence when the next device released, the old one were sold at cheaper rates, which would only lead the consumer to purchase the older device at a lesser price. This would then lead to a relatively poor user experience – pulling customers away from Samsung.
In 2013, most of Samsungs low and mid-range phones lost out when pitted against Micromax or Karbonn, while its expensive products did not have many buyers. Samsung is going through what Nokia had experienced not long back and precisely what threw the latter out of the smart phone competition. With steadily dropping revenues and profits, and a slew of new upcoming devices, Samsung really needs to be at their best right now to salvage the situation. Otherwise – it faces the danger of being rendered irrelevant, just like Microsoft Windows.
Apart from Note 4 (a phablet), the other devices ready for release includes Star 2, Galaxy Ace 4 and Core 2 which are probably going to be iterative run-of-the-mill smartphones. It is really hard to predict whether we will have a new leader in the smart phone market or if Samsung will retain its position, a position it has been dominating for almost a decade now. Only time will tell.