Update: Xiaomi has recently released an update for the below mentioned issues. If you haven't received it yet, read on.
We recently posted the Redmi 1S Review, wherein we mentioned the key issues (overheating, poor RAM management and sudden battery drainage) of the device. These issues are unfortunately present in most Redmi 1S handsets out there, and is persuading most consumers to shy away from this device. A simple look at the reviews on the Redmi 1S Product Page will give you an idea.
While Xiaomi has heard the woes of Redmi users and are planning to push an update to rectify the faults very soon, it is actually possible to get rid of the overheating issues very easily.
So here's a step-by-step user friendly guide to correct the faults and make the most of your
Redmi 1S!
STEP 1: ROOT YOUR DEVICE
You might have seen this coming. The issues with the phone are not so much as hardware related, than a software glitch which uses up more resources. And the first step to correcting that is gaining complete control over the device, ergo rooting.
The process is fairly simple. We've actually covered the steps in another article here.
STEP 2: UNDERCLOCK YOUR CPU
Let me explain this step. The Redmi 1S comes with a powerful Quad Core Snapdragon CPU clocked in at 1.6 GHz. Although on paper it looks pretty awesome (The Redmi's processor has a higher clock speed than that of the Moto G, HTC Desire 816 and Sony Xperia T2 Ultra!), it actually takes a toll on the device.
The processor specifications of the Snapdragon 400 MSM8228 mention the MAXIMUM clock speed as 1.6GHz, which is actually not needed. This causes the overheating (more clock cycles, owing to higher clock frequency) which in turn reduces the battery life.
A simple and effective way of underclocking the CPU is to install the No-frills CPU Control application, which needs rooting. What this application does is reduce the maximum and minimum limits of your CPU, thereby reducing problems caused due to the higher frequency of the CPU.
Optimum values to set:
MAX CLOCK FREQUENCY : 1.19GHz
MIN CLOCK FREQUENCY : 384 Mhz
Basically if you're using this phone mainly for communication, web browsing and playing games with light to medium graphic requirements, these specifications will fit the bill perfectly. If you are more into intense gaming, a higher clock frequency of 1.4 GHz will be suitable.
Download No-Frills CPU Control from here.
STEP 3: SPECIFY A RAM LIMIT
Another issue with the Redmi 1S is that the phone constantly runs out of RAM, which in turn results in some apps force-closing. The main culprit behind this anomaly is, ironically, the MIUI on the phone itself, which eats into the memory resources.
Easy fix : Install a RAM manager.
While the Security app in MIUI does have some nifty features to clear cache and redundant applications, it doesn't play a major impact on the RAM.
We recommend installing MinFreeManager. This is an app which works only on rooted devices, and basically sets a minimum limit to the amount of RAM you must have on your device. Very handy.
Upon installing the app, press the Options capacitive key, select presets and set to mild. This should be enough to keep your Redmi 1S in a comfortable state.
Download MinFreeManager from here.
STEP 4: DISABLE APPLICATIONS
More applications active, more processes running in the background. You could kill the applications by going into Settings -> Apps, but this would not be a permanent solution.
Thankfully, rooting your phone now enables you to freeze those applications which are not needed at the moment. They go into a 'Hibernate' state of sorts, wherein although they aren't uninstalled, they don't execute any action as well.
Greenify is one such application which can help in freezing tasks.
If you want something else, there's App Quarantine, from which you can shift applications – both System and/or User Installed – into a quarantine state.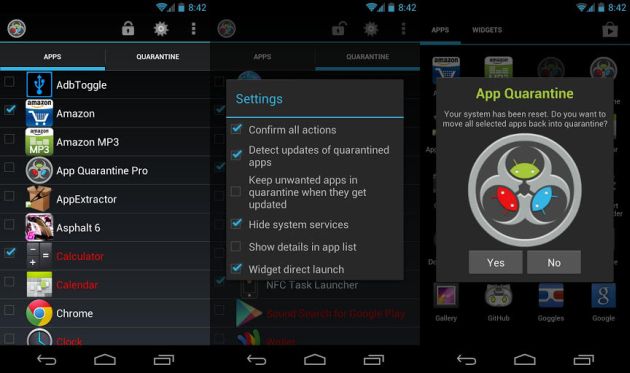 Protip : You might be tempted to shift/freeze the Themes app, thinking you won't really be changing the appearance of your phone so frequently. However, doing this will render you unable to change sound settings – specifically the ringtones.
Download Greenify from here
OR
Download App Quarantine from here.
STEP 5: CHANGE THE ANIMATION SCALE
This one's very simple, and actually doesn't even require the phone to be rooted. It can be performed on ALL ANDROID DEVICES.
Here's how you can change the animation scale.
Go into Settings -> Developer Options. Out there, scroll down till you reach the various animation scales. Change all three from '1' to'0.5'.
What this essentially does is reduce the animation scale of all the transitions the UI makes. This has a dual advantage. It makes operating the device much snappier, and also reduces the toll on the GPU of the phone.
Simple, and effective! Perfect if you want a snappier experience to operating your phone!
BOTTOM LINE
Like we mentioned in our review, the Redmi 1S packs quite a punch when it comes to specifications. However, more than the hardware capabilities, it's how the software can adapt to it and make the most of it.
Following the simple steps above, I was able to prolong the battery life and reduce the overheating on my Redmi 1S. No other applications were affected, and even the lag was reduced.
I've made these points from the perspective of a regular user who isn't much into changing scripts, installing custom ROMs or tweaking with kernel values. However, if you are interested in getting a more developer friendly approach to correcting the faults, we'll recommend viewing this thread.
For users who want a no-nonsense approach to making the most of their Redmi 1Ss, these steps should do the trick!