iTunes store is considered as the leading digital media store run by Apple inc. It was started in 2003 and was taught to be the largest music vendor in the U.S.A during its launch. From since then, it has won immense popularity and in 2010 it was officially named as the largest music vendor in the worldwide. It bears in various multimedia types including songs, photos, TV episodes and podcasts. These are available to download in various devices from Apple. It has produced an amazing popularity that even android and windows mobile users sometimes feel very spoiled about the absence of the iTunes store very much. It is because of its peerless quality and this the reason why iTunes still stood best, although it has tough competitors such as Spotify and souncloud.
Related: Indian Music Streaming- Saavn vs Gaana vs Wynk
But downloading songs from iTunes store requires money, stacks and lots of money. Who wants to pay for the same music which are usable to download for free? There is a tweak called "Linktunes" which has the capability to download music for free from the iTunes store in your iPhone. To install this tweak, you need to jailbreak your device and then you are safe to start.
Process To Install This Tweak:
• Go to Cydia and find "sources".
• Press "Edit" button which is on top of the screen and then push "Add".
• A pop-up box appears in which you have to place the repository url – repo.hackyouriphone.org
• Later on totting up the repository url, pass to "search" and then type in "LinkTunes"
• In search results, install the tweak that has a screwdriver and wrench logo. This is the logo of hackyouriphone repository.
• After installing the tweak, respring your device.
• After respring, this tweak will appear in the official itunes store application.
Process To Download Songs From iTunes Store:
• After installing the tweak, all you have to do is go to "itunes store" . If you discover the changes, now the search module of the official iTunes store application was immediately replaced by link store search.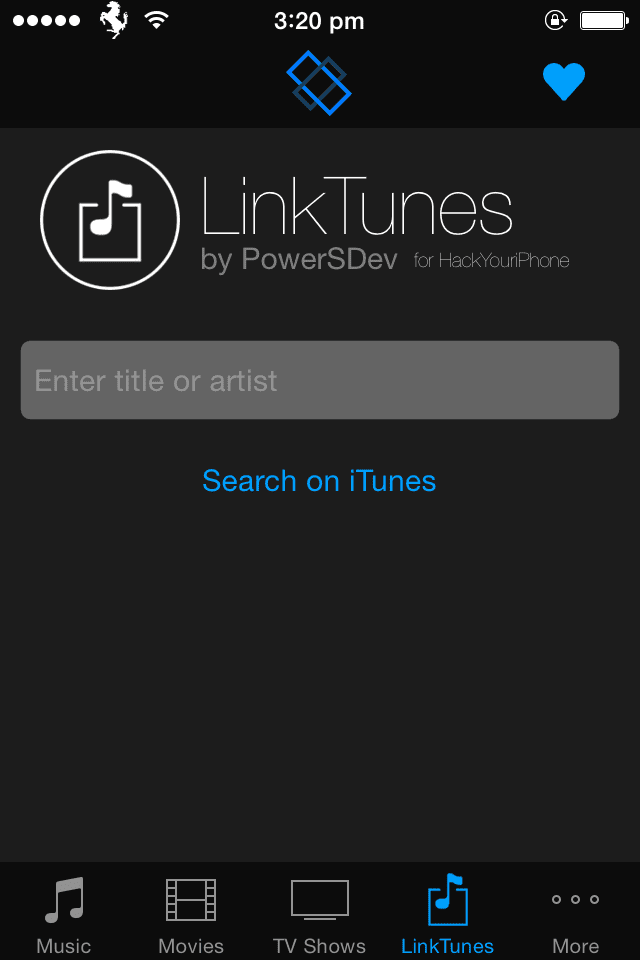 Look for your favorite songs using the link store search in the iTunes store application.
• Knock on the song you want to download, directly it will present you different links to download the song.
• After you press download, the song will start downloading.
• After downloading the song will be sited at purchased section in stock music player. These are some of the songs which I've downloaded with this tweak.
That's it, after the song gets downloaded, it will directly sync in to your music library. Though the song is not an official song signed by apple, but the songs downloaded from the link store is perfect and the groovy thing about this tweak is that it will download the album art and song information with 100% accuracy. The quality of the song is also amazing and perfect. So, enjoy unlimited downloads directly from the itunes store.
Disclaimer
Buying music online without proper authorization or payment isn't legal in most parts of the world. If you support an artist, pay for their music. This guide is for educational purposes only.