Storage space is a scarce resource. There's always a lack of capacity – if not now, then perhaps a year later with your device. It's a nagging problem that really has no solution except for portable extensions such as Hard Disk Drives. But HDDs only serve machines like laptops and PCs. You can't connect a hard drive to a phone or tablet – unless of course, they're wireless.
Trouble is – Wireless Hard Drives cost twice as much. So it's not a very attractive cost-benefit ratio. To address these very issues – Kingston's come up with what it calls the MobileLite Wireless. Built as a wireless media streamer for your mobile devices, it also doubles up as a handy portable charger. MobileLite Wireless takes in SD cards for storage – and streams the content seamlessly to any device with a companion App installed. How handy is this arrangement? Let's find out:
Looks and Feel
MobileLite Wireless is a rather neat, small rectangular brick. It features a polished two-toned surfaced, with a power button on one side, and two ports (USB and Micro-USB) on the adjacent side. The build, though not very high-end, does not feel cheap at all. It's a satisfactory overall package that you'll grow to like – and the extremely light body makes it very handy to carry around when you want to charge your device on the go.
Next to the power button are three LED lights – one to indicate charging status, another to indicate if its Wi-Fi network is enabled, and yet another to indicate its pass-through function activity. The package features a USB-to-MicroUSB adaptor, and a microSD-to-SD card adaptor to plug in your microSD cards.
Setup
Setting the thing up can be confusing initially. The power buttons needs one tap to enable charging, and needs to be held for three seconds if you'd like to enable the wireless streaming service. Data can be accessed via companion apps available on both iOS and Android devices. The apps are nicely done – taking care of every function the user could possibly access. Devices can connect to the wireless network MobileLite creates – and start streaming data immediately.
One of my first concerns was whether connecting to the MobileLite network would cut me off from my regular Wi-Fi network, and thus, my internet access.  Fortunately, Kingston has got that covered. MobileLite takes advantage of Wi-Fi bridging, enabling devices to connect to multiple networks simultaneously. This means I can access both the internet, and my data at the same time. Neat.
Usage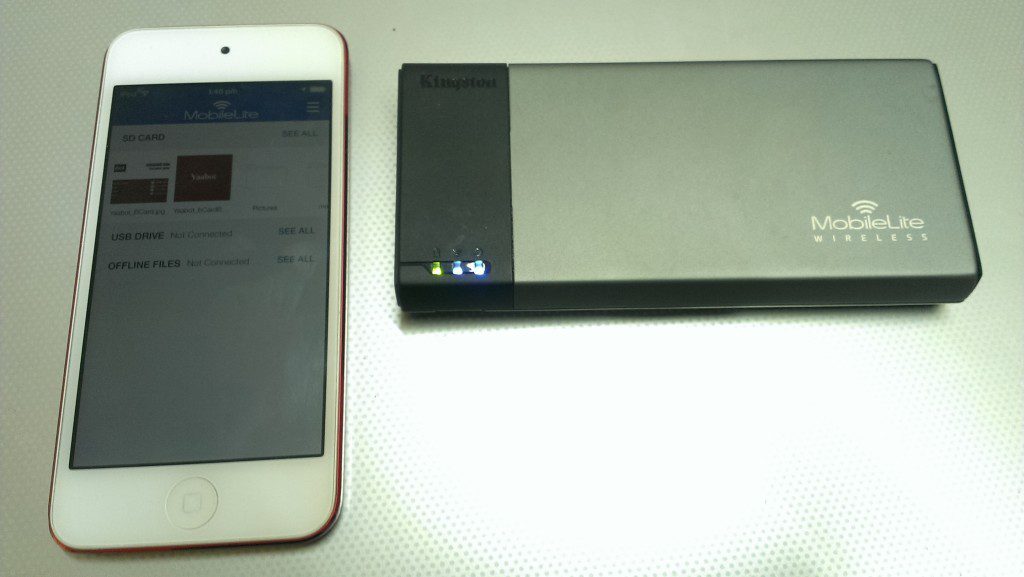 Like I said – you can access files on MobileLite via companion apps for Android & iOS. The apps do a decent job, allowing files to be modified, sorted, re-arranged, and even deleted right from the app. The Copy from Photos function lets you backup your Camera Roll directly to your media. The Settings function allows you to secure the network with custom passwords and SSIDs.
The apps feature a Now Playing screen that displays song information along with album artwork – ensuring consistency in experience, just like when you're playing music via native apps on iOS or Android. You can't create custom playlists via the apps – but you can play music in the background. Overall, its a job well done. Kingston has room for improvement – but nothing that can't be taken care of via incremental software upgrades.
Performance
MobileLite can stream to 3 devices simultaneously. It also supports multiple file types with ease – apart from a large range of audio format support, the apps can also run PDF files, and a wide range of images. Video can be a problem, though. During our testing – certain AVI files simply did not play. You might want to check a list of supported formats on the video front. Putting that aside, Kingston's attempt at a complete wireless streaming solution seems to have been pulled off pretty much perfectly. There's slight lag on certain functions – like when you're deleting files, but nothing that is too much of a pain.
The 1800mAh capacity battery on the device isn't large by any means. With that sort of capacity, you'll probably receive a little less than a full charge, only once, on most modern devices. Even then – as an additional feature, its a handy one to have, and we're not complaining.
Verdict
MobileLite gets a lot of things right. The light body, coupled with the good sense of aesthetics make it a device that looks rather premium. On the usage front, the apps do a good job of streaming content to mobile devices. Small features, like making use of Wi-Fi bridging, go a long way in helping enrich user experience. The supported file types, although impressive, could do with a re-look on the video front.
While the 1800mAh battery on the device may not be ideal for on-the-go charging, it certainly comes to the rescue on multiple occasions and complements the impressive device.
Review Unit Provided By: Social Nirvana