The era of software has beautifully succeeded the era of computer hardware that began in the 70s. With everything, from details about people to bank databases to student information and everything else, software encompasses a large chunk of how we get our work done today. But just like the old fashioned paper-pen combo, data stored over software is also vulnerable to certain problems.
That's where these guys, Nucleus Technologies, come in. Imagine you've lost some important data you had stored on your computer. You might panic, but there's no reason to do so. Just like a human can recall something they have forgotten, a computer too can recover data once it is accidentally deleted unless it is overwritten with something else.
There are a handful of software in the market today that provide recovery solutions. But the market leader, by far, with over 2 million global customer including big names like Xerox, Cisco, HCL, HP etc is Nucleus Technologies.
Nucleus provides software in different streams which can help you with tasks like Data Recovery, File Repair, Email Migration, Database Recovery and Password Recovery.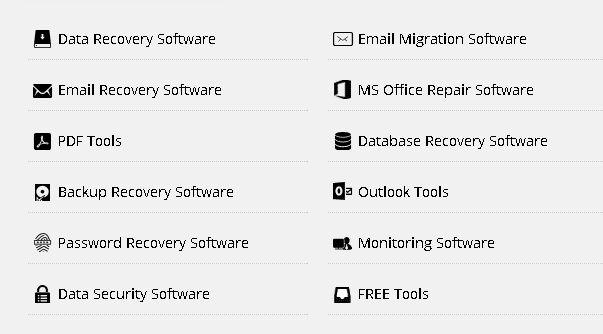 Most of the services from this company aren't available for free. But you could easily get them for a trial period. Now let's cover the key tools offered by this company.
In this review, we will discuss one of Nucleus' most useful tools, the Kernel for Exchange Server Recovery.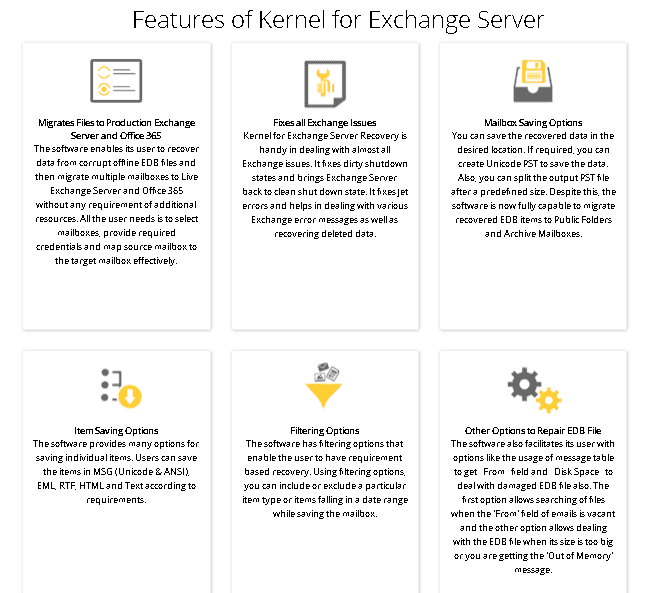 Installing the application is very simple. The wizard will get you through the initial setup quite quickly and after you have provided your license key, you're good to go.
Kernel for Exchange is primarily aimed at recovery of a corrupt Exchange Mailbox Database. It has a range of use cases, these include:
Single or multiple database corruption– Allows you to recover data from an Exchange database that cannot mount onto a fresh database or server.
Full site loss:  Allows you to recover a database sourced from tape online, and export the data directly into an Exchange Online or a new Exchange Server.
Recovery from backups– Kernel for Exchange allows you to recover single, individual items from an EDB file and import directly into an Exchange or to a PST.
E-Discovery – locate EDB files sourced from backups to comply with legal requests and export it to a PST.
This tool enables you to recover server based data (EDB format) at any place, at any instant of time. To be entirely honest, the Kernel for Exchange Server Recovery provides one of the best experiences in its forte.
You can use this to restore and recover emails, attachments, contacts, calendars, tasks, deleted items etc. This is all done using offline EDB files and it supports public mailboxes and any other option you'd like.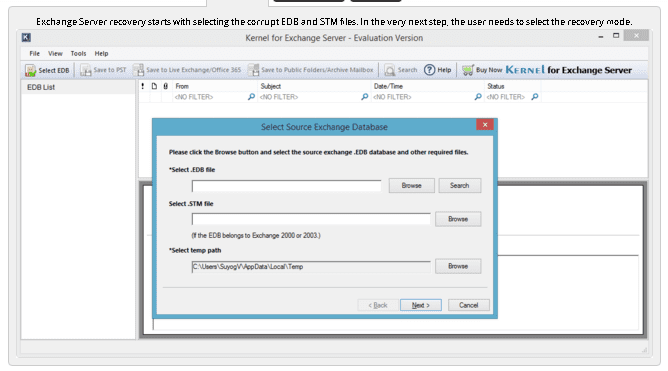 Interface
Opening up the application, you get a fairly straightforward interface. It kind of reminds you of a search application.
From here on, you can select an EDB file which the software then goes on to process. You will then receive a list of all the info encoded in the EDB file. After that, it's just a matter of saving the files you need.
Looking through the function toolbar below the main toolbar, you can find all the functionalities the app can perform. You could select an EDB to be used to recover files, save the selected files as PST or to Office 365/Live Exchange and perform a local search for individual mail.
Performance & Functionality
We did have a few jitters here and there on our initial runs with Nucleus's Kernel. New users might take some time starting up – it is a bit of steep learning curve initially. Once achieved though, operating the Kernel is a walk in the park.
The Kernel delivers all the essential features we've come to expect from software of its class and category, all the regular stuff you get in typical recovery software. There's individual or bulk message importing, a fairly good quality filtering functionality and even the intuitive search functionality.
Comparing each individual feature with other ones we've looked at, the Kernel seemed to beat others on almost every count. There's a diverse range of options, and somehow you understand that this is robust software you're dealing with. The only issue we faced was the slightly slow processing speed – we've dealt with faster recovery managers in the past.
Pricing

Kernel for Exchange Server Recovery is available as a free trial version (with limitations, of course). Alternately, you can buy an unlocked version too. There are multiple licenses available, beginning at $399.
Post the purchase, you don't have to worry about any future transactions. The premium version comes bundled with multiple benefits:
A Lifetime License.

Free technical support and updates. 

Instant license activation by Email

30 day guarantee
Conclusion
Nucleus's Kernel, during the course of our tests performed well, it's hard to deny that it was an overall positive experience. Overall importing, recovery and exporting time was great, though processing time could do with some tweaks and improvement.
We get support for every latest platform working on EDB and PST and can even use cloud platforms for recovery – an indicator that the application is constantly updated.
To conclude, we'd like to say that Nucleus's Kernel would, by far, be our first choice for recovering mail, primarily due to the sheer amount of features we get, and additionally the diverse range of functionality and performance it manages to demonstrate. Download it here.
We rate the Kernel for Exchange Server Recovery 9.1/10.