Project management can be a tough task, not only when it's limited to you but especially when it involves a group. Managing progress, working with deadlines and keeping track of who's responsible for what can soon get tedious. Not to mention if there are multiple projects being worked on simultaneously. How do you work it out? With an app, of course. That's how everything is done easier nowadays. But the real question here is which app do we use?
Given the abundance of choices that we have, let's focus on the top rated and most popular two: Asana and Trello. First of all, even though these two are the best ones available in the market, they're not perfect. So we'll take a look at their pros and cons and how they fare against each other.
Let's start with their origins. Fun fact, Asana was created in 2008 by then Facebook execs Dustin Moskovitz and Justin Rosenstein to handle their company's inner workings. It was launched openly for the public in 2011 and has risen to the top. Trello is more recent as it first created in 2011 but has managed to get on to the same level. It is based on the kanban board system popularized by Toyota which helped with their production efficiency.
User Interface
For any project management software, classifying tasks is an important aspect. It also matters how they are represented in the general interface. Let's start with the design features of Trello.
A Board is a project or process that is currently being handled. Its appearance resembles a white board with sticky notes pasted over it. It allows you to see the entire project workflow in a glance.
Lists break up the board into categories that usually signify the stage of progress which allows tracking the flow of the project at any given point. Cards can be dragged along to the next list as they transition from one stage to another.
Cards are the most basic component of Trello which denote the particular task, and can be tagged to show who's working on it and can also be given deadlines that function as reminders. Additionally, you can also add images, attach files and comment on each card which makes co-ordination easier.
Asana is drastically different, so let's take a brief look at the features it has to offer.
Organizations, Workspace and Teams are the basic divisions of Asana. Workspaces are for people with their own private IDs. Organizations are for employees of the same company who use a standard ID. Each Organization is further divided into Teams.
Sections are used to classify tasks and bring them together depending on the project, purpose or theme that they belong to. This division makes it easier for large teams to get an overview of the task at hand, without too much information.
Templates are the final piece of the puzzle. You can use existing templates or make new ones depending on your needs. Templates like questionnaires and checklists can reduce the need for any interpersonal communication by simplifying the focus to the main topic and highlighting key issues.
And lastly, dashboards allow easy progress tracking by providing a general overview of all present projects. Asana visually denotes of the finished and pending tasks and also let the manager give descriptions and updates about the project.
Task Categorisation
Tasks are categorized similarly by both applications and differ only slightly. Trello has three types of tasks; To Do, Doing and Done. Asana also has three types; To Do, Upcoming and Later. These task types not only signify urgency but also show the current status of the task at hand.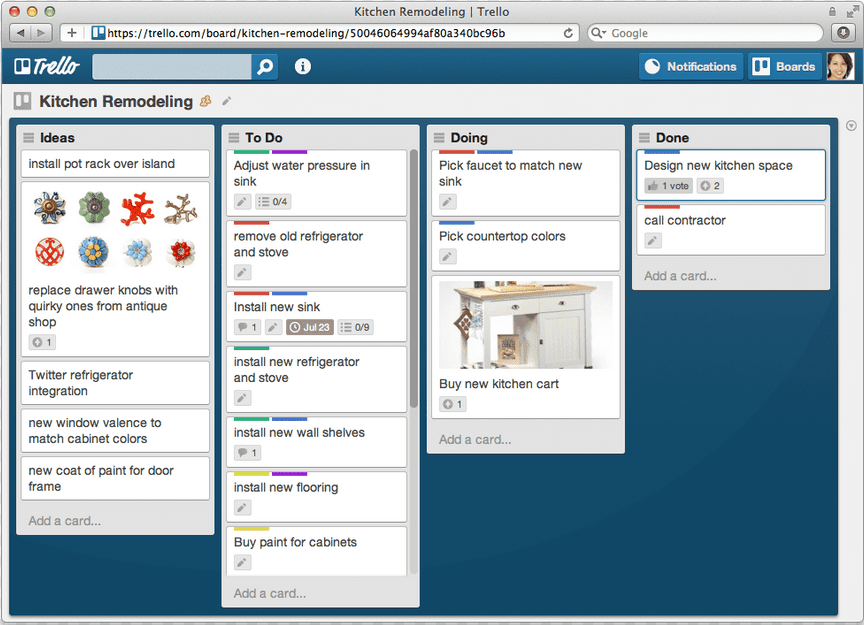 Asana allows for recurring tasks, on a monthly or weekly basis that one can easily set up. To do the same thing in Trello, one need to copy and paste the same cards again or postpone the date on the card once it's done. This sounds tedious but you can copy lists and use them for weekly or monthly tasks.
User Experience
Trello is too flexible and visually vivid for casual users who just want a task management and progress tracking app. Asana is structured which brings some uniformity and doesn't distract with too many bells and whistles, keeping things simple and easy to understand at one go.
Trello is also more tactile and intuitive despite its flexible nature due to its visual approach. One can easily get the hang of it and use it masterfully in a short time. Asana is minimalistic in its design and user interface which makes it easier to understand and get used to its workings.
Besides the desktop websites, both apps have their mobile versions as well which are fairly similar with little or no loss in transition between the screens.
Email Reminders
You can set a due date in both apps, but their e-mail reminders differ drastically.
Asana sends reminders one week before the due date, a day before it and on the day itself. If you happen to miss the deadline, then it sends daily reminders for a week. That seems like overkill, but it will force you to either complete the task on time, unless you decide to change the due date. But this feature surely can increase productivity and timeliness.
Trello is lightweight when it comes to this, as it will send only one e-mail the day before task is due. This is good news for people who don't like a ton of notifications, but for those who rely on email, the reminder can get lost in the daily heap.
Team Management
Both Trello and Asana are useful for personal and group project coordination and are widely considered to be equal in this aspect. According to reviews and user feedback, the general consensus seems to be that Asana is more suited for an executive or a manager while Trello is better suited for a team and its individual members.
Simply put, if you want to oversee or supervise a particular project, Asana is your choice. If you want to collaborate with a bunch of different people, Trello is your choice.
FINAL COMPARISON
| | | |
| --- | --- | --- |
| | Trello | ASANA |
| Platform | iOS, Android, Web based | iOS, Android, Web based |
| Pricing Model | Free, Monthly payment, Annual Subscription, Quote-based | Free, Monthly payment, Annual Subscription |
| Free version | Basic version with limited features is free | No credit card required for sign-up |
| Free users | Unlimited users | Upto 15 users on the free version |
| Paid version | $9.99 a month | $8.33 a month |
| Integrations | Slack, Github, Google Drive, Dropbox; over 500 apps with Zapier; custom integrations also available | Dropbox, Google Drive, WordPress, Usersnap; over 500 apps with Zapier; open AI allows custom integrations |
| Support | Online support, Knowledge base, Tutorials | Knowledge base, Tutorials |
But regardless of the nature of your work, the preference is solely subjective at the end of the day. We choose what we love and it doesn't have to be the same. Let us know which one you prefer and why.