Google Translate has revolutionized the way we interact with foreign languages. Now, with its "Tap to Translate" feature, you no longer need to switch between apps to understand a different language. It's like having a personal interpreter right in your pocket. This feature has made Google Translate one of the best translation apps available today. Whether you're a traveler, a student, or just curious about a foreign text, Google Translate simplifies the process. Download Google Translate and discover why it's considered the best translation app.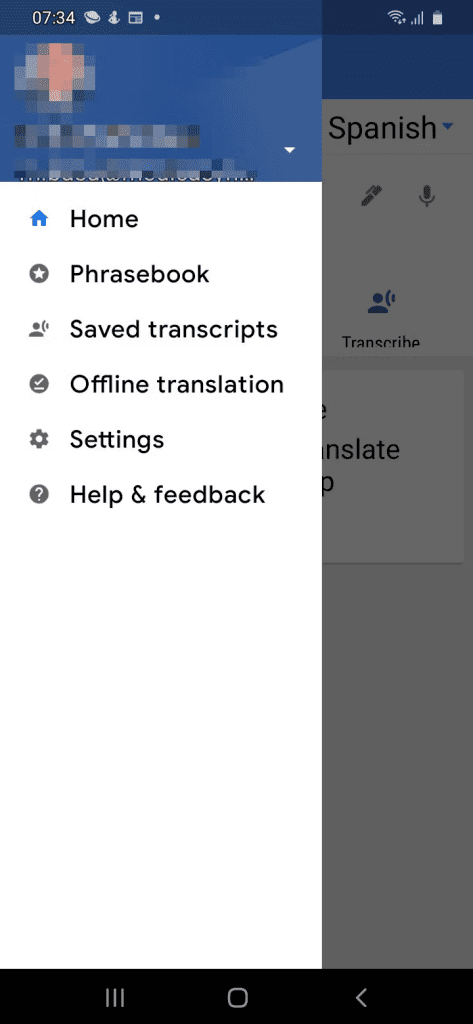 Enabling Tap to Translate
You'll need to enable it on your Android device before taking advantage of Google Translate's "Tap to Translate" feature. This simple and quick process allows you to access translations without leaving your current app. Here's how to get started:
Downloading Google Translate

You'll need to download the translator app from the Play Store. Make sure to get the latest version to enjoy all the features.
Launching and Accessing Settings
Launch Google Translate and tap the Hamburger icon for the menu. Customize your translation experience in Settings.
Enabling and Disabling the Feature

Select "Tap to Translate." On the next screen, toggle or tick the option that says "Enable Tap to Translate." You can disable the feature from the same toggle switch easily if it's distracting.
Using Tap to Translate in Any App
The beauty of Google Translate's Tap to Translate feature is its integration into any app on your Android device. Whether chatting with a friend or reading a foreign article, translation is just a tap away. Here's how to use this convenient feature:
Opening Any Chat App (e.g., WhatsApp)

With Tap to Translate, you can break language barriers in any chat app on your phone. Open an app like WhatsApp and get ready to translate.
Highlighting and Copying Text for Translation

Highlight the text you want to translate and then copy it. A Google Translate icon will appear, ready to assist you.
Tapping the Google Translate Icon for Translation

Simply tap on the Google Translate icon to see the translated version of the message text. It's a seamless way to use the best translation app without leaving your conversation.
Tips on Dismissing the Bubble and Updating the App

To dismiss the Tap to Translate bubble, hold and drag it to the bottom of the screen. Don't forget to explore the other handy features in Google Translate, such as the google translation male voice option.
The official Google explainer video shows how Tap to Translate works:
Benefits of Google Translate, Best Translation App, on Android
Google Translate is not only a translation tool but also a bridge that connects cultures and breaks down language barriers. With features tailored for travelers, students, and anyone needing quick translations, it's no wonder it's considered the best translation app. Here's why Google Translate is a must-have on Android:
Convenience for Travelers

Most of us find a use for translation services while traveling. Google's technology is getting better every day, making it an essential app for translation on the go.
Translating Whole Sentences and Phrases in Context

Now, you can translate whole sentences and phrases in context. You don't have to keep rummaging around for the Google Translate app. Just tap on the floating bubble and start your conversation.
Alternatives to Google Translate for International Travelers

When you are an international traveler, it helps to have alternatives to Google Translate on your phone. Explore other mobile translation apps to convert any language to your preferred language of choice.
Exploring Other Handy Features of the Best Translation App
Google Translate is more than just a text translation tool. The platform provides a range of functionalities to meet the diverse requirements of its users. From voice translation to offline access, it's designed to be the best translation app for diverse situations.

Simply speak into your device, and Google Translate will provide an instant translation without any delay. It's perfect for real-time conversations, and Google Translate even supports a male voice feature.

No internet? No problem! You can download Google Translate app data for offline use. It ensures you have access to translations even without a network connection.
"Download Translator App" for More Features

Explore more by downloading the Google Translate app. From camera translations to handwriting input, it has features that make it the best translation app.
Google's Technology Advancements
Google is constantly innovating to make its translation services more accurate and user-friendly. These advancements have solidified Google Translate's position as a leading app for translation.
Continuous Improvements in Translation

Google's algorithms are continually updated to provide more accurate translations. It's a never-ending pursuit of perfection.
"Google Translation Male Voice" Feature

Want a different voice for your translations? Try the male voice on Google Translate for a new experience.
Importance of the "Best Translation App"

Google Translate's commitment to excellence has made it the best translation app. Its features and reliability are unmatched.
Alternative Mobile Translation Apps
While Google Translate is a powerful tool, other translation apps might suit your needs. Here's a look at some alternatives:
Other Translation Apps for Language Conversion

Explore other apps like iTranslate and Microsoft Translator. They offer unique features that might be just what you need.
Recommendations for an Alternate App for Translation

While Google Translate is often considered the best translation app, others do offer competitive features. Compare and find the one that fits your needs.

Depending on your requirements, you might find other apps more suitable. Research and choose the app for translation that aligns with your preferences.
Google Translate, The Best Translation App: The Bottomline
Google Translate's "Tap to Translate" feature has transformed how we interact with foreign languages. It's a comprehensive tool for all your language needs, from enabling translations within any app to providing voice and offline translations.
Whether you're a traveler, a student, or a curious explorer, Google Translate is arguably the best translation app on your Android device. But don't hesitate to explore other features and even alternative apps to find the perfect phone translation solution for yourself.