Of course you've wondered how DJs and social media influencers get their hands on such cool, remixed versions of popular songs? Or how those songs we hear on the radio get produced with all their intricate beats and rhythms? Well, it's all thanks to audio editing software like Adobe Audition. These programs allow users to mix and edit music, creating completely new versions or enhancing the sound of existing tracks. So next time you're dancing to a catchy beat on social media, remember the power of audio editing in bringing it all together.
Adobe Audition is a digital audio editing software that stands out from the rest. Developed by Adobe Systems Inc., it offers a wide range of specialized tools for improving and restoring audio, as well as precision editing options for corporate and commercial video and podcasts. Its advanced features make it a go-to choice for post-production professionals, and it's also useful for fine-tuning audio for any project.
In addition to its audio editing capabilities, Adobe Audition can also be used as a digital audio workstation (DAW), though it may not be as comprehensive as other DAWs when it comes to music composition. Despite this, it excels in its ability to perfect audio clips and enhance the overall sound of a final video or podcast.
Whether you're looking to add the finishing touches to your audio or create sound effects for a video game, Audition has everything you need. It's worth noting that the program wasn't always called Audition – it was originally known as Cool Edit Pro until Adobe purchased the rights to it in 2003 and rebranded it.
Adobe Audition is a powerful and versatile audio editing software that's suitable for a wide range of projects. Let's dive further into our guide to Adobe Audition.
Origins of Audio Audition
Syntrillium Software, founded by Robert Ellison and David Johnston in the early 90s, was the creator of Cool Edit, a popular audio editing software for Windows computers. The program, distributed as crippleware, allowed users to do audio processing in a destructive manner, as most computers at the time did not have the necessary processing power or memory capacity to perform non-destructive operations in real time.
However, Cool Edit Pro added the ability to work with multiple tracks and other features, and later versions introduced support for real-time non-destructive processing and surround sound mixing. The software also included plugins such as noise reduction and FFT equalization and supported a wide range of audio file formats through built-in codecs and community-developed plugins.
In 2003, Adobe acquired Cool Edit Pro from Syntrillium Software for $16.5 million, along with a large loop library called Loopology. The software was then renamed Adobe Audition and has continued to be a popular choice for audio editing and post-production.
What can be Done with Adobe Audition?
Adobe Audition is a comprehensive program that offers a wide range of features for sound mixing and editing. Whether you're a musician looking to clean up demo tracks or a podcaster recording and editing episodes, this program has something to offer. It's also great for voice actors recording material for job submissions or freelancers doing sound mixing for voiceover work.
But the benefits of Adobe Audition don't stop there. Aspiring video editors can also benefit from this program, as it allows them to add voice overs, manipulate audio levels, and edit sound effects, bringing an extra layer of depth and expression to their projects. In the world of film and video, sound is an essential component, and learning how to use Adobe Audition can help you take your creations to the next level.
Adobe Audition offers two main modes for audio editing: the Multitrack view for mixing tracks on a timeline and the Waveform view for stereo editing. It's easy to switch between these two views whenever you need to.
The Waveform view makes it simple to record and adjust audio volume, and it also has a spectral frequency editor that allows you to modify the recorded wave in various ways. You can also punch in to a recording at a specific point in a clip and quickly zoom in on the same range in multiple selected clips.
The Multitrack view looks more like a traditional digital audio workstation, where you can drop audio clips onto different tracks and mix them together, like adding a voiceover to music stems or ambient sounds or combining recorded interview segments to create a podcast. The interface is fully drag-and-drop, and you can cut or trim clips for seamless, non-destructive edits (unlike the Waveform editor, where the edits are destructive).
Audition also has a feature called Strip Silence that lets you remove inactive regions from recorded clips without losing sync in multitrack audio, which is great for quickly cleaning up interviews, podcasts, and other multitrack recordings.
The program also includes a Loudness Meter that enables you to analyze full mixes, single tracks, or any bus or submix in real-time, with presets for common regional broadcast requirements and popular streaming services like Apple Podcasts, Spotify, and Netflix.
Other useful features include:
DeReverb for reducing or removing reverberation in audio files,
DeNoise for transparently removing hiss and hum, and
Sound Remover for transparently removing unwanted sounds like bumps, paper shuffling, or car alarms.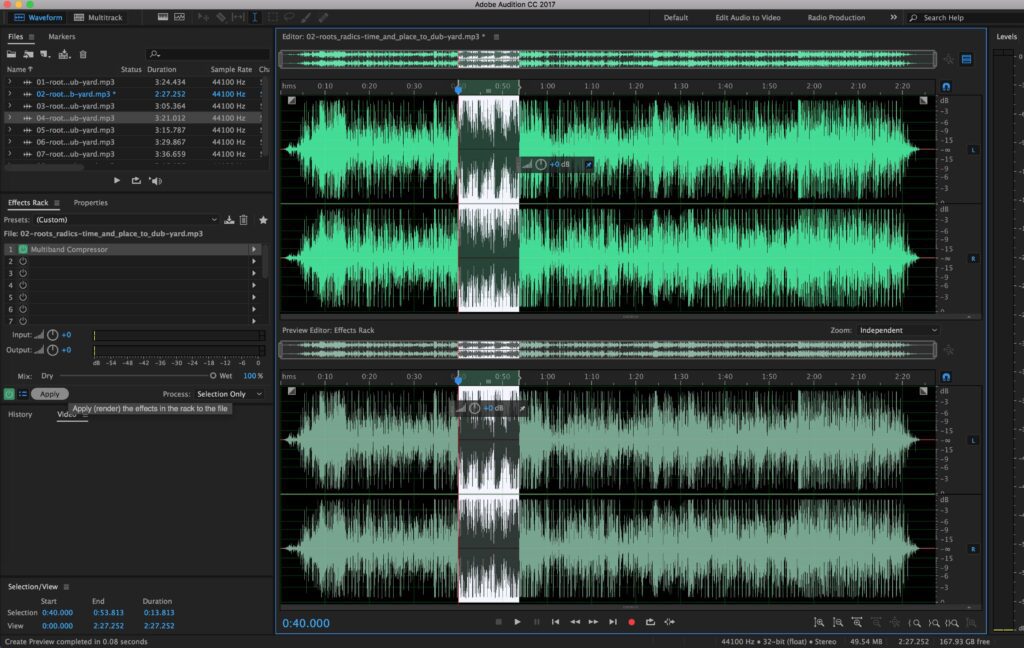 The program also has a Mixer view with metering and support for console effects, and it allows you to strip multiple audio channels from MXF and other types of video files. It has over 50 audio effects in total, and it lets you set up macros called Favorites to perform common operations on multiple waves and use Batch Processing to perform tricks like matching the volume of different files.
Additionally, Audition has a Speech Volume Leveler that automatically adjusts the volume of spoken words in audio files and a Repair and Restoration panel for fixing common audio issues.
While Adobe Audition is powerful enough to handle a maximum of 128 tracks or record 32 tracks simultaneously without stuttering, it's important to note that it is not marketed as a live multitrack recording tool. It does, however, come with thousands of royalty-free loops and over 10,000 sound effects to help you get started with post-production.
One of its standout features is the Remix tool, which can help you create new versions of a song without needing to send it to a mixer or engineer. You can adjust the target duration of the song and customize the splices to favor shorter segments with longer transitions or vice versa, and the program can be configured to prioritize rhythm or harmonic structure as needed.
While the Remix tool is useful for library tracks or custom music for a specific project, it's generally a good idea to ask the composer for their opinion and possibly an extra cut of the song at a different length if possible.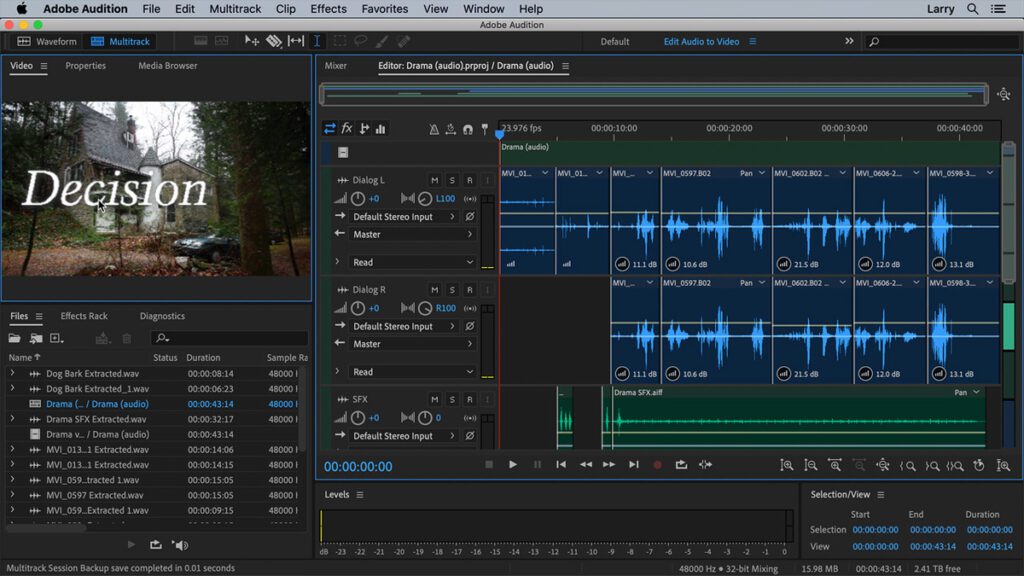 Adobe Audition Internals: Software Libraries, MIDI Support, Plugins, etc
It's worth noting that Adobe Audition does not include any software instrument libraries, a score editor, or even internal MIDI support, which may be disappointing for those coming from Avid's Pro Tools or another digital audio workstation. While it can help score video and includes tools like a multi-band compressor and limiter for mastering tracks, it generally assumes that the music has already been created.
If you're looking for a comprehensive audio and MIDI recording tool, you may be better off with a different program like Apple Logic Pro or Pro Tools. However, if you already have Audition for other purposes and want to use it to record a band, you can certainly do so and even pitch-correct vocals.
Keep in mind that there are also third-party add-ons like Izotope Rx that can help restore audio in another DAW if you need similar tools for other projects.
Overall, Adobe Audition is a powerful tool for audio editing and post-production, but it may not be the best choice for scoring and music production, especially at its price point.
How Much Does Adobe Audition Cost and How to Get it on Your PC?
Are you ready to take your audio and video editing skills to a whole new level with Adobe Audition? Great! Here's how to get started:
First things first, you'll need to sign up for a Creative Cloud subscription to access Audition. If you're wondering, is Adobe Audition free? The answer is no, it's not.
You can either purchase a standalone license for the program or opt for the full Creative Cloud suite, which includes popular tools like Premiere Pro and After Effects. Prices for a standalone Audition subscription start at around $20 to $30 per month, depending on the payment plan and subscription model you choose. The full Creative Cloud package will set you back about $55 per month.
To use Adobe Audition, you'll need a computer running either Windows 10 64-bit or macOS 10.15 (Catalina) or newer. Audition also now supports Apple M1 chips, which means it can run natively on these devices and offer even faster performance. However, a few less commonly used features, like support for EUCON control surfaces, CD burning, and certain video codecs, are not currently supported.
But don't worry, you don't have to commit right away! Adobe offers a free trial of Audition, so you can try it out and see if it's right for you before you buy. Just keep in mind that once the trial period is over, you'll need to purchase a subscription to continue using the program.
Career Options Related to Adobe Audition
Adobe Audition is a valuable tool for anyone looking to build a career in audio or video editing. It's a particularly in-demand skill in today's digital world, where sound is an essential part of so many creative projects. So, what can you do with your Adobe Audition skills? Here are a few career paths to consider:
Video Editors: As a video editor, you'll use Audition to edit and manipulate the audio files associated with your video projects. You'll be responsible for adding sound effects, removing background noise, incorporating music, and adjusting audio levels at the direction of a project manager or director.
You'll mainly use Premiere Pro to handle the video editing side of things, but you'll also need to know how to use Audition to finesse the audio files.
Motion Graphics Designers: Motion graphics designers do similar work to video editors, but they tend to focus on computer-animated projects rather than live-action videos. They'll use Audition to add voiceovers and sound effects to their projects, working alongside Premiere Pro and After Effects to bring their creations to life.
Sound Engineers: As a sound engineer, you'll be responsible for controlling and editing sound recordings, such as live music performances, studio sessions, and podcasts. You'll edit and clean up sound files for publication or post-production, working with clients or colleagues to create polished audio tracks.
You might work with video editors or motion graphics designers on more complex projects, or you might take on freelance work, editing sound files for clients who need a little extra help before release.
Using Adobe Audition: Conclusion
According to Adobe, Audition is designed to streamline video production workflows and audio finishing, and it excels in this area. If you're a podcaster or video editor looking for a program to improve the audio in your projects, or if you already use other high-end Adobe software like Premiere or Photoshop, Audition is a good choice. There's no real alternative to Adobe Audition.
Its new Loudness Meter and comprehensive audio restoration and polishing tools are particularly useful, and it's easy to send audio back and forth between Audition and Premiere. Audition is also a good option if you're looking to upgrade from Audacity or GarageBand for recording podcasts.
Overall, Adobe Audition is a powerful tool that will enable you to make the most of your audio and video projects, whether you're a musician, podcaster, voice actor, or video editor. With its wide range of features and versatility, it's an essential tool for anyone looking to make their mark in the world of sound and video.
Happy mixing!
That's it for this beginner's guide to Adobe Audition. For further introduction on how to edit and mix audio clips on Adobe Audition, you can watch this video which explains the whole process in simple terms!