In May 2023, Google kicked off its I/O developers conference with AI and machine learning applications running the show, front and center! Google integrated generative AI into Gmail and released a feature called "Help me Write" to help you write an email based on a prompt among several other AI-backed features and products.
This was not the first time the world was introduced to the rapid growth of AI and Machine Learning applications in recent times.
ChatGPT took the world by storm in 2022 when it was launched by OpenAI. It garnered 100 million users within 2 months of its launch and was popular for several personal and enterprise-level AI and machine learning applications across the globe. The AI applications ranged from generating and debugging code to using ChatGPT for medical transcription. It also led to several other companies in the tech space developing AI and machine learning applications, primarily in the space of generative AI.
This sudden spike in the interest in AI and machine learning applications might be recent, but the development in this space has been going on for decades.
Some Cool Facts About The Oldest of the AI and Machine Learning Applications
The history of machine learning applications and AI applications can be traced back to 1935 when Alan Turing described an abstract computing machine, based on his stored-program concept. This machine consisted of a limitless memory and a scanner that moved back and forth through the memory, symbol by symbol, reading what it finds and writing further symbols.
The scanner's actions follow instructions stored as symbols in memory. The machine improves and modifies its own program, known as the universal Turing machine. Modern computers are essentially universal Turing machines.
Alan Turing had illustrated his ideas on machine intelligence in a game of chess. He had experimented with designing chess programs for machine intelligence using heuristics-based discriminative search among the astronomically high number of possible moves, given a certain game play.
These heuristic approaches are: minimax and best-first.
While the minimax algorithm is a recursive algorithm for choosing the next move in an n-player game, usually a two-player game by minimizing the possible loss for a worst case (maximum loss) scenario, the best first search algorithm in artificial intelligence is used for finding the shortest path from a given starting node to a goal node in a graph.
However, he could not test its implementation, due to the absence of a stored-program electronic digital computer.
The first time an Artificial Intelligence Application defeated a World Chess Champion
In 1945, in his paper 'Proposed Electronic Calculator', Turing predicted that computers would probably play 'very good chess'. This opinion was echoed in 1949 by Claude Shannon, American mathematician, computer scientist and yet another leading early theoretician of computer chess. By 1958, Herbert Simon and Allen Newell had predicted that within a decade the world chess champion would be a computer, unless barred by the rules. In just a few years in 1997, IBM's Deep Blue beat the reigning world champion, Gary Kasparov, in a six-game match.
Deep Blue, a chess computer built by the International Business Machines Corporation (IBM), traded its bishop and rook for Kasparov's queen, after sacrificing a knight to gain a position on the board. This position left Kasparov defensive, albeit not helpless. Despite still having a playable position, Kasparov resigned. This was the first time in his career that he had conceded defeat saying "I lost my fighting spirit."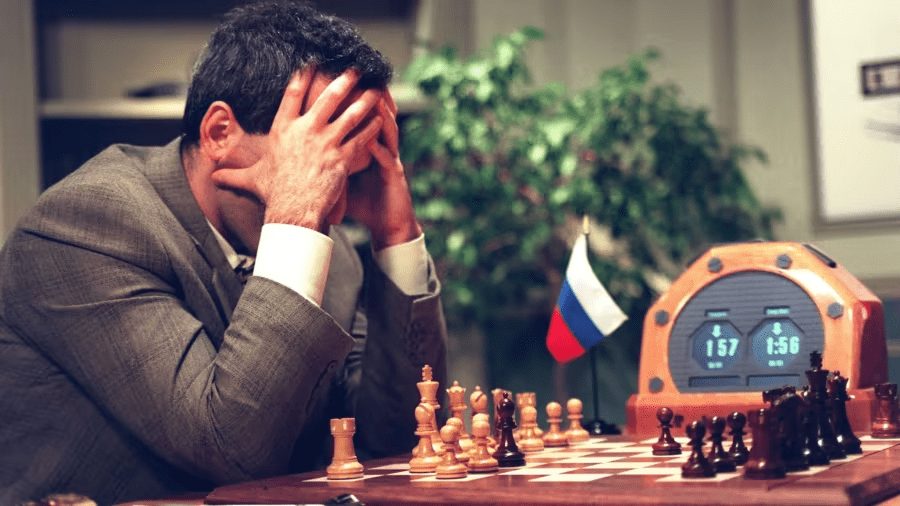 While some credit the substantial progress in computer chess from Turing's era to advancements in computer engineering rather than artificial intelligence (AI) development. They argue that Deep Blue's 256 parallel processors empowered it to analyze 200 million potential moves per second and anticipate up to 14 turns ahead in the game.
Noam Chomsky, a linguist and activist at the Massachusetts Institute of Technology (MIT), said that a computer beating a grandmaster at chess is about as interesting as a bulldozer winning an Olympic weightlifting competition.
Although this milestone is still debatable, it sparked a sudden interest in AI and machine learning applications, all while catalyzing research in the space. This isn't the only time a computer has defeated the human brain in a competition.
IBM Watson, a question-answering computer system trained using deep learning and capable of answering questions posed in natural language wowed the tech industry and several others with its 2011 win against two of Jeopardy's greatest champions. The supercomputer won the television quiz show with $77,147 leaving two Jeopardy masters – Brad Rutter and Ken Jennings defeated with $21,600 and $24,000 respectively.
In another instance, in 2016 there was a Google DeepMind Challenge Match in Seoul, Korea – a five-game Go (an abstract strategy-based board game) match between top Go player Lee Sedol and AlphaGo, a computer Go program developed by Google DeepMind. Over 200 million people watched online as AlphaGo emerged a surprise 4-1 victor.
Furbys: A robotic toy that could 'learn' languages over time
In 1998, Tiger Electronics introduced Furbys: robotic toys that are preprogrammed to speak gibberish and learn other languages over time. Although they were a common and highly sought-after Christmas toy in 1998, it is now a high-ranking public enemy and has been banned from National Security Agency premises in Maryland. These owl-like creatures with large floppy ears were thought to have a propensity for learning their caregivers' speech.
However, there's a catch: Furbys don't genuinely acquire language. Instead, they are programmed to utter specific words after a set period. It was the starting point of a lot of real life examples of AI.
For example: it might say 'hello' after it has been turned on for the 20th time, irrespective of the fact that its owner may not speak English at all or may not have trained to say 'hello' in any other language either.
Although Furbys were not AI-powered, 1999 saw the launch of Aibo: a robotic AI- powered puppy that can recognize its owner's face, detect smiles and words of praise, and learn new tricks. Developed by Sony, Aibo develops its own unique evolving personality through everyday interactions.
This milestone in AI applications led to the advent of several other robotic AI and machine learning applications – from the Roomba, developed in 2002 by iRobot (a machine learning powered robotic vacuum that uses machine intelligence to learn the layout of your home and make life easier for you by automatically vacuuming it) to Astra, developed by Apptronik in 2021 – a humanoid-robot powered by machine learning to learn how to pick up objects and work alongside humans. Astra, another real life example of AI, is currently working on a variety of supply-chain AI and machine learning applications ranging from manufacturing to logistics. Apptronik is currently collaborating with NASA to develop Apollo, an AI-powered humanoid robot designed to walk, carry stuff around, and may even end up in space.
These commercial robots with machine learning capabilities are AI applications that may be known about – however, people do not fully understand the capabilities and limits of these AI and machine learning applications. These are real-world applications of AI (Artificial Intelligence) that could be misused to cause harm as well if not treated with utmost caution.
In April 2023, an engineering student tweeted a clip where she hooked a Furby to ChatGPT and the result was – a possibility of Artificial intelligence robots taking over the world. When asked if there was a secret plot from Furbies to take over the world, more than the answer itself, it was the dramatic pause and the blank stare that Furby gave before uttering the words "I am thinking about what you said" that caused a stir among the masses.
All our daily activities will soon be laced with AI applications
Autonomous driving is not an alien concept anymore. From Tesla and its exclusive driving aids to platforms like AutoX and Didi which already manage fleets of fully autonomous cabs, there is no dearth of driverless AI-powered cars and with that, the growth of this industry.
Tech leaders like Google also explored and invested in self-driving vehicles in the form of the platform – Waymo, which creates driverless vehicles. This fully autonomous vehicle, backed by 360-degree perception technology, allows it to identify obstacles like pedestrians, other vehicles, or any construction work from up to several hundred yards away and safely deliver people from one point to another.
Although these AI and machine learning applications are popular, the recent advancements of real-world AI applications may be nascent, but will soon be a part of our daily activities. In the Google I/O conference, Google announced a new "Immersive View for Routes" being integrated in Maps.
This new computer vision and AI-powered feature pulls in all useful information onto one place – weather, traffic simulations, bike lanes, complex intersections, parking and air quality information – to visualize a chosen route for Google Maps users and a model of the real world.
Moreover, search engines – an everyday tool in all our lives – are already now powered by generative AI. Generative AI algorithms are basically codes or models that can be used to create new content, including audio, code, images, text, simulations, and videos. Some popular real-world applications of AI (generative artificial intelligence) are ChatGPT and Dall-E (a generative AI tool that can create realistic images and art from a description in natural language).
In Feb 2023, Microsoft Bing integrated generative AI capabilities in its search engine capabilities for better and more creative search abilities. This would also enable a chat-like experience for activities like planning a detailed trip itinerary or researching what TV to buy – making it a more interactive and convenient chat.
Google then announced the launch of generative AI features on search with a product called "Search Generative Experience," or SGE. Now, Google Search will be able to synthesize search results from complex queries.
With smart home assistants like the Amazon Echo, or Google Home devices, we have already integrated real-world AI applications into our lives and daily activities – from playing our favorite music to placing grocery orders.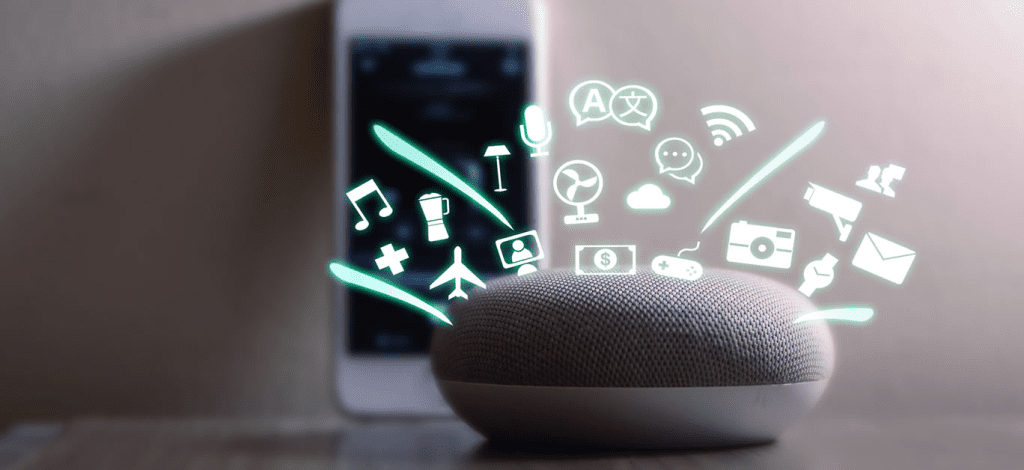 Real Life Examples of AI in Healthcare
AI applications in healthcare are a major research and development area in the industry. From accurate Cancer diagnosis to targeted treatment of rare diseases, there are some very interesting real-world applications of AI in healthcare.
One of the most fascinating real life examples of AI in healthcare is robotic surgery, also called robot-assisted surgery. This AI application empowers medical professionals to undertake intricate procedures with enhanced precision, flexibility, and control compared to traditional methods. The most commonly used clinical robotic surgical system comprises a camera arm and mechanical arms affixed with surgical instruments. The surgeon directs these arms from a computer console adjacent to the operating table.This console offers a magnified, high-definition, 3D view of the surgical site, aiding the surgeon's performance. This can also help the other surgeons who assist on the surgery.
An article published by University College, London in 2022 claimed that "Robotic surgery is safer and improves patient recovery time".
These real-world applications of AI in healthcare are not only ground-breaking, but also helpful in increasing human efficiency.
Real-world applications of AI: The Bottomline
Real world AI and machine learning applications are here to stay – even grow and advance beyond our current imagination and comprehension! While this space is growing, we can only equip ourselves with the necessary knowledge and understanding of these technologies. It is also important to be cognizant of the powers of these developments – so that AI and machine learning applications prove to be a boon, not a bane!