Are you a victim of technological dilemma, and are facing the "which phone do I buy?" confusion? The overwhelming influx of new phones has left most of the customers with a big question mark, as they are unable to decide just on the basis of a few differences here and there.  If your budget is about Rs.20,000 – Rs.25,000, then probably you have shortlisted the same phones which I'm about to elaborate upon. You have shortlisted the phones but are sitting at an impasse, not being able to fathom which is the best pick. Here are some things that might actually help you decide, but first the shortlisted phones. If your list doesn't have the phones I've mentioned, do consider it now, and if your list contains one that I haven't mentioned, it most probably wasn't supposed to be there.
Lenovo K900
Going brand wise, starting with Lenovo, which has one phone in this segment, the K900. This phone is quite good, and provides competitive features at the price a little north of Rs.22,000.
13MP camera
32GB inbuilt memory (no provision for external SD card)
2GHz Dual Core Intel Atom processor
2GB RAM, and comes with the Android 4.2 Jelly Bean version.
[quote_right] After sales may be worrisome [/quote_right]
The phone is a massive 5.5", and is also quite heavy considering it has a stainless steel body. The phone has sharp edges, and seems like a risky option especially for those travelling in trains and buses as it poses a risk of tearing through your pocket and falling, although never heard of such an incident it something that stands out. Also it would be uncomfortable to carry in a jeans pocket. Apart from that, the phone is value for money in terms of the features. Lenovo being relatively new in the mobile phone business, there isn't much feedback on after sales.
Sony Xperia SP
Moving onto Sony, there is the Xperia SP, Xperia ZR, and also the yet to release T2 Ultra, which is expected to come out by the last week of March. All these phone stand mighty in their place, it all depends on your utility and budget here. Sony as a company is one of the best in terms of quality and reliability. The Xperia SP is priced at around Rs.20,500, and does justice to this price completely.
8MP camera
8GB inbuilt memory (expandable)
1.7GHz Dual Core processor
1GB RAM, and comes with the Android 4.1 Jelly Bean version.
[quote_left] Premium feel and look [/quote_left]
The phone is convenient 4.6", but still is a bit heavy, but is worth it as Sony has given the phone a premium feel and look. The shape and design of the phone is quite user friendly, and so is the phone itself. The only drawback of this phone is its VGA front camera, and also the camera is reported to lag at times.
Sony Xperia ZR
The next is the Sony Xperia ZR. This monster of a phone is teensy bit north of Rs.25,000, but is completely worth for money.
13MP Camera
1.5Ghz Quad Core processor
2GB RAM
8GB of internal storage (expandable)
Android 4.1 Jelly Bean.
[quote_center] Water resistance is definitely useful [/quote_center]
This phone too has a 4.6" screen, and like most of Sony's phones, is also on the heavier side, like the SP owing to Sony's commitment towards a better built. Speaking of which, this phone is equipped to be used under water, even for photography! The water and dust resistant body is a something of a real attraction. You may not plan to photograph under water, but it's good to have the option, also the water resistant feature protects against spills too, so the feature definitely is useful. The only drawback to this phone is the VGA front camera yet again!
Sony Xperia T2 Ultra
[quote_left] More of a phablet [/quote_left]
The last one under Sony is the Xperia T2 Ultra, which is scheduled to release in the last week of March. Its features are:
13MP camera
1.4 GHz Quad core processor
1GB RAM
8GB internal memory (4.8GB available, expandable)
Android 4.4 Jelly Bean.
It is a 6" screen 'phablet' – a cheaper version of the Xperia Z ultra.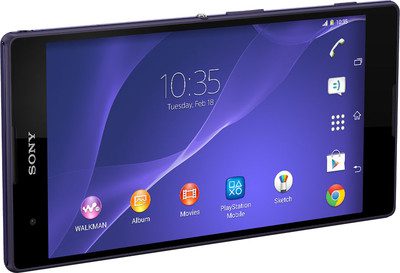 The device is a phablet – convenient for reading e-books, while not being heavy and cumbersome as a tablet. All the Sony phones come with a Bravia Engine 2 screen, giving us Sony's fabulous display quality and clarity.
Google Nexus 5
The Google Nexus 5 is next on my list, and is a pretty impressive device. Why you ask? Although its cost is hovering around Rs.25,000, it does have impressive spec sheet:
Only an 8MP camera
A good 4.95" screen
A 2.3 GHz Quad Core processor
16GB inbuilt memory
2GB RAM.
[quote_center] Nexus devices will always be the first to get Android updates [/quote_center]
While the features are lucrative at the price, Sony offers more at a lesser cost. The glass back panel found on the previous Nexus 4 has been done away with. It's great to hold – with its premium build and finish. Overall, it makes for a pretty good handset.
Samsung Galaxy Grand 2
Moving over to the 2nd installment of the Samsung's Galaxy Grand – the Grand 2 is price around Rs.20,500, and like its predecessor it gives quite a good deal. It has features similar as that of the Xperia SP, but better.
8MP Camera
1.9MP front camera
1.5GB RAM
8GB internal memory (expandable)
1.2 GHz Quad Core processor.
5.25" screen.
The phone comes with the Android 4.3 Jelly Bean version. The Galaxy Grand 2 trumps the Sony Xperia SP in terms of sheer performance – it has a better processor, a larger screen size and more RAM. But expectedly, Sony wins in terms of build, user interface (UI) and screen clarity. You're not going to notice a drop in performance, unless your usage is on the heavier side and you really need multitasking as a prime feature in your phone. Otherwise if you're looking for a quality product, Sony should be your pick, as the features aren't inadequate per se.
Nokia Lumia 1320
The next is the Nokia Lumia 1320, priced at about Rs.22,500.
[quote_center] Huge battery life – lasting as much as 3 days [/quote_center]
5 MP camera.
1.7 GHz Dual Core processor.
1 GB RAM
8 GB internal storage (expandable)
Windows Phone 8 OS.
This one is a phablet too. It's pretty similar to the Sony Xperia T2 Ultra, except for the inferior processor and rear camera. What really caught my attention in this phone is the fact that the battery lasts for about 2-3 days! Even though there is a marked difference in the processors, Windows phones don't require high end processors, which are major battery hogs. The only disappointment is the camera here. Depending on your usage, you're going to have to choose between a better battery life or a better camera. In terms of quality, both Nokia and Sony have a reputation of providing good quality products to their customers. Although the Lumia 1320 has a plastic body which isn't very appealing, it's definitely longer lasting.
Motorola Moto X
[quote_left] My pick is the Moto X hands down [/quote_left]
Coming to the last phone on my list, is the Motorola Moto X. Motorola is back with a bang, and this phone will definitely catch your attention. The phone costs Rs.24,000, and  is almost more than value for money!
10MP camera
1.7Ghz Dual Core processor
2GB RAM
16GB inbuilt memory (Not expandable!)
4.7" screen
2MP front camera.
Android 4.4 KitKat version.
Also the phone has a curved back so that you can have a better grip on the phone, the voice command feature is quite mind boggling too. "OK Google now, wake me up at 7am" and without touching the phone that too! Or say "OK Google now, what's up?" and your phone will tell you the time and read out your notifications! Simply Brilliant!
I would say my pick would be the Moto X hands down, despite the fact that it has only 16GB of storage, otherwise the phone is amazing. Motorola too provides good quality, I have been a Motorola user in the past (Moto Yuva A810), and my phone gave me no problems in the 2 years that I used it. PS: It was a touch screen phone and since Google has bought over Motorola quality isn't something that I would worry about. If the storage space is a concern to you then the next best alternative would be the Sony Xperia ZR or Xperia SP depending on your budget. If you are really keen on reading e-books then the Nokia Lumia 1320 and Xperia T2 Ultra are your options, where you would have to pick between battery life and the camera resolution.
Verdict
[quote_center] Nexus 4 is pointless now that the Moto X is here [/quote_center]
Don't bother with HTC, the company overcharges for its premium. Nexus 4 is okay but has become pointless since the Moto X is here. HP too has come up with HP Slate 6 Voice Tab, android based, which is competition to the phablets, but gives lesser features than that in Xperia T2 Ultra, and has lesser battery life than the Lumia 1320, so is effectively pointless. The Lenovo too has not impressed me much, as it has a rather disappointing UI. Sony, Nokia and in my preference Motorola should be the only ones that even come within consideration. Your usage requisites and budget flexibility will be the ultimate decider.