Whether you are a student or a professional, you rely on certain portable electronics and paraphernalia to get you through the week. Of primary importance are the computing devices – the laptop and the smartphone, obviously. Then come portable chargers, wearables (including Bluetooth headsets) and a host of other things which vary according to the profession.
But one thing is almost always constant – the pen drive. Portable storage at its best, the pen drive has undergone a host of evolutions through the years, coming in a wide variety of storage capacities and designs.
I recently got hold of a behemoth of a pen drive – the Kingston Data Traveller HyperX 3.0, with a jaw dropping storage capacity of 128 GB. Here's my review!
Specifications
Capacities:

64GB (DTHX30/64GB)
128GB (DTHX30/128GB)
256GB (DTHX30/256GB)

Speed – USB 3.0: up to 225MB/s read and 135MB/s write
USB 2.0: up to 30MB/s read/write
8-Channel Architecture
Solid/rugged design: durable metal and rubberized casing provides increased protection
ReadyBoost Support
Dimensions: 2.952″ x 0.916″ x 0.626″
Operating Temperature: 32°F to 140°F (0°C to 60°C)
Storage Temperature: -4°F to 185°F (-20°C to 85°C)
Warranty: 5 Years
A WORKSPACE ON A PEN DRIVE? YEP, IT EXISTS, AND WE'VE REVIEWED IT HERE!
Look and Feel
I've got to admit, I have never seen a better looking pen drive. The HyperX has a blue metal chassis with rubberized cross panels, and the sleek edges definitely lend a futuristic impression to it. The slot for the lanyard cable is wide and without much obstruction, and the cap can actually be fitted at the back, as would be the case with pens and other writing instruments. So this actually ensures that the cap does not get lost!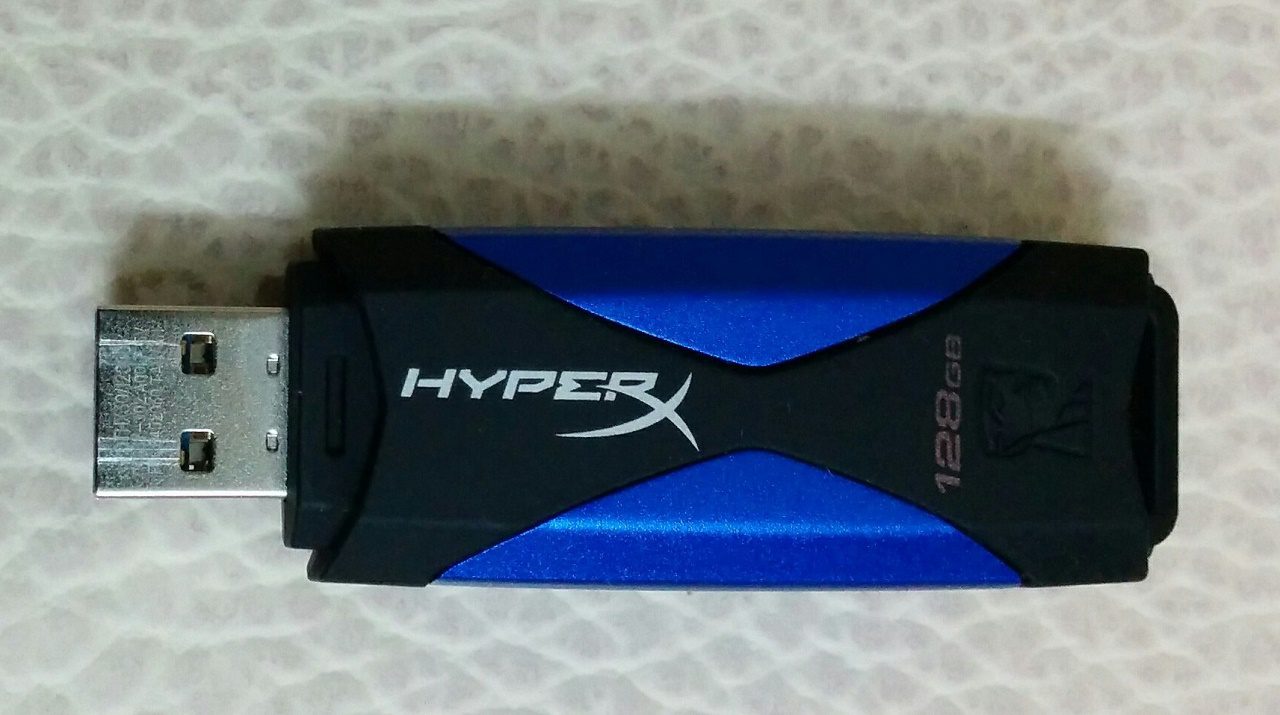 The rubberized panel has an almost smooth silicone feel to it, and Kingston's usage of the characteristic blue paint – giving it a metallised look – will definitely make your pen drive stand out.
The blue light is very subtle, and is hidden just beneath the Rex logo at the end. Even this tiny LED on the HyperX is aesthetically pleasing: it's not inconspicuous, and yet does not stand out and irritate you.
Here are some other pictures.
PREFER SECURITY TO STORAGE? WE'VE REVIEWED JUST THE THING! READ HERE!
Physical Dimensions
The DTHX30 comes in with dimensions of 2.952″ x 0.916″ x 0.626″  (74.99mm x 23.29mm x 15.9mm), which makes it a tad bit bigger than most conventional pen drives out there.
One might wonder the logic behind the obviously bulkier design of this pen drive, and it's actually quite interesting. The HyperX 3.0 has a larger number of NAND pieces within, more than what you would find in conventional flash drives. These NAND pieces not only give more storage space, but also support the increased speeds, which I will be discussing in a bit.
The numbers can't give an accurate depiction of the physical size of the pen drive, so here's an image for the size comparison. I've placed the most common Transcend and SanDisk pen drives along with a credit card for accuracy.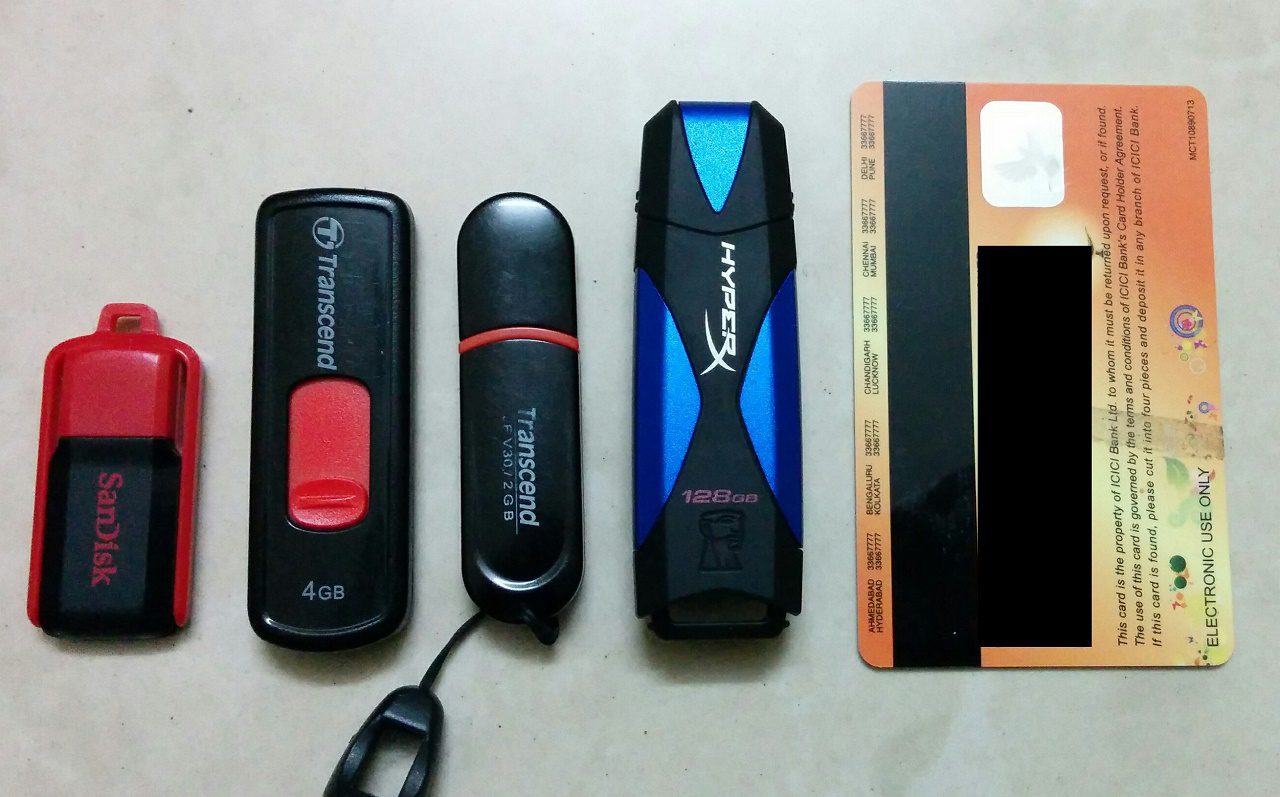 Storage
From the outside the pen drive looks and feels like a beast, and the story is just the same within. The HyperX 3.0 has USB 3.0 capabilities and also has reverse compatibility with USB 2.0 devices; So if you have an older laptop, this pen drive will work perfectly out there.
One thing has to be made very clear, the HyperX was designed for speed and storage. I'll be talking about the speed later, but as far as storage is concerned, this pen drive comes in variants of 64 GB, 128 GB and 256 GB, making heavy data transfer or storage on the go much more efficient!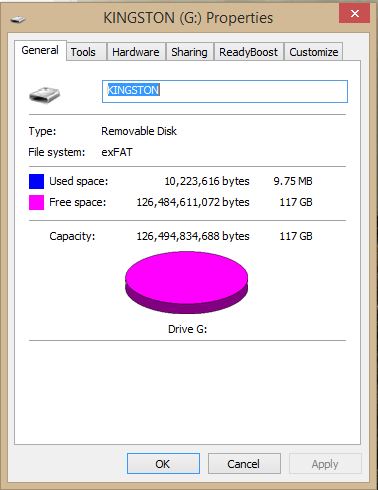 So right out of the box, the DTHX30 came with about 117 GB of usable storage, as shown in the image.
Speed
Now I am one of those people who does not go by the company's claims on anything. In this case, however, I must say. Kingston got their claims spot on! The literature on this pen drive specified that the HyperX offers speeds of upto 225MB/s read and 135MB/s write (on USB 3.0) and 30MB/s read/write (on USB 2.0).
First off, I used a benchmarking tool – ATTO – to test the speed of this bad boy.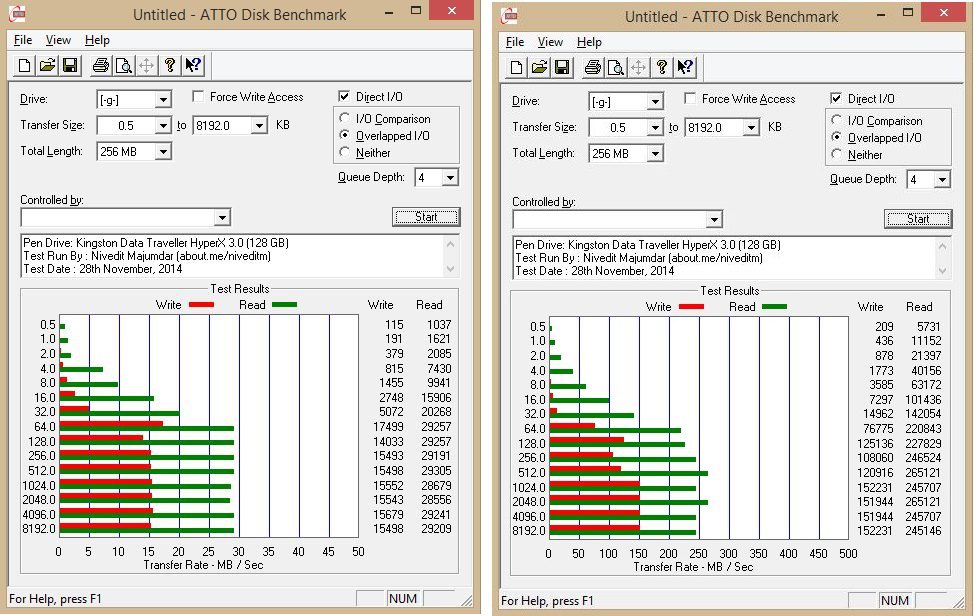 As is evident from the screenshots, I got impressive speeds, both in USB 3.0 and 2.0. In fact, for the USB 3.0 tests, I got a maximum read speed of 265 MB/s – which is even more than what the company specified.
However that being said, benchmarks test only ideal scenarios, so I got down to testing actual file transfer as well.
USB 3.0
READ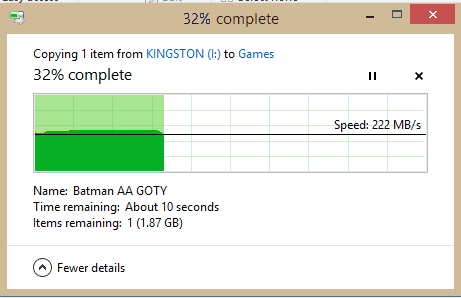 WRITE

USB 2.0
In case of USB 2.0, I got almost similar speeds of 21 MB/s in both read and write operations, which is pretty good (and much more than what would be expected off a conventional pen drive.)
Even the rate of deleting things is faster in this pen drive!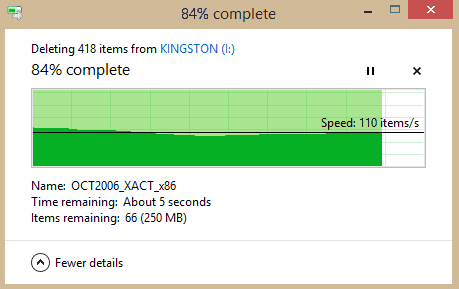 All in all, the Kingston HyperX performed phenomenally. I'll give it full marks for speed, and also bonus points for not heating up at all during the operation. Even when kept near the air vents of the laptop, and during continuous back and forth transfer to and from the laptop, the pen drive performed consistently well and did not show signs of drop in speed.
Operating System Compatibility
VERDICT
The Kingston HyperX 3.0 Data Traveller (128 GB) is without a doubt one of the most powerful pen drives in the market today. With blazing fast transfer speeds (I mean honestly, I don't even get that kind of speed when I'm transferring files between internal drives!), ample storage, uber portable design and a sleek look, the HyperX raises the bar for most pen drives out there!