Sony DADC has put out Cake on Blu-ray & DVD, an absolute treat for all Jennifer Aniston fans. The film stars Jennifer Aniston in the lead along with the talented Sam Worthington, Anna Kendrick, Adriana Barraza, Felicity Huffman, and William H. Macy. We got ourselves a copy to check it out. 
Daniel Barnz directs this stirring drama film while Patrick Tobin wrote this piece of art. This movie won Daniel Barnz a Golden Goblet award for best screenplay at the Shanghai International Film Festival. Jennifer Aniston expectedly performs, what I would call a spectacular job in the film – it even earned her a Golden Globe nomination for Best Actress in a lead role.
Plot
Cake centers the enigmatic and humorous world of Claire Bennett (Jennifer Aniston). She struggles to recognise her past while accepting her present. She's a Percocet addict, and frequently has visions of a friend in her support group who committed suicide. Needless to say, this is more than just disturbing for Claire. Cake documents her life, how her feelings affect her and her relationships with other people. With the help of her house cleaner Silvana (Adriana Barraza), Claire searches for a meaning and takes a leap forward towards hope in her life.
Unable to bear with her visions any longer, Claire seeks out the widower of her friend, Roy – played by Sam Worthington. Roy and Cake befriend each other, and the plot takes us through some predictable grieving and self-discovery on Claire's part. We then transition to Cake's self-discovery, and acceptance of her life. Cake is a story of struggle, not with the society but with Claire herself.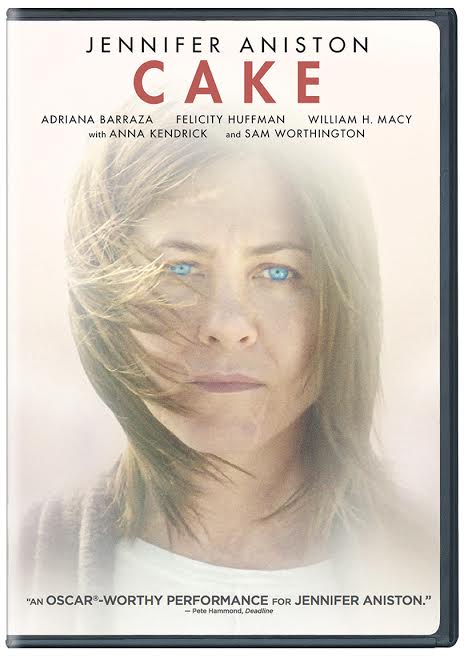 Verdict
The tale is told with great compassion. It highlights Claire's difficulties and shows Silvana's life in tremendous detail. Anniston does a commendable job with her role as Claire, although the script is found lacking at multiple points in the story. But then again – Anniston's performance offsets most shortcomings Cake consists of. The predictability of the plot can be overlooked for the most part, owing to the emotional strings it tugs at on the audience.
Cake is a must watch for all Jennifer Aniston fans. For all the regular folks out there, do try it if you are looking at something different.
Blu-ray & DVD from Sony DADC also includes bonus features:
The Icing on the Cake – Brief clips consisting interviews of cast and crew.
The Many Layers of Cake – A thought-provoking piece featuring Stacy Courtney, who suffered a debilitating accident that forced her to make significant life changes.
The Cake Blu-ray disc retails at 1,299 INR while the DVD retails at 599INR.