If you're not into architectural travel, there are plenty of reasons to begin. You're exposed to a stunning variety of thoughts and design spread across the planet, seldom to be find in one region. It's complementary to travel actually – just that instead of the whole broad experience (in terms of people, culture etc) we typically associate with travel, we're dealing primarily with architecture and how it shaped the region around it.
Futuristic Architecture
Futuristic architecture is a concept characterized by anti-historism, strong chromaticism, long dynamic lines, suggesting speed, motion, urgency and lyricism. Not to make it more perplexing and intricating, a simpler way of defining futuristic architecture would be – A concept where basically the architect applies his architectural skills with science and technology to cater to the needs, desires and dreams of humans effectively and efficiently.
With population racing ahead of the world's accommodating volume, futuristic architecture comes in action, saves us, providing with safe and comfortable, secure homes, offices, entertainment blocks, airports, railways.
The concept was derived from a movement founded by the Italian writer Filippo Tommaso Marineti (1876-1944), created his first manifesto 'The manifesto of futurism' in 1909.  This compelled not only artists of music and literature but also of fields including painting, sculpture, and architecture.
Places to Check Out
Atomium, Belgium
Atomium, a building in Brussels, Belgium was initially built for the Expo'58. Standing at a height of 102m, its nine stainless steel spheres are interconnected and give access to the exhibition halls and public places situated in it. The place draws an international crowd regularly, and is home to multiple exhibitions and a panoramic view of the city from a height of 92 meters!
Absolute World Towers, Canada
The Absolute World Towers are a pair of towers twisted at an angle of 209 degrees. Located in Mississauga, Canada in an otherwise regular non-touristy area, they stand amidst their surroundings and figure in the many must-see lists for tourists visiting Canada. The idea was executed by Chinese firm MAD.
The 209 degree twist extends right from top to bottom. There are apartments on each level giving a vibrant view of the city from the balconies covered by glass all around.
Tianjin – The Eco City, China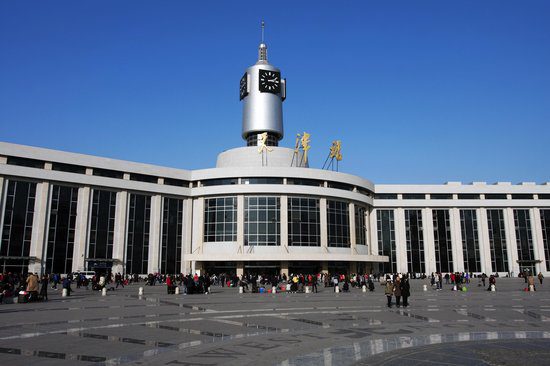 As a result of partnership between the government of Singapore and China, Tianjin is a city is being built with the aim of being completely environment friendly. Construction began in  2007. It can accommodate 350,000 residents, and is fast becoming a hub of cultural tourism. The Eastern Art Gallery is a centrally located museum in the city. Multiple theme parks – water, military and more – are also tourist attractions.
PlusPool, USA
Proposed in 2010, the PlusPool aims at cleaning the grime in east river and creating a huge floating pool for New Yorkers between Manhattan and Brooklyn. The estimated cost of the pool is $1 million and while the project is delayed, it is expected to be complete by 2017.
Futuristic architecture is invigorated by advances in technology, science, concurrence, speed, necessities and innovations. Thanks to its cultural impact, such destinations are no longer merely something an architect would want to see. Instead, they are tourism hubs.