After India's Demonetization in 2016, multiple financial technology companies, or Fintech startups, as they're called, have been on the rise. While we've seen similar versions of the same idea – a mobile wallet, P2P lending, etc – there's another unique concept emerging as a disruptor. Enter 'Simpl'.
Inception
Our entire lives we've followed the concept of pay first, use later. Flip this idea. Imagine a set up where you can use or enjoy entities across multiple platforms, and pay the bills later. That's what a credit card does, yes.
Now imagine there was no credit card.
This is exactly what Simpl aims to do. When Chaitra Chidanand and Nitya Sharma first returned to India in 2014, they had a tough time getting accustomed to the payment systems here. The duo ealized that, despite e-commerce rising steadily in India, cash on delivery was the primary mode of payment. Online payments weren't as efficient as they should be. Credit card penetration was low too. The solution was a unique post-paid application, 'Simpl'. Simpl would allow users to buy first, pay later. Without a card.
Related: Digital Payments Are Influencing Consumerism In A Big Way
Simpl To Use
The 'Simpl' application was launched in March 2016. They associated with multiple other online portals to enable a post-payment option. Amongst their first partners was the food delivery app Faasos. After the setup, the entire process revolves around a single touch. A click can buy you several items from e-commerce sites. Combined bills can be payed later.
Related: When Will Smartphones Replace Credit Cards?
Another advantage is not having to worry about refunds on cancellation. Refunds are instantly credited back. As far as the sellers are concerned, their bills are payed on every successful transaction, hence it is a win-win situation.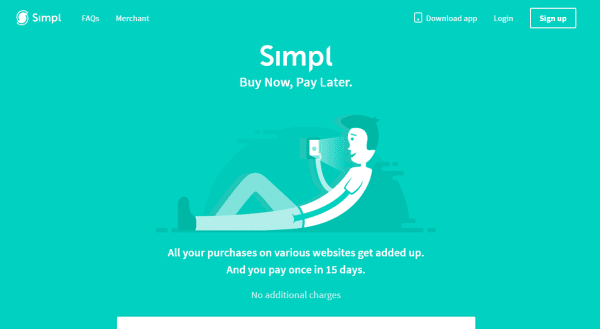 All dues are consolidated twice a month, on the 1st and the 16th. There is a limit of Rs 5000 with no interest charged. Hence, instead of entering bank details repeatedly to make online purchases, you just have to do it once. Simplr has partnered with Nykaa and BookMyShow as well. E-Commerce sites look at it as an opportunity to reward loyal and regular customers. The team has, so far, been successful in raising a seed round from Green Visor Capital, headed by Joe Saunders, the former CEO of Visa and IA ventures.
Growth
Simpl majorly targets the middle class, mobile savvy crowd who prefer online payments. It sells the idea that often, online transactions fail due to a variety of reasons – ranging from card declination to bank servers being down. It then positions itself a solution to all of this. Merchants can pop up the Simpl button once a transaction fails, giving the customer the satisfaction of being able to use the product without paying immediately. Revenue is generated by charging merchant partners a fee from payments.
Also Read: Bill Split Apps – Splittable vs Splitwise vs SettleUp
Unsurprisingly, Simpl was involved in the post-demonetization boom most fintech startups witnessed. Payment apps in India have become very popular of late and look like they are here to stay. The fact that merchants are looking to bring in as many payment options as possible, is also a boost.
Currently, the team consists of 20 data scientists and engineers who work in offices at Bangalore and Mumbai. The interface of the app is rather pleasing, and well, simpl. For novices, Simpl offers chat and voice options which will help you interact with a bot and pay securely. I'm not sure how efficient bots can be at solving human problems. Perhaps a human interaction here would work better?
Not a shocker, but the app is structured around a lot of trust. Offering credit with no collateral after all, requires a decent amount of faith. The founders seem to have taken that leap, and delivered a fully automated collection system. Structured and unstructured big data is used to predict customer behavior. Behavioral Economics and social engineering can also tell how financially responsible one is. So it isn't really a shot in the dark.