Managing your tasks effectively can be the primary determinant of your productivity. Fortunately, thanks to the app ecosystems mobile OSes have built, there's a ton of task management and todo list apps out there. At the same time, we can be pretty much spoilt for choice. Todoist and Wunderlist are two popular apps you might want to start with. Let's do a comparative analysis.
Todoist
A product from the startup Doist, Todoist focus on both personal productivity and efficiency. It's quite an old service, having released in 2007. That may explain its availability on 12 platforms, amongst the highest in any app.
Wunderlist
Wunderlist is a cloud-based to-do task management application. It was developed in 2011 by the interestingly named 6Wunderkinder. 6Wunderkinder was later acquired by Microsoft in 2015. Wunderlist is available on computers, smartphones, tablets and smart watches.
The comparison
Availability and features
Todoist 
Available for Android (phone and tablet), iOS (phone and tablet), web, Windows, Mac OS, Chrome, Firefox, Gmail, Outlook, and Thunderbird.
Free version: The basic feature helps create and manage a to-to lists. Sub-lists for tasks under them can also be created. Todoist allows scheduling of tasks and setting up of due dates. Rescheduling is pretty straightforward too – you just need to swipe left. There are 4 priority levels you can assign to each task. It also allows you to share projects with up to five people. The free version also offers access to 10 different themes.
Premium version: The premium version gives you access to a number of other useful features. You can label your tasks for sorting purposes. You can add location-based tasks, get reminders, add tasks via email or sync tasks with ical and even get some visual aids like charts and graphs to compare your productivity levels. Also, attachments up to 20 MB/file are allowed.
Wunderlist
Available for iOS, Android, Mac, Kindle Fire, and Windows.
Free version: Wunderlist is quite a generous service in terms of access to features. The free version itself has offers almost all the essential features, but with limitations. Create to-do lists, add attachments, add due dates, create subtasks within tasks, add voice notes, reschedule tasks, sort and review tasks, add hashtags to tasks, add tasks via emails, calendar feeds and also share.
Premium version: Not too many features here. You mostly get your limitations removed on existing features. Attachments of any size, unlimited sharing and access to 30 backgrounds are unlocked.
Integrations
Todoist: integrates with IFTTT and Zappier
Wunderlist: integrates with Zappier and HipChat
Interface
Todoist is clean and sorted. It features a white and red background. Additional colour choices are available on the premium version. There's a simple left sidebar, a settings option, and a top bar to add tasks and search.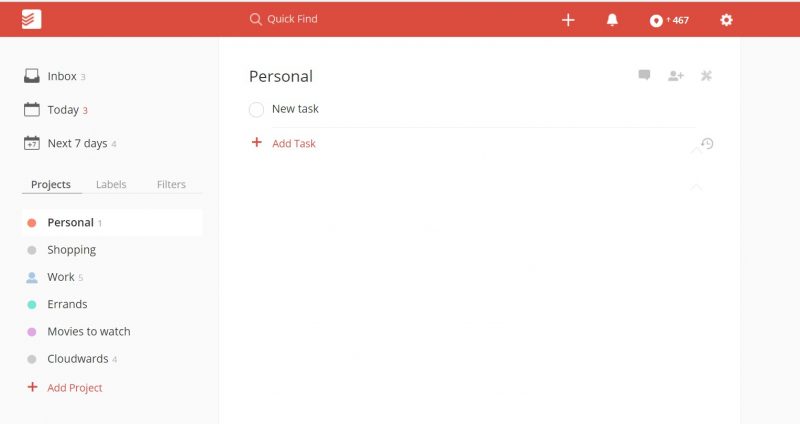 Wunderlist has a clean three-panel view with the option of changing the background picture.
Browser add-ons
Both Todoist and Wunderlist have add-ons for Google Chrome, Firefox, and Safari.
Pricing
Todoist: Free / Premium ($28.99/year)
Wunderlist:  Free / Pro ($59.88/year)
Drawbacks
Todoist: No ability to add reminders in the free version, which is essential. Managing lists can also be clumsy.
Wunderlist: The interface is pretty monotonous. There's no option for adding location based tasks.
Verdict
Based on an overall review, we can see that Wunderlist is better than Todoist. With access to so many features in the free version of the app itself, it offers higher value at a lower price. Wunderlist also works faster. Recurring tasks can be set up to a duration of our choice, a feature not available on Todoist. Wunderlist would come more handy for you to easily manage your day to day tasks, more effectively and at a lower cost.
However, Todoist with its multiple integrations and platform support, could very well be essential if you're going to be using its platforms.
Download Todoist from its website here.
Download Wunderlist from its website here.