The transportation industry has been a constant subject to innovation and development across various paradigms. From electric vehicles to autonomous driving, the industry has seen a lot of buzz and boom in the last decade. Autonomous Vehicles (AVs) are the talk of the town and are becoming more prevalent on the roads.
With advanced technologies and increasing investment, autonomous vehicles are becoming a significant part of our daily lives. In 2023, these self-driving marvels are poised to reshape the future of transportation, bringing a plethora of benefits to individuals and societies alike.
A McKinsey report published in 2023 claims that by 2035, autonomous driving could create $300 billion to $400 billion in revenue. These self-driving cars have the ability to transform transportation, consumer behavior, and society at large.
When did the concept of Self-Driving cars grow?
Argo AI (2016-2022) CEO and co-founder Bryan Salesky was part of a famed Carnegie Mellon University team that developed a primitive self-driving vehicle that won a Pentagon race in 2007.
Four students on the team went on to co-found self-driving companies, which have raised billions since: Salesky, who founded Argo; Dave Ferguson at Nuro; and Drew Bagnell and Chris Urmson at Uber-backed Aurora.
While these were the first few players, the self-driving cars industry has intrigued a lot of other entrepreneurs and innovators. The autonomous (driverless) car market was valued at USD 22.22 billion in 2021, and it is expected to reach USD 75.95 billion by 2027 while registering a CAGR of 22.75% during the forecast period 2022-2027.
With more and more players participating in the autonomous vehicles industry, the growth and development of the same is only a matter of time.
Why are Self-Driving Cars the Future of Transportation?
Increased Efficiency and Reduced Traffic Congestion
Self-driving cars have the potential to transform the way we move by dramatically improving the efficiency of our transportation systems. These vehicles can communicate with each other and with traffic infrastructure, enabling them to optimize routes, speed, and acceleration patterns to avoid congestion.
By reducing stop-and-go traffic and improving overall traffic flow, self-driving cars can minimize travel times and alleviate traffic jams in urban areas. Commuters will experience smoother journeys, reduced stress, and increased productivity.
Accessibility and Mobility for All
Another significant advantage of self-driving cars is their potential to increase accessibility and mobility for individuals who cannot drive or do not have access to private transportation. Autonomous vehicles have the capability to cater to the needs of elderly individuals, people with disabilities, and those who lack a driver's license. This technology can provide newfound freedom and independence, enabling individuals to reach their desired destinations without relying on others.
Self-driving cars can also enhance transportation options in underserved areas, improving connectivity and opening up economic opportunities for communities with limited access to public transportation.
Environmental Benefits
The adoption of self-driving cars can contribute to mitigating the environmental challenges associated with traditional vehicles. Autonomous driving technology enables vehicles to operate more efficiently, reducing fuel consumption and emissions. These vehicles can optimize their driving patterns to minimize energy waste, choose the most fuel-efficient routes, and engage in platooning, where cars travel closely together to reduce air resistance.
Plus, the widespread adoption of electric self-driving cars can lead to a substantial decrease in greenhouse gas emissions, contributing to the global efforts to combat climate change.
Redefining Urban Spaces
As self-driving cars become more prevalent, the need for vast parking lots will diminish. With autonomous vehicles able to drop off passengers and continue to their next destination or find parking spaces on their own, there will be no need for large parking structures in urban areas.
This opens up new possibilities for urban planning, as parking spaces can be repurposed for green spaces, pedestrian walkways, or other community-oriented developments. The transformation of parking lots can lead to more vibrant and livable cities with improved aesthetics and enhanced quality of life.
Economic Opportunities
The rise of self-driving cars also brings forth a myriad of economic opportunities. The development and deployment of autonomous vehicle technology create jobs across various sectors, including manufacturing, engineering, software development, and maintenance.
Self-driving cars can also disrupt the ridesharing industry by reducing labor costs, making rides more affordable, and increasing demand for such services. This creates a new market for ride-hailing and ride-sharing companies, opening up entrepreneurial possibilities and stimulating economic growth.
Some Fascinating facts about Self-Driving cars
The article from McKinsey explores the future of autonomous driving, focusing on its potential for convenience and connectivity. The key points discussed are:
Consumer interest in Autonomous Driving features varies across the range of these features:
There is a significant and increasing interest among consumers in autonomous driving, however, this varies across vehicle types. To explain this further, let us first go over the 5 levels of vehicle autonomy:
Level 1 (Driver Assistance);
Level 2 (Partial Driving Automation);
Level 3 (Conditional Driving Automation);
Level 4 (High Driving Automation);
Level 5 (Full Driving Automation)
McKinsey has predicted that by 2030, 12 percent of new passenger cars will be sold with L3+ autonomous technologies, and 37 percent will have advanced Autonomous Driving technologies in 2035.
Consumers interested in the convenience of hands-free driving might want cars with more advanced autonomous functions (including L2+, L3, and L4), which give the autonomous system greater control over driving tasks.
V2X communication is enabling an era of connectivity:
V2X, which stands for 'vehicle to everything', is the umbrella term for the car's communication system, where information from sensors and other sources travels via high-bandwidth, low-latency, high-reliability links, paving the way to fully autonomous driving.
There are several components of V2X, like vehicle-to-vehicle (V2V), vehicle-to-infrastructure (V2I), vehicle-to-pedestrian (V2P), and vehicle-to-network (V2N) communications. This system enables cars to talk to other cars, to infrastructure such as traffic lights or parking spaces, to smartphone-toting pedestrians, and to data centers via cellular networks. Different use cases will have different sets of requirements, which the communications system must handle efficiently and cost-effectively.
This technology, if implemented well, can improve the safety of self-driving cars. Self-driving cars can be connected to a broader ecosystem, allowing for real-time data exchange with other vehicles, infrastructure, and service providers, enhancing safety and efficiency.
Safety concerns surround the current scenario of driverless cars:
In Feb 2023, Tesla recalled almost 363,000 vehicles due to concerns about its Full Self-Driving Beta software.
Most manufacturers are actively working on improving the safety of their driverless cars. In 2023, Waymo released statistics that said over that 1 million miles, Waymo's vehicles were involved in only two crashes that met the criteria for inclusion in the National Highway Traffic Safety Administration's (NHTSA) database for car crashes, called the Crash Investigation Sampling System (CISS). With increased efforts, the industry could come up with safer technology that could increase the odds for its adoption.
Enhancing public transport using autonomous vehicle technology:
Autonomous driving has the potential to transform public transportation by offering more efficient and flexible services, personalized routing, and improved accessibility. Mobility as a Service (MaaS) platforms can integrate autonomous vehicles, public transportation, and other mobility options, providing seamless and convenient travel experiences.
Using fully autonomous public transportation vehicles (i.e. self-driving buses) can enhance traffic safety, improve the efficiency of current transportation systems and lower their costs, while offering great potential for the development of sustainable mobility concepts.
Industry players need to invest both on Hardware and Software advancements to stay relevant among their competition:
Consumers are interested in and willing to pay big bucks for autonomous driving (AD) features – from ease of operation for parking, merging, and other maneuvers to additional fuel savings because of the autonomous system's ability to maintain optimal speeds. Thus, to be successful in the space, manufacturers need to invest both in hardware and software development.
Indeed, developing AD capabilities requires much stronger ownership of the entire ecosystem, as well as the ability to co-develop hardware and software—particularly, chips and neural networks. This suggests leading OEMs should either develop strong in-house capabilities or form partnerships with leading tech players tasked with delivering the entire driving platform.
A lot of consumers believe that light detection and ranging (LIDAR) is the most critical hardware component in a self-driving car, but many others also look for performance chips and hardware accelerators, which are the main components of control units. It is believed that costs of autonomous vehicle hardware will decline in the early 2030s and that the components will eventually become commoditized. Software costs involve simulation tools, data collection and storage, simulations using cloud technology, and the testing of the full software system. These are equally important to invest in.
The regulatory challenges are the biggest hurdle in the adoption of Driverless cars: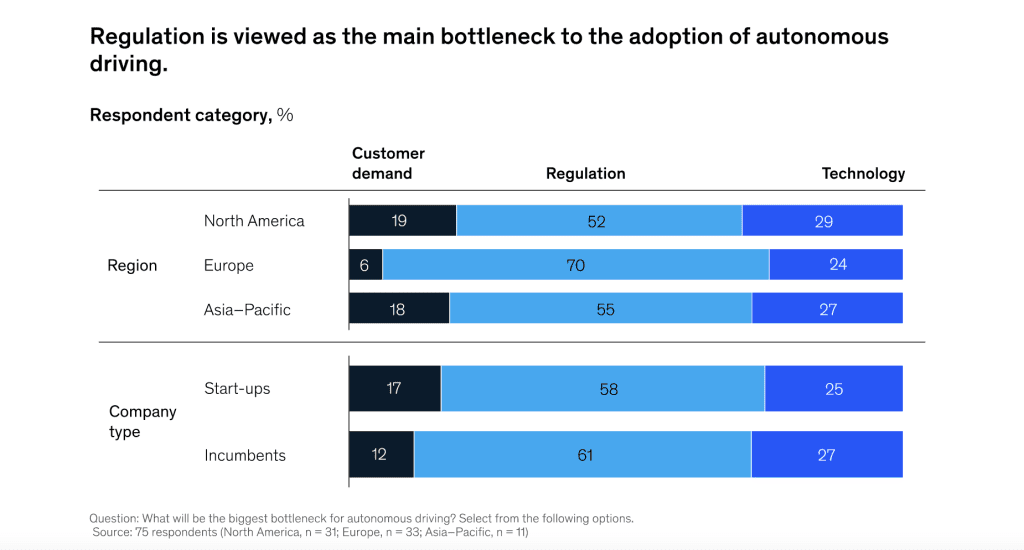 Developing comprehensive regulations and standards is crucial to ensure the safe and efficient deployment of autonomous driving technology while addressing concerns related to liability, privacy, and cybersecurity.
Support from regulators is essential to overcoming AD safety concerns, creating a trusted and safe ecosystem, and implementing global standards. So far, most public officials have strongly advocated for the inclusion of advanced driver-assistance systems (ADAS) capabilities in existing regulations, laying the groundwork for autonomous driving. This has resulted in a much higher penetration of ADAS functions, both in passenger cars and commercial vehicles.
In 2020 and 2022, original equipment manufacturers faced challenges while implementing features such as automatic emergency braking (AEB) and automatic emergency steering (AES). Thus, US and European OEMs in all segments have developed these features, with more than 90 percent of all European- and American-made cars offering L1 (i.e. cars with Driver Assistance) capabilities as a baseline.
Self-driving cars of the future can be safer and more trustworthy!
If AV manufacturers can invest time and money on sensing and perception technologies, redundant systems and Fail-Safe mechanisms, Real-Time data analysis and Machine Learning, along with ethical decision making, cybersecurity systems and better hardware, the self-driving cars of the future will be safer.
This obviously includes months of testing as well. However, the growth of adoption of these self-driving marvels looks promising and gives us hope of a more efficient, safer and cleaner future.