On Android's Play Store (or on the iOS App store), there are hundreds of thousands of different music applications. As smartphone user, you have access to any kind of music program imaginable, right from Internet radio and streaming apps to guitar tuners and portable DJ stations.
Despite all of this, music streaming was slow to take off, at least in countries like India where even though calls were dirt cheap, data really wasn't. All of that fortunately changed last year with Jio's big bang entry into the telecom sector. With data so ridiculously cheap across the industry, streaming services have truly taken off!
Leading that charge on our soil is Saavn – one of the most popular music streaming apps we've seen lately. Contrary to the misinformation I've witnessed floating around – Saavn is not a new, recent Indian venture. Saavn, LLC is actually well established – it is American digital distributor of English Bollywood and regional Indian music in more than 200 countries.
Saavn's signature products are Saavn.com, Saavn Pro, Saavn Music for iPhone, Saavn Music for Android, Saavn music and Radio for Windows Phone and PC, and Saavn Radio. Downloading Saavn's apps is simple – like any other app over a Wi-Fi or a mobile data connection. We previously covered Saavn in a head-to-head comparison with other streaming services. We seemed to like it quite a bit, so we've returned today for an in depth review.
Design & Experience
Saavn works on a minimalist design, giving the user an interface that is friendly, with a green colour palette that helps build a sense of positivity. On the free version, advertisements are given prominent space. While the regular banners do not interfere with your usage experience, the letterboxed adds and audio ads before some content (such as Saavn Originals) can get annoying. But then again, this is the free tier we're talking about, so this should be understandable.
The app includes a Search box and Playlist categories, making it convenient to segregate songs. A bunch of other different categories, like 'New Releases' and 'Featured Playlists' are also available, to explore the latest tunes.
Navigating across the app is straightforward and simple, and I personally enjoyed the font type and size – unlike in Apple Music, which tends to have large font sizes that results in me not being able to see the full names of tracks. Fortunately, this is not the case with Saavn.
Despite the simplicity, I did find the app slightly 'bulky' to use, in terms of performance that is. I'm running an HTC 10 powered by a Snapdragon 820, so performance capability on my phone certainly isn't lacking. Perhaps the app can do with better thread/memory management, I don't know. Either way, it isn't a deal breaker by any means.
Features
Saavn lets you link your Facebook profile to your Saavn account, allowing you to create, save and access Playlists of your own. You can even listen to your friends' Playlists with Saavn accounts. This feature can be pretty useful for discovering and sharing new tracks if you have your buddies on this service.
Another interesting aspect is the Radio – it picks up from the choices of the songs that you make and then consequently plays the songs of a similar genre. Of course this isn't a new concept – SoundCloud has been doing it for a long time now, but it is certainly welcome, and it does work well If you dislike what you're hearing, you can switch to another one in a single click.
Saavn not only updates its music on occasions (Rakhi, Valentine's day, Independence day etc.) but also provides details about its songs – its movie, the year it was released on, its music director etc.
Song downloads for offline playback are simple and easy to do – (only available on the Pro version, more on that later). There were some occasional crashes during my usage though.
By and large, the free tier is apt for most users, provided they have a Wi-Fi or a mobile data connection. This obviously means that it only streams music online, without an offline mode option unless you pay for it.
Library
The most important aspect when analysing a music streaming service – the library ought to serve you at all times. I mean, what are you paying for if you cannot play every single track you want? Fortunately, Saavn did not disappoint. It's got over 30 million tracks, and I was able to access all the tracks I looked up – this included a wide variety of genres – from progressive trance to deep house, and indie pop.
Another noteworthy observation – newly released tracks made it to the library fairly quickly. I'd kept an eye on my artists' new releases, and barring a delay of a couple of days, most tracks made it to the app on time.
Saavn Pro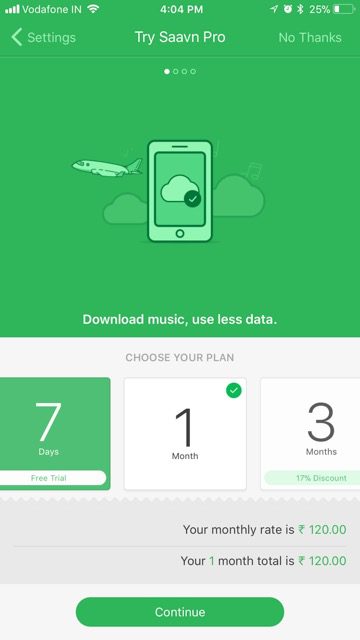 Saavn Pro is where most of the action is at. Pro is an advanced, more functional version of Saavn's basic offerings. It's got plenty of upgrades that I consider essential to music streaming, making the free version looking like just a stepping stone to music streaming nirvana.
With Pro, users can download the tracks directly and can listen offline. It also gets rids of all the annoying advertisements found in the free version. The songs – and this is important – can be downloaded and played back at 320kbps quality. Finally you get access to exclusive content that Saavn curates for its premium tier – what it calls 'Original'.
There's plenty of Saavn Original content on the platform – and while I expected myself to ignore such content and stick loyally to me myself, I actually found myself listening to quite a few of these podcasts, or whatever we can call them. There's Neha Dhupia in 'No Filter Neha', plus a variety of other content across all sorts of genres – from education to comedy. The other services do not currently have any such offerings, so Saavn Pro certainly has an edge here.
The paid subscription starts at Rs. 99 per month, which is cheaper than what Apple Music is charging Indians. Google Play Music on the other hand, also bills customers Rs 99/month. While both Apple Music and Play Music offer a 3 month (and a 1 month) trial to users, respectively, Saavn's free tier is unlimited.
On the cost front therefore, each service is offering roughly the same value. Your choice is more likely to be dictated by your preference for the user interface, the library, and the extras.
Verdict
Saavn has me impressed – both with its Indian and Bollywood music collection, its international music library, and its features. While the ads are certainly something I do not like seeing on my screen, the Pro version is something I'm happy to switch to. Especially since the unpaid version does not let me save my songs offline. It enables fast downloads, an easy search method and convenient social media interactions. The Saavn team will hopefully iron out the bugs and make the app a little more speedy, while I'll continue to enjoy the interface. Give Saavn a shot.