With faster smartphones, and access to faster mobile data, it has become much easier for music lovers to dig up information on any song they hear around them, with just a touch of a button on music ID apps. SoundHound and Shazam are top two contenders in this space. Shazam released in 2002 and was bought by Apple in 2018 while SoundHound came later in 2005, both having originated from the United States.
We compared these music-recognition or music identification apps on several grounds for you to find out which one fits your needs if you're ever torn on picking between Shazam vs SoundHound.
History of Shazam and SoundHound

SoundHound was founded by Keyvan Mohajer, a Ph.D candidate at Sanford university studying speech recognition. SoundHound was earlier known as Midomi. It was rebranded in 2009. The app hit 100 million users in 2012 and 300 million users in 2016. The company, SoundHound Inc. began working with some of the world's largest automobile manufacturing companies like Hyundai, Mercedes-Benz and Honda to provide voice interaction for their products using its Houndify voice AI platform. With a series of successful funding rounds, SoundHound is now valued at more than $1 billion.
Shazam was founded in 1999 by Dhiraj Mukherjee and two others. The idea by the founders was to give a magical experience to people by recognising music on their phones. How it initially worked when first launched in the UK in 2002 was, the users had to dial a number to get the music recognized. The phone would hang up after 30 seconds and they would then receive a text message on their phones with the name of the song and the artist. The service would later add hyperlinks in the messages to allow the user to buy the song. Apparently, Shazam's net worth hit $1 billion dollars in 2015 and Apple acquired it in 2018 for $400 million. 
Related: Indian Music Music Streaming: Saavn vs Gaana vs Wynk


SoundHound vs Shazam: Basic Features

The process of searching music is essentially the same for both apps – with a center button to input audio for recognition. Both services give you details related to the song – song title, album cover, genre, the name of the artist. Additionally, there are suggestions for similar music and links to purchase the track. Both apps allow you to track the tag history, but SoundHound has more to offer. It's LiveLyrics feature tracks and highlights the part of lyrics being played. 

Interface and Experience
SoundHound clearly wins here. With its amazing graphic interface, it makes the user experience very appealing. The app allows you to stream music from several platforms like YouTube and Spotify with lyrics for you to sing along. Shazam on the other hand, is dead simple in its interface, making it easier for people to purchase songs. Maybe Shazam is your thing if you're the minimalistic type. You're going to encounter more advertisements on Shazam than on SoundHound. The paid version of SoundHound is completely ad free and offers a few extra features like the on-screen widget for your cash. If you are looking for a vibrant experience then I would suggest SoundHound. Also, SoundHound's theme is set to dark and it will be friendly for phones with OLED displays.

Pricing and Availability
Shazam is a completely free app without any ads. SoundHound provides a free service for all the users. The paid version of SoundHound only gets rid of ads, with a few other features like the on-screen gadget.
Both are available on Android, iOS and Windows.  Also, Shazam integrates with Siri, so iPhone users don't necessarily need to download the app. SoundHound has a built-in voice assistant called Hound to help you play music with voice commands. Tapping on the microphone icon to the right of the search bar activates Hound.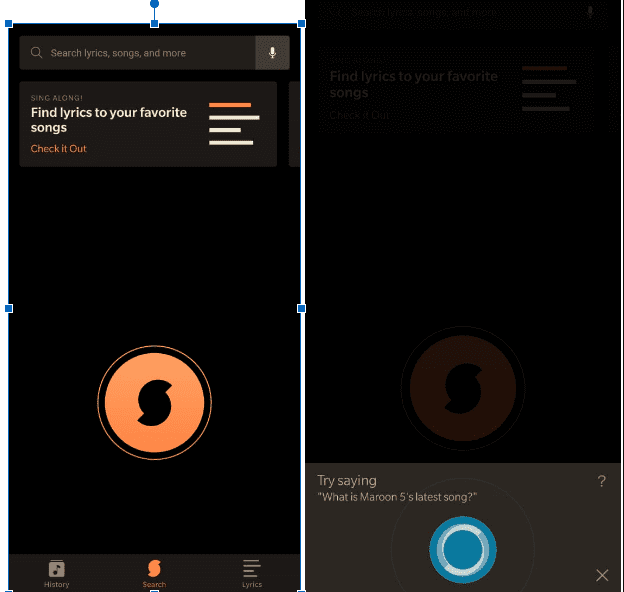 Related: The Best Music Mixing Apps For Android
Accuracy and Speed
After several tests to check the accuracy and speed of these music ID apps, I found SoundHound to be 100% accurate, and faster in identifying songs. But when it comes to identifying remixes and live recordings, SoundHound failed to keep up with Shazam. Having said that, a 'humming' feature that is unique to SoundHound is unbeatable. You can sing the tune stuck in your head from the song you heard, and SoundHound is going to help you recognise it. A song played from a distance is more likely to be identified by SoundHound better, while Shazam is accurate in recognizing songs amidst background noise.

Special features
Apart from the hum recognition and the voice assistant, the app lets you make playlists of your favourite artists and stream music.
Shazam has its own perks – it can be used in the background, unlike SoundHound. An offline feature automatically notifies you about songs you attempted to track while offline, once you're back online. SoundHound would want you to open the app and identify the songs from a pending list, which you may not necessarily do unless you really fell in love with that track you heard. A new feature available on Android phones for Shazam since 2019 called Pop-Up Shazam lets the app identify music played internally as well. That means, you would not have to unplug your earphones for Shazam to listen. Both Shazam and SoundHound offer users to see global, Asia and India charts. But, Shazam lets you see charts for each country. However SoundHound lets you stream the music and listen to the full songs while Shazam only lets you listen to 15 seconds of the song.

SoundHound vs Shazam: Verdict
All things considered, SoundHound clearly wins the game. It offers more detail, accepts a wider variety of music genres, works as a music streaming app, and has additional features such as voice assistant and hum recognition for music identification. Having said that, if you are someone desiring simple functionality and don't really care about the extra technical features – Shazam is more preferable. If you're an iOS user, you will not need to install either of the apps as Siri will perform basic recognition functions for you.
Ultimately, the right app to use for your music identifying purposes depends on your needs, and the kind of person you are.
Related: How to Download For Free From iTunes Store In iPhone

Download SoundHound here: Android | iOS
Download Shazam here: Android| iOS