Every time I bring up my wrist and look at my Moto 360, I can't help be astonished at how far ahead we've come. We've actually managed to fit computers into the size of something as small as a watch. In fact, we're progressing even further. Wrist-sized computers are diversifying.
We're primarily dealing with two sorts of smartwatches right now –  'companion devices' that require the user's smartwatch to be connected to the internet or to a smartphone. And the standalone types that are only just getting off the shelves. Not surprisingly, China and US are leading manufacturers of smartwatches with Finland, Japan, Switzerland and South Korea following close behind. It all started with Pebble – which made the first likable 'smartwatch'. Google began playing catch up with Android Wear, and lately we've had Apple make some sort of celebrity-like entry into the smartwatch arena.
Also Read: Why Does Every Watch Advertisement Have the Time Set to 10:10?
What's next, though?
Remember the processor wars barely half a decade ago? The smartphone industry took off at insane speeds, and manufacturers have been pumping out improved and faster versions of their phones for years now. The whole dual-core to quad-core, and now octa-core scenario is a direct result of the demand for smartphones in the world.
Problem is, the industry seems to have reached saturation. Which is why, suddenly all the attention has turned to smartwatches. Manufacturers hope consumers will flock to these devices like they did to smartphones. The resulting competition among the manufacturers is going to make the industry a highly innovative one. With features like fitness trackers provided by Nike and Fitbit to BMW's move to turn smartwatches into parking valets, the industry is bubbling with new ideas.
Collaborations have stimulated a new wave in the manufacturing of smartwatches with Google, Intel and Tag Heuer announcing that they will work together to produce a luxury Android Wear timepiece. This unique combination of giants in the field of hardware, software and timekeeping is going to be one to watch out for. It's an unlikely combination – there's Android Wear which runs digitally, coupled with the analogue tradition of Tag Heuer and Intel's micro Curie model.
A watch for everyone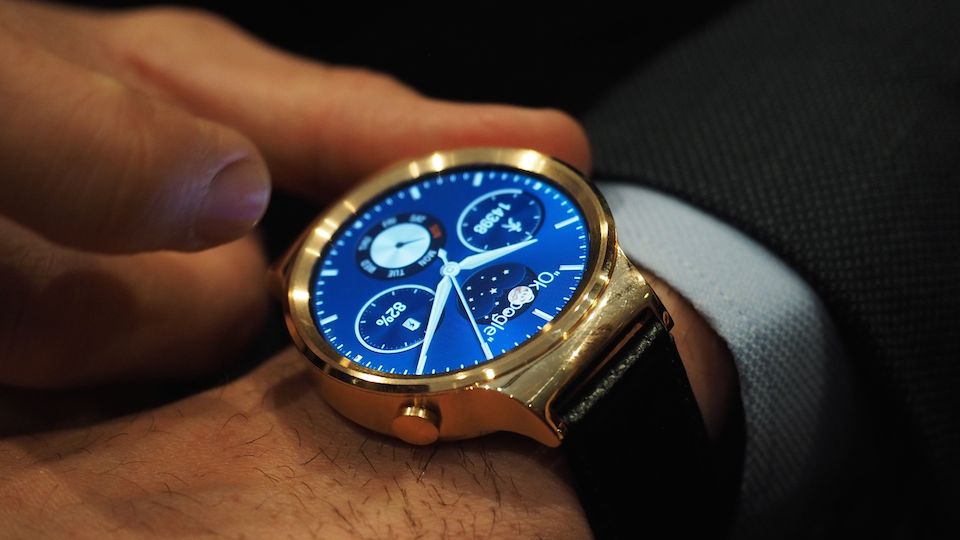 Most smartwatches are built with masculine appearance, with highly digitalized and formal looks. This gender biasing is solved by the models produced by Huawei. Their sleek appearance with a 1.4 inch AMOLED display is charming for everyone. The Huawei smartwatch will show up in most enthusiasts' lists as the best looking Android Wear smartwatch right now.
Rumours are on about Samsung planning big things with its upcoming Gear A smartwatch. The Gear A is expected to support 3G nad Wi-Fi both. All these antennas and communication systems could take a toll on its battery life though. The Moto 360, for example, is notorious for having sub-par battery life, although it did admittedly get better with an update.
If battery is your priority though, look towards Pebble. Pebble's Time Steel model boasts a battery life of 10 days on a single charge, and this is despite its inbuilt GPS support.
While 3G on a watch may be something to look forward to, LG seems to have moved past it already. The company launched the Urbane LTE, recently. The watch is a platform in itself, and can run independently with its 4G connection.
Smartwatches vs Traditional Watches
Also Read: What's Next for Wearables?
Not everyone is jumping on to the smartwatch wagon. Bermont, a luxury watch maker, does not intend to incorporate digital technology in its mechanical process of manufacturing watches. It is hesitant on its future adaptation of smartwatches as it claims that most youngsters did not wear watches and that they prefer checking time on phones.
There are other big names which reason out that many people are loyal to brands such as Rolex, IWC, etc. As such manufacturers are not likely to incline towards smartwatches; customers prefer the prestige of the brand and its studded jewels rather than app-filed watches.
With varying opinions, the destiny of smartwatches is solely dependent on the degree of innovation they'll undergo. While we have a lot of exciting things lined up, only time will tell if they'll succeed in the mass market