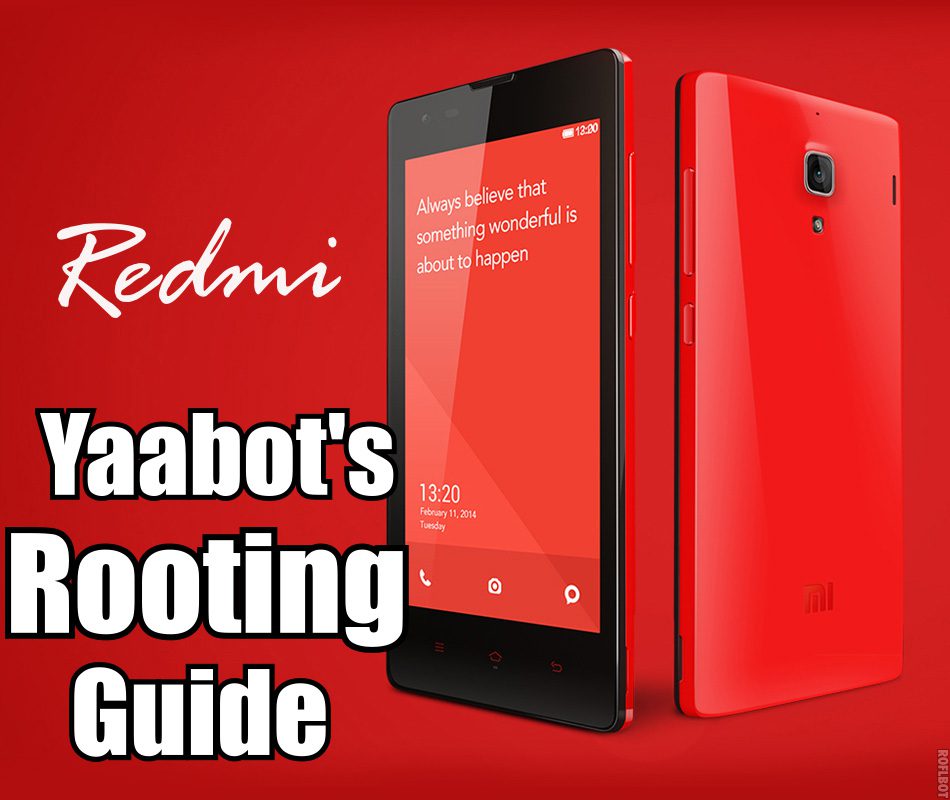 The Redmi 1S from Xiaomi (now rebranded as Mi) is one of the hottest phones (pun unintended) in the market right now. With mid range specifications being offered at a Rs. 6000/- price point, it truly raises the bar for existing budget offerings in the country. And we at Yaabot are, without a doubt, impressed by all the features this device has to offer!
READ OUR REVIEW OF THE REDMI 1S HERE.
Now while the phone truly has great specs under its hood, there are a few places where it could be improved upon. Most consumers don't really know the first step to do so, and are completely dependant on Mi to start pushing updates.
But it's actually pretty easy to take full control of your Redmi 1S, or any other device for that matter. The process involves one basic, fundamental step – Rooting your phone.
WHAT'S ROOTING ALL ABOUT?
Also Read: Why Should You Root Your Android Phone?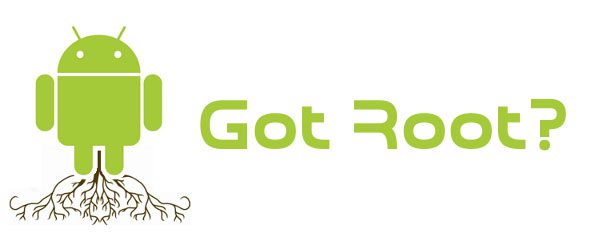 Let's go over the basics first. Your phone is a combination of hardware and software, right? The hardware is incomplete without the software used to control it, obviously. But there are some 'rules' or parameters written in the software which do not use your hardware resources to their full extent. These parameters are generally set by the OEM – the company manufacturing your device.
[quote_center]METHOD TO BYPASS SYSTEM PARAMETERS SET BY YOUR OEM[/quote_center]
The biggest advantage of the Android ecosystem is that it supports developers, and developers usually find a workaround to making the most of your device. This workaround starts off with rooting the device.
Rooting basically means disabling the parameters set by your OEM, be it Samsung, HTC, Sony or LG. Rooted devices have capabilities of changing the look and feel of the device completely. Right from custom ROMs, to installing applications directly onto the SD Card, to even overclocking your CPU to play graphic intensive games on a phone which would not support them otherwise – all these things can be achieved. But for that, you need a root.
ALSO READ: BEST ALTERNATIVE FIRMWARES FOR ANDROID
IS IT SAFE TO ROOT MY REDMI?
Mi works on a system of users on an active forum, making changes and supporting software updates. The company started off with developing MIUI, a custom ROM on Android devices which could be accessed by, you guessed it, rooting the device.
So yes, while other companies might tell you your warranty is voided when you rooted their phones, that's not the case with Mi. But still, in case something does happen, we recommend un-rooting your device before going to the authorised service centers.
PREREQUISITES TO ROOTING YOUR REDMI
1) Although a backup of files isn't necessary, it's always good to do one to be on the safe side. You can do so by going into Settings -> Backup and Reset -> Local Backup.
2) The phone should have the latest stable version of MIUI running. This is usually available as an OTA  (Over The Air, provided from your phone manufacturer) update as soon as the users power on their Redmi for the first time.
3) Developer options must be activated. This can be done by going into Settings and tapping on the Android version rapidly. Once this is done, go to Developer Options and enable USB Debugging.
PROCEDURE TO ROOT
Now, first things first. To check the Root Status of your Redmi 1S, open the Security app. There, go into Permissions, and you'll find that the 'Root Permissions' area is greyed out. Implying your phone does not have the root access.
So here are the steps to safely and easily root your Redmi 1S.
STEP 1: Download the file 'update.zip' on to your PC. This is actually the update package that will root your device. This link goes to the official MIUI site, so you'll have to register to download this file. Registration is free!
STEP 2: After downloading the file, connect your Redmi 1S to your PC via USB. If you are prompted by your computer to choose which action to take, select 'View Files and Folders'. Usually, the proprietary Mi software pops up, which is not needed in this procedure.
STEP 3: Now, copy the downloaded file ("update.zip") into the Internal Storage of your Redmi. Any folder in the Internal Storage will do, as long as you can find the .zip file!
STEP 4: After the transfer is complete, disconnect your device safely.
STEP 5: Now, in the Redmi, go into the Tools folder. Out there, tap on the Update icon. Once that's done, click on the 'Options' capacitive key (the first capacitive button below the screen), tap on 'Select Update Package' and then select 'update.zip'.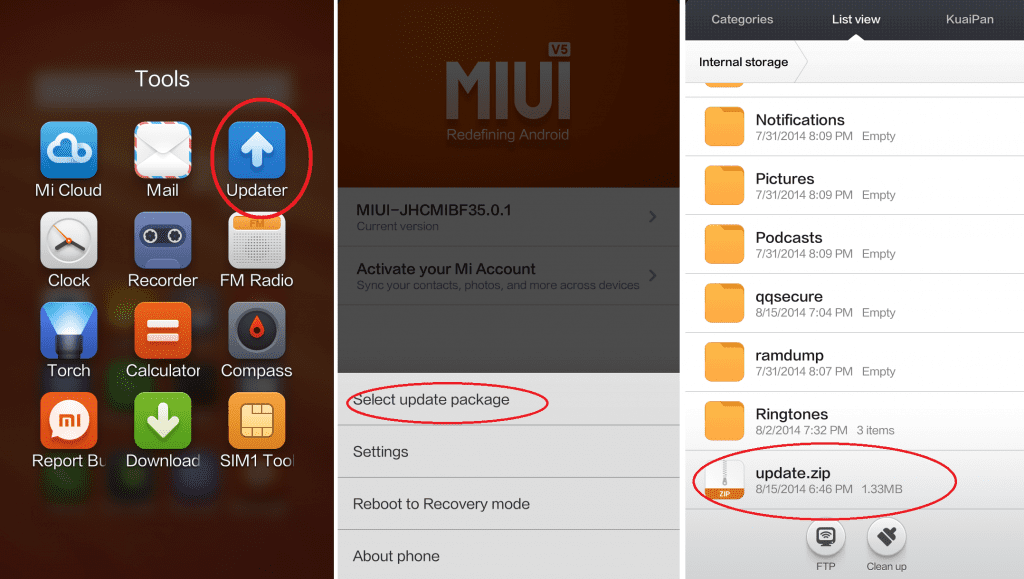 STEP 6: Follow the on screen prompts to complete the process and reboot your device.
STEP 7: Once successfully rebooted (takes about 2 minutes, it waits at the boot screen for some time), the phone will show a success message, saying that the update was successfully installed.
And you're done! Congratulations, you have successfully rooted your device.To verify, go to the Security app -> Permissions, and there you'll see the Root tab is now, for lack of a more suitable word, un-greyed. Tap on Root Permission to enable it.
Now, when you've rooted your Redmi, you do get more control over it. You can install applications which will control everything in your device – from the CPU clock frequency, to more themes, to even more functionality. But, this leaves you with a disadvantage of not being able to receive updates from Mi via their OTA Update system.
Don't worry, we've got you covered.
PROCEDURE TO UNROOT
To continue receiving Mi updates for your Redmi, you need to Un-Root it. Simply follow the same procedure we mentioned above, only with a different .zip file.
The separate file (UnRootNative_Redmi1s.zip) can be downloaded from here.  Follow the exact same procedure in moving it to your Redmi from your computer, and then installing it using the Update application.
TO CONCLUDE
One can unlock infinite potential in any device by rooting it. Although there are the risks of bricking your phone, it won't happen if you follow each and every step to the letter. In any case, if you have any steps of your own, do let us know in the comments section!