Ask any random person to name a few American sitcoms, and he/she would rattle off about 10 in a breath. But as for British TV Comedy shows, besides mentioning "Mr.Bean!" , most people do tend to draw a blank.
So, we've gathered a few British sitcoms and comedy TV shows that you'll instantly connect with!
#1 – Blackadder
Many eras. One Blackadder. And a hilarious one at that.
This show follows the humorous  trials and tribulations of Blackadder, as he tries his level best to become the ruler of a kingdom set in a different era each series. This show did very well in Britain, with four series and many specials. What's more, it's got classic comedy and a very comical rendition of history.
Featuring  Rowan Atkinson (he doesn't just play Mr. Bean, you know!) as Blackadder, and also features stellar performers like Stephen Fry and Hugh Laurie. Brilliant stuff, and a must watch!
#2 – Fawlty Towers
We've all stayed at hotels, but have we ever wondered : What about the people who run a hotel? Yep, that's the issue that this show addresses.
Fawlty Towers is a "Behind the Scenes" look at what really goes into managing a hotel. The constant headaches, accidents and the compulsion to put up with eccentric guests, this is a show in its own league!
It features the very talented John Cleese as the owner – Basil Fawlty. Although he's the lead character, the life of the show is the confused waiter from Barcelona – Manuel , played by Andrew Sachs.
#3- Yes Minister
A political satire revolving around a British Cabinet Minister, Yes Minister is one show that we, living in a country where politics is followed by so many people, will identify almost instantly. Features the very talented Nigel Hawthorne and Paul Eddington.
Fun Fact: The show also inspired, among a sequel ('Yes Prime Minister'), an Indian adaptation. The show "Ji Mantriji" that aired on Star Plus in about 2001 was a direct adaptation of this hilarious show.
#4 – Only Fools and Horses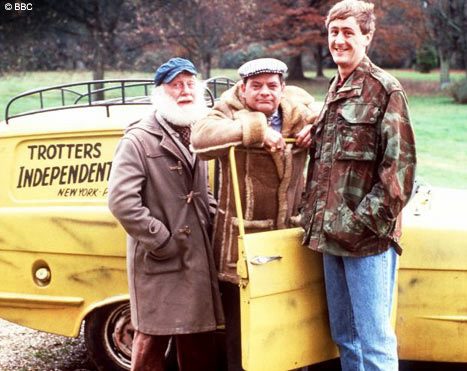 This show follows the lives of Derek, Rodney, Edward and later Albert Trotter, as they duck and dive through life, barely managing to scrape a living. They're basically harmless black market traders, and it's mainly about them trying and sell off something that is usually faulty. The laugh riots set off with their antics is what makes this show one of the best British comedy shows of all time.
#5 – The IT Crowd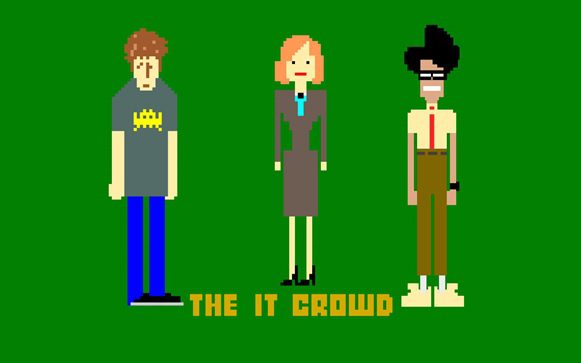 Saving my personal favourite as the last entrant here, The IT Crowd is one show which everybody will thouroughly enjoy. It's like the British version of The Big Bang Theory, with a lot more focus on random events which bring out the humour in the show.
The show revolves around two IT specialists working for a company – Roy and Moss – and their everyday adventures in the offline world. The show gathered a huge fan following. In fact, the popular phrase "Have you tried turning it off and on again" was first used in this show. Great entertainment, and more so for techies and geeks!
Besides these shows… you could also watch The Inbetweeners, Peep Show and Spaced. If you're more into shows like Saturday Night Live!  or Whose Line Is It Anyway? , you might want to go for Monty Python and A Bit of Fry and Laurie.
All in all, Brit shows are funny, practical and have humour that does not tend to revolve around drunk escapades. We're sure you'll enjoy these shows immensely!